Volvo is investing not only in the electrification of its vehicle range but also in the development of the software. After all, we know, new generation cars are increasingly considered computers on 4 wheels. Already Today, models such as the Volvo EX90 and Volvo EX30 support OTA updates which introduce new features. or to improve those already existing.
To advance its software strategy, the automaker announced the inauguration of a new software testing center located in Gothenburg, Sweden.
THE ACTIVITIES?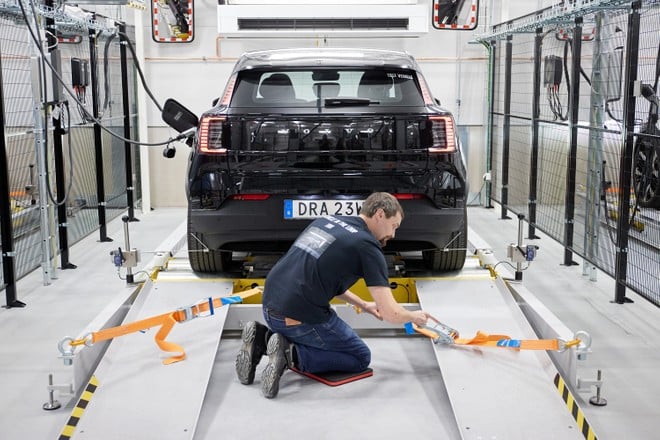 The new center has a surface area of ​​approximately 22,000 square meters and 300 million Swedish crowns (approximately 25.5 million euros) were invested in its construction. At first, the new software testing center will employ approximately 100 people, which is expected to increase to 300 once the facility is operational. at full power. The site will arrive to host approximately 500 testbeds and digital test environments, up from approximately 200 currently.
The new Göteborg facility will work in close collaboration with other engineering centers around the world that play a central role in software development, such as the recently opened Tech Hub in Singapore. Among the activities of software development that Volvo is carrying out, there is the one that concerns the creation of functionalities for connectivity next generation. In addition to Krakow and Singapore, Volvo Tech Hubs are present in Stockholm and Lund, Sweden, and in Bangalore, India. The brand can also count on large engineering centers in Shanghai, China, and Gothenburg, Sweden. Anders Bell, global head of Research and Development, commented:
This is a cutting-edge facility that will be the fulcrum of our activities global software testing and validation. This center allows developers from all our international engineering and technology centers to test software remotely, 24 hours a day, 365 days a year. I firmly believe that this new testing facility will be a a new point of reference for the automotive industry.
Price and performance at the top? Xiaomi 13, buy it at the best price from Amazon at 499 euros.