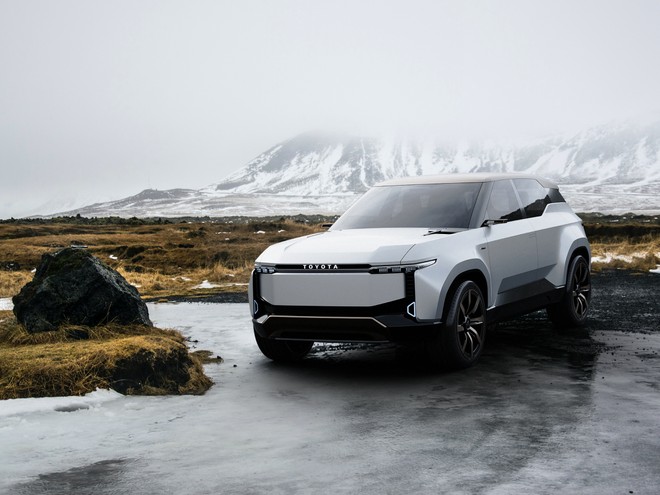 With its presence at the Japan Mobility Show 2023, which will be held in Tokyo from October 26 to November 5, Toyota announced a series of vehicles that promise to revolutionize the future of mobility, including two new electric concepts.
The first is ; the Toyota Land Cruiser Se. It is a three-row SUV that combines the high performance typical of electric vehicles with an elegant and refined design. Ideal for global needs, it ensures quiet driving in urban areas thanks to its BEV nature. Furthermore, we have a monocoque structure that ensures easy maneuverability. precise even on rough terrain.
It has a body with dimensions of 5150 mm in length, 1990 mm in width and 1705 mm in height, for a wheelbase of 3050 mm, and is able to accommodate up to seven people.
Then we have the Toyota EPU. We are talking about a next-generation pick-up that combines durability and style, with a length of slightly more than 5 meters and a monocoque structure. Its versatility adapts to a wide range of applications, with a particular focus on outdoor.
It measures 5070mm long, 1910mm wide and 1710mm high and boasts a wheelbase of 3350mm. Its interior is capable of accommodating up to five passengers.
OTHER EXPECTED PRODUCTS

At the Japan Mobility Show 2023, the Japanese brand will present also the Toyota Land Hopper. &` an innovative means of mobility three-wheeled personnel can can also be used without a license by those aged 16 and over. With a foldable design, it promises to broaden travel experiences and serves as an ideal solution for the elderly.
It boasts a body with dimensions of 1355 mm in length, 600 in width and 930 mm in height and a wheelbase of 1020 mm.
The Toyota JUU is an innovative electric wheelchair that offers unprecedented freedom of unprecedented movement. Designed to support the independence of those who require wheelchairs, it can even tackle steps up to 16 cm high.
The use of components from the automotive sector guarantees reliability and quality. It measures 1110 mm long, 680 mm wide and 1040 mm high.
The Toyota Space Mobility is an experimental vehicle intended for mobility in the space. With each wheel equipped with its own motor and steering system, it aims to ensure safe driving in extraterrestrial environments.
The dimensions are 3460 mm long, 2175 mm wide and 1865 mm high. Supports a maximum slope of 25° and it is capable of accommodating up to two passengers.
Finally, at the Japan Mobility Show 2023, the Japanese company will reveal the Toyota NEO Steer. This innovative cockpit concept is based on a motorcycle handlebar, combining accelerator and brake functions in the steering wheel. &` designed to offer intuitive driving.
Limited budget? Redmi Note 12 4G, buy it at the best price from eBay at 143 euros.