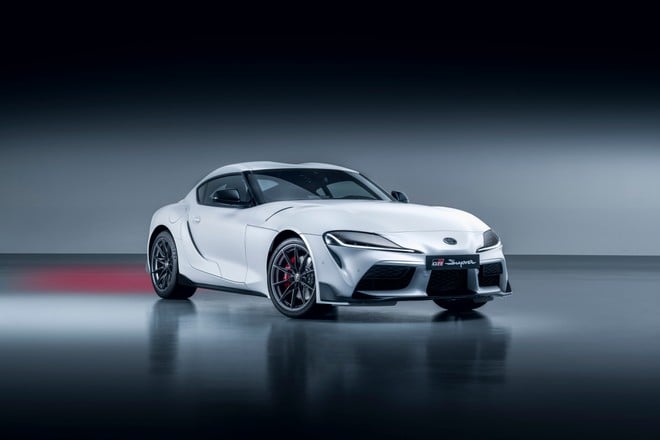 Toyota Supra will soon be offered in amore extreme GRMN version. The car manufacturer is finalizing the development tests of the sports car which is now was intercepted at the Nurburgring. Moreover, the curves of the German circuit are perfect to allow the Japanese technicians to fine-tune all aspects of this new model. Thanks to a spy video from CarSpyMedia, we can therefore see this car in action on the circuit, as well as being able to listen to the sound of its engine.
EVEN MORE? FAST
The images allow us to see that the car has light camouflagewhich, however, doesn't hide much. At the front, for example, we can see a bumper that has additional fins (canards) at the ends. At the rear, however, it is There is a conspicuous spoiler similar to the one found on the GR Supra 45th Anniversary Edition.
This prototype also features new alloy wheels through which you can note the presence of an oversized braking systemwith red pliers. Compared to the other versions of the Supra, this one also seems to have a lowered ride height. As for the engine that we will find under the hood, there are several rumors. It seems that the sportswoman will be able to count on one unit of BMW M.
We are talking about the 6-cylinder biturbo with 3 liters of displacement that today we find on the BMW M2, M3 and M4. Engine probably combined with a manual gearbox. Some rumors even talk about the engine of the BMW M4 CSL (550 HP), perhaps a little too much for this model.
However, regardless of the unit choice and power delivered, it seems clear that with the new Supra GRNM, the Japanese brand wants to offer something special. There is speculation that the debut could take place before the end of the year. All you have to do is wait to find out more. Let's remember that the Supra in Italy is offered both with a 258 HP 2.0 Turbo engine (4 cylinders) and with a 3.0 Turbo with 340 HP (6 cylinders).
[Spy Video: CarSpyMedia]
Best top of the range quality/price? Honor Magic 5 Pro, buy it at the best price from eBay at 830 euros.