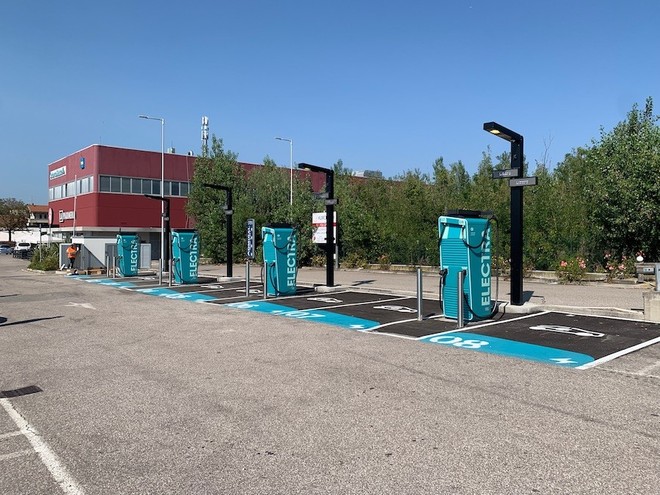 Electra, a company born in Paris in 2021 that deals with infrastructure for electric cars, is carrying out the its expansion plan also in Italy, with the aim of installing around 3,000 charging points in our country. Now, Electra has announced that it has inaugurated its first ultrafast charging station in Italy in Peschiera del Garda, in the province of Verona, in the parking area of ​​the ICS Commercial Park, located along the road that connects the A4 motorway to the A22.
CHARGING AT 300 KW
Enter further in. in detail, the new station is composed of 4 columns, for a total of 8 new charging points with a power of 300 kW. The infrastructure is accessible 24 hours a day and is powered by sustainable energy. Payment can take place via app, by credit card or by purchasing a top-up subscription. Through the dedicated application, the motorist can locate and book the charging station in advance, receiving an estimate of charging times and costs.
How much does it cost to charge? For an energy supply you pay 0.79 euros per kWh. In any case, Electra has signed several interoperability agreements. Therefore, it will be It is possible to manage the top-up using the apps and cards of other operators such as Evway.
Electra takes care of the entire process of installing and managing charging stations in public and private car parks of supermarkets, shopping centres, hotel chains, restaurants and motorway service stations, taking on all the investments necessary to transform and manage the hubs: from the purchase of material to administrative procedures, from design to installation, from maintenance to customer service. Eugenio Sapora, General Manager of Electra Italia, commented:
Italy is accelerating especially with regards to charging infrastructure for public use, with 45,210 charging points total top-ups in the area. For our first Italian station we chose Peschiera del Garda, a strategic hub, capable of serving at the same time the flows of the A4, one of the major Italian economic routes, and the A22, the main tourism access route Northern Europe, in a territory that is already stands out for the diffusion of electric car charging infrastructures: Veneto, in fact, is the third region for the number of charging points (4,420).
Best top of the range quality/price? Honor Magic 5 Pro, buy it at the best price from eBay at 841 euros.