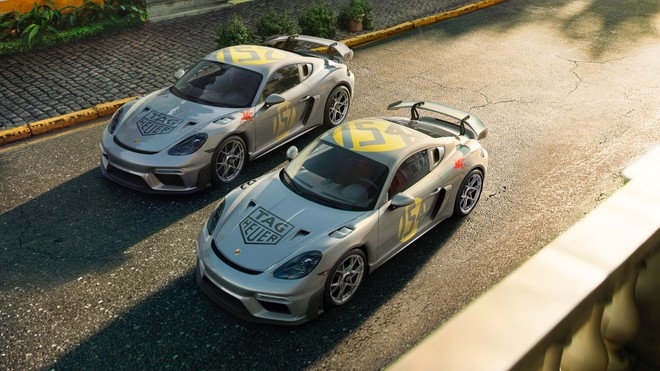 Porsche 911 GT3 R rennsport was not the only "surprise" of the German car manufacturer for the Rennsport Reunion 7. In fact, Porsche also presented a special Porsche 718 Cayman GT4 RS created to celebrate the 550 Coupés that competed in the Carrera Panamerican in 1953. This project is was created in collaboration with TAG Heuer and Porsche Latin America.
ONLY TWO EXAMPLES
Overall, the German car manufacturer will create only two specimensof this special model. As mentioned above, the technical basis is that of the Porsche 718 Cayman GT4 RS. Therefore, we are talking about a sports car equipped with a 4-litre naturally aspirated 6-cylinder boxer capable of delivering 500 HP (368 kW).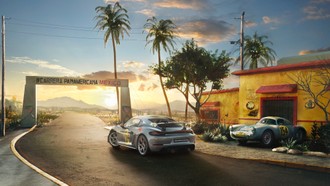 < img src="/wp-content/uploads/da6aa11c8583d6eed97255e14cb05886.jpg" />

Both cars are painted in Le Mans Silver Metallic. One has the number "152" on the doors and roof, while the other has the number "154". This is a reference to the numbers of the 550 Coupé who participated in the Carrera Panamerica.
The Le Mans Silver Metallic paint, on the other hand, is was first developed for the 911 Carrera GTS Le Mans Centenaire Edition to celebrate the 100th anniversary of the 24 Hours of Le Mans. The two cars also feature the TAG Heuer logo in a shade of dark gray on the bonnet and a Pegasus-shaped motif (red) on the rear wheel arch, in homage to the 550 Spyder with which Porsche also raced in the Carrera Panamericano.
The interior has also been revised. We find, for example, a double TAG Heuer chronograph integrated into the central console. The red leather seat upholstery stands out in contrast with the black leather on the door panels, dashboard and central console. The interior is also characterized by stitching in green-white-red colours, a reference to those of the Mexican flag.
The Porsche 718 Cayman GT4 RS Panamericano Special number "154" is was presented at the Rennsport Reunion 7, while vehicle number "152" will be presented at this year's Carrera Panamericano and will be put up for auction during the event.
What's new? recommended to everyone? Google Pixel 7a, buy it at the best price from eBay at 428 euros.