From today Monday 2 October 2023the new rules for access to Area B and Area C come into force. This is new of which we already had spoken in the past and which have sparked much controversy not only among citizens but also in the political sphere. Let's recap the main changes.
AREA B: NEW?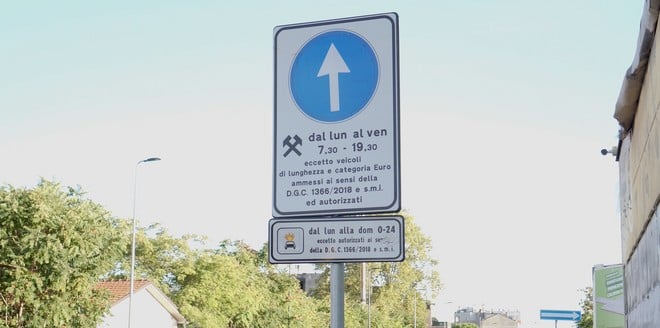 The Municipality of Milan reminds you that Area B is a ZTL controlled by 188 cameras, with a ban on access and circulation from Monday on Friday from 7.30am to 7.30pm (excluding holidays). Following the news introduced from October 1st but effectively valid from today, are new rules for access dedicated to M3 vehicles (vehicles for the transport of people, with more than eight seats and maximum mass exceeding 5 tonnes) and N3 (vehicles for the transport of goods, with a maximum mass exceeding 12 tonnes), always valid from Monday on Friday on weekdays, from 7.30am to 7.30pm.
Therefore, these vehicles will be able to circulate within Area B only "if equipped with systems for detecting the presence of pedestrians and cyclists both in the vicinity of of the front of the vehicle is on the pavement side and to emit a warning signal, as well as with a special sticker that signals the danger due to the blind spot".
The Municipality of Milan, however, underlines that all those in possession of a purchase contract relating to equipment functional to detecting the presence of obstacles in the vicinity of of the vehicle, will be able to circulate until the installation of the device and in any case no later than 31 December 2024. However, for all heavy vehicles and vans (both M2 and N2 and M3 and N3) the obligation to wear a sticker reporting the presence of the blind spot.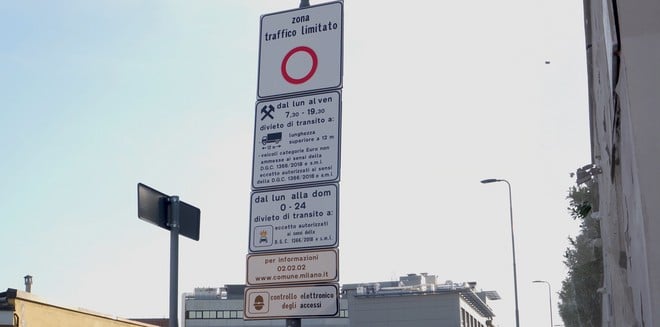 General exceptions Area B
As regards the general exceptionsfor access to Area B, However, we remind you that Euro 0, 1, 2 petrol and Euro 0, 1, 2, 3, 4 and 5 diesel cars will still be able to use the Move-In service for the access to Area B.  Once registered, they will be able to circulate freely in any time slot, up to a maximum limit of km/year established based on their type and environmental class. For example, 2,000 km for Euro 5 diesels, 1,800 for Euro 4 diesels and 600 for Euro 2 petrol vehicles.
The measurement of kilometers does not take into account the times and days in whose Area B is not active: travel within Area B is counted over the entire week (including Saturday, Sunday and holidays) and 24 hours.   Membership of the MoVe-In service lasts twelve months starting from the date of activation and can be be renewed. 
Furthermore, now, the Euro 4 and 5 diesel and Euro 2 petrol vehicles of Milan residents are entitled to 25 days of access and circulation in Area B, while for non-residents the days are reduced to 5.  Please note, however, that in order to take advantage of the exemption days, it is necessary to It is essential to apply on the Area B platform and complete the online procedure before accessing the ZTL.
To these exemptions are added further ones such as that of specific accompanying measures for some categories or for some particular conditions. We are talking, for example, about purchases of non-polluting cars not yet delivered, for which it is however It is necessary to submit a new application on the website of the Municipality of Milan.
AREA C: NEW?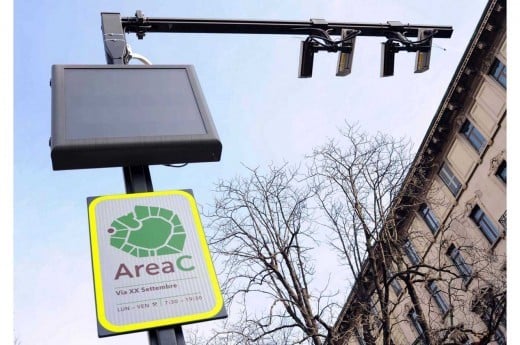 Let's talk, now, about Area C which, let's remember, is active from Monday on Friday on weekdays, from 7.30am to 7.30pm. Following the news introduced, new bans are triggered for vehicles for the transport of goods and for buses powered by Euro 2/II petrol, Euro 0-4/IV diesel with FAP, Euro 5 diesel and EURO V diesel without FAP and with FAP and particulate > 0.01 g/kWh (class lower than Euro VI). However, the bans on cars for transporting people remain unchanged.
Furthermore, from next 30 October 2023, the ticket for entry will change. from 5 euros to 7.5 euros, while the ticket for service vehicles will change from 3 euros to 4.50 euros. Finally, paper tickets still in circulation can still be activated online by 29 October 2024 without any surcharge. Throughout 2023, for residents, starting from the 43rd entrance, the ticket will be of 3 euros.
The news? recommended to everyone? Google Pixel 7a, buy it at the best price from eBay at 428 euros.