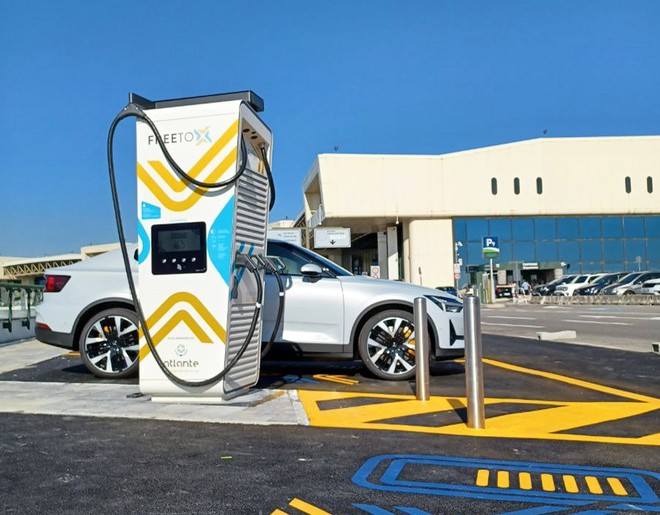 Free To Milan Malpensa. This concludes a project announced last year which involved the creation of ultrafast charging stations also at Linate airport. Let's go deeper in detail.
CHARGING UP TO 300 KW
Approximately one year after the inauguration of the charging station at Linate airport, the new charging points have been made available at Malpensa airport. In particular, we find 3 Alpitronic HYC300 columns, each equipped with two CCS2 connectors, with a power supply of up to 300 kW which will allow you to charge 6 vehicles at the same time. In the Malpensa charging stations there is There is also an EVTEC Cappuccino&Charge column equipped with CCS2 and CHAdeMO connectors with a power supply of up to 64 kW, as well as a Type2 socket for AC charging up to 22 kW.
< p>The charging points will be available 24 hours a day and are all powered by 100% renewable energy. Added to this station are also 2 charging stations, one of which is 150kW, capable of charging 4 electric cars at a time, installed in the areas outside the terminals dedicated to private aviation.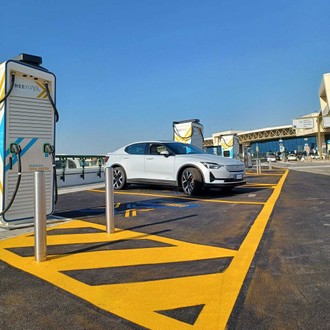 The creation of the charging station comes from the award to Free To of the Autostrade per l'Italia Group – through a competitive procedure launched by SEA, the company management of the Milan Linate and Malpensa airports – the creation of 4 Superfast Charging Stations for the charging of electric cars at the commercial and private aviation airports of Milan Linate and Milan Malpensa. The project sees Free To X in the role of Charge Point Operator of the stations and Atlante, a company of the NHOA Group, partner for the creation and management of energy management services.
Giorgio Moroni, CEO of Free To X, commented on this project:
During 2021 we established this company to develop innovative services related to mobility and sustainability. One of the largest projects important features of Free To was the creation of a network of high-power charging stations with the possibility of charging up to 300kW. Today the exceptional team of Free To >Armando Brunini, CEO of SEA Aeroporti di Milano, adds:

With the inauguration of a super fast charging station also in Malpensa, SEA confirms its commitment in the fight against climate change. We have been committed to improving sustainability for over ten years. of our airports and the introduction of charging stations available for the electric cars of passengers, but also of all the people who live and work near the airport, represents another concrete step forward.

Price and top performance? Xiaomi 13, buy it at the best price from eBay at 699 euros.