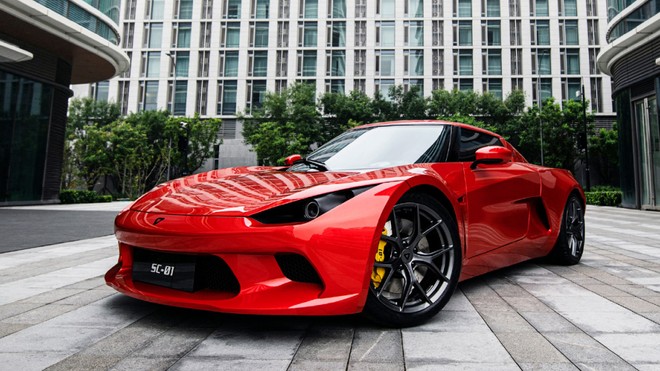 SSC SC-01 is an electric sports car developed by Gongjianpai Auto Technology, a Chinese company supported by Xiaomi. The SSC (Small Sports Car) brand is was launched in September 2022 with the aim of creating battery-powered sports cars. Gongjianpai Auto Technology, on the other hand, is was founded in 2016 as a startup specializing in automotive tuning. Its founder, Feng Xiaotong, has been running the YouTube channel called China Car Custom since 2018.
Apparently, Xiaomi believes a lot in this reality. so much so that Liu Dezheng, co-founder of the Chinese giant, is one of the managers of Gongjianpai Auto Technology.
FIRST INFORMATION
Returning to the new SSC SC-01, the first information was shared with its official presentation. The sports car measures 4,105 mm long x 1,830 mm wide x 1,160 mm high, with a wheelbase of 2,500 mm. The weight of the car is of 1,370 kg. The powertrain is composed of two electric motors, both 160 kW (217.5 HP) for a total system power of 320 kW/435 HP.
The manufacturer speaks of acceleration from 0 to 100 km/h in 3.5 seconds. Powering the powertrain is a battery with NMC (nickel-manganese-cobalt) cells which offers high capacity. of 60 kWh. There is talk of an autonomy of 520 km, obviously according to the Chinese CLTC cycle. As for charging, we only know that in direct current it takes 25 minutes to go from 30 to 80% of the charge.
SSC SC-01 has a braking system with 350 mm discs and 6-piston brake calipers on the front axle and 4-piston calipers on the rear. The technical equipment also includes the presence of horizontal pushrod shock absorbers and Michelin Pilot Sport CUP2 245/40 ZR18 tyres.
As regards the interior, we find digital instrumentation with LCD screen and a three-spoke sports steering wheel. The transmission selector and switches for the electric windows are located on the central tunnel. At the top, however, the controls for the climate control, windshield wiper and V2L function have been placed. There is no the infotainment system.
The official price is not has not yet been revealed but in the past there was talk of 300,000 yuan i.e. of approximately 38,900 euros. We are unlikely to see it in Europe. In China, however, it will arrive on the market next year.
Price and performance at the top? Xiaomi 13, buy it at the best price from eBay at 699 euros.