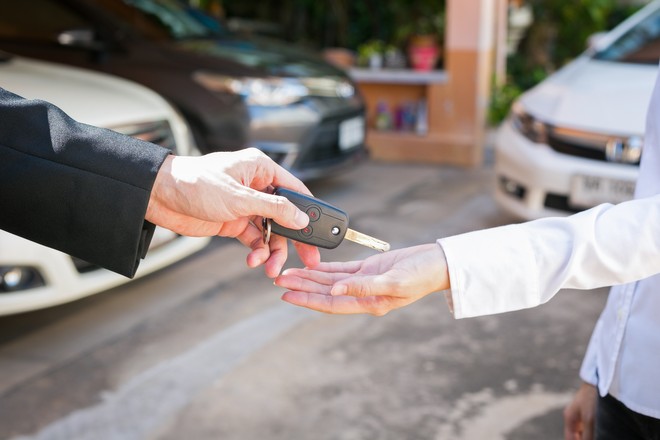 UNRAE has taken a new photograph of the used car market in Italy which shows that even the month of July 2023 closed with a positive sign. Therefore, according to the report there were 394,868 property transfers. We are talking about a growth of 6.5% compared to the 370,753 in the same period of 2022 (which in turn had shown a decline of 16.3% compared to the previous year).
< p>In particular, net transfers increased by 5.1%, while mini-transfers increased by 8.5%. Looking at the period January-July 2023, there were a total of 2,887,050 changes of ownership. equal to a growth of 7.7%. In the same period of 2022, 2,681,073 passages were recorded (-12.6% compared to January-July 2019).
CARS OVER 10 YEARS OLD AT 50%
UNRAE's monthly report on the used car market in Italy highlights once again how the preferred models are those equipped with "traditional" engines . The dieselmaintains first position, with 49.1% share (compared to 49.7% in 2022). This is followed by petrol at 38%. In third place in this particular ranking we find hybrid cars with a 5.1% share in July. Then we have LPG with 4.4% and methane at 2.4%.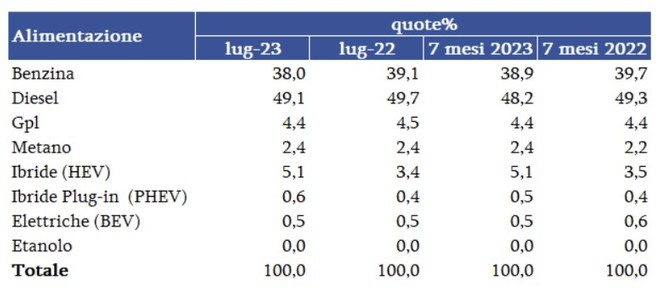 Net transfers of electric cars and plug-ins cover a share of 0.5% and 0.6% respectively. Regarding age of cars, in July 2023 the share of net transfers of cars over 10 years old is reached 50.3%. The share of cars from 6 to 10 years old rises to 16.1%, that of cars from 4 to 6 years old also grows (13.0% in the month) and that of older cars. fresh from 0 to 1 year (5.6% in the month). The share of cars from 2 to 4 years old is stable (11.9% in the month), while that of cars from 1 to 2 years old drops slightly (3% in July).
In July 2023, the share of trade between individuals/companies is at 56.3% of all changes of ownership. Followed by those from operator to end customer at 40%. Finally, a share of 0.9% for trades coming from rental and 2.8% for those from km0. Lombardy once again confirms its first place with 15.6% of all transfers, followed by Lazio at 10% and Campania at 9.5%.
MINIVOLTURES
Moving on to the minivolutures< /strong>, in July 2023, the share of private individuals or other companies who have traded in their car is dropped to 62.6%. The number of car collections by operators also fell slightly, stopping at 25.8%. The share of cars withdrawn from long- and short-term rentals is growing to 10.3%, while those coming from Km0 are stable.
Among the mini-transfers, diesel still dominates with a share of 53%. Next we have petrol cars at 31.6%, hybrid cars at 6% and LPG cars at 5.3%. Methane closes the ranking at 2.4%, with Plug-ins and electrics at 0.9% and 0.8%. Regarding seniority of cars, the share of cars with more of 10 years at 39.8% of the total.
On the other hand, the age group is growing slightly. from 6 to 10 years (19.5% in the month). More the increase was accentuated for those from 4 to 6 years (16.1%) and those from 0 to 1 year (4.3%). Cars aged 2 to 4 years are essentially stable (15.9%), while the share of those aged 1 to 2 years is decreasing (4.4%).
Small and super powerful? Apple iPhone 14 Pro, buy it at the best price from eBay at 978 euros.