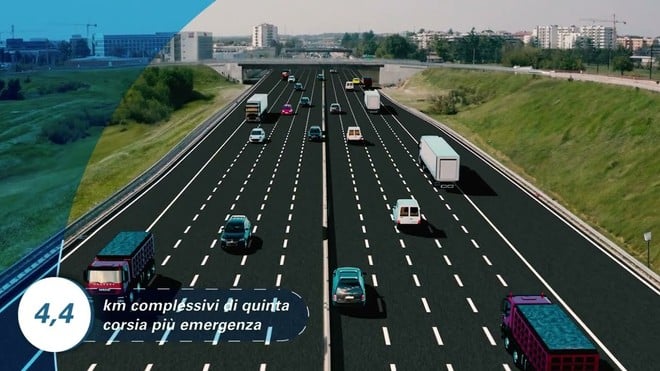 Autostrade per l'Italia has inaugurated the first 5-lane section of the highway. A8 Milan-Lakes. Thanks to this infrastructural work it will be capacity can be increased of one of the largest arteries trafficked in the country. In the section affected by the fifth lane alone, 170 thousand vehicles pass by per day, reaching 200 thousand units. during peak periods.
More in detail, it is a fifth lane was created between the northern Milan barrier and the interconnection with the A9 Lainate–Como–Chiasso motorway. It is a stretch of 4.4 km. Thanks to this intervention, it will be It is possible to improve travel times, with an estimated saving of 1 million hours a year. Among the most related interventions: important for the benefit of the territory created by Autostrade per l'Italia, the new Lainate Tunnel, two coplanar roads, a new roundabout, a new flyover, other connections with the municipality of Rho and cycle paths.
The investment supported by Aspi for the construction of the fifth lane is amounted to approximately 200 million euros. Milano Laghi thus becomes the first, as well as unique, 5-lane motorway in Italy. Aspi underlines that the entire project to upgrade the A8 is characterized by "a highly sustainable approach, both in the management of the construction phases and in the implementation of interventions to benefit the environment and the quality of of life of the urban fabric".
Particular attention is paid to was placed on the reuse of excavation materials (approximately 88% reused in construction activities foreseen by the intervention) and on the protection of water (100% of the drainage system closed and controlled). &` Furthermore, the planting of 10 hectares of native tree species near of the town which will contribute to improve the quality of the air, with a reduction in fine dust emissions of up to 40%.
Limited budget? Redmi Note 12 4G, buy it at the best price from eBay at 154 euros.