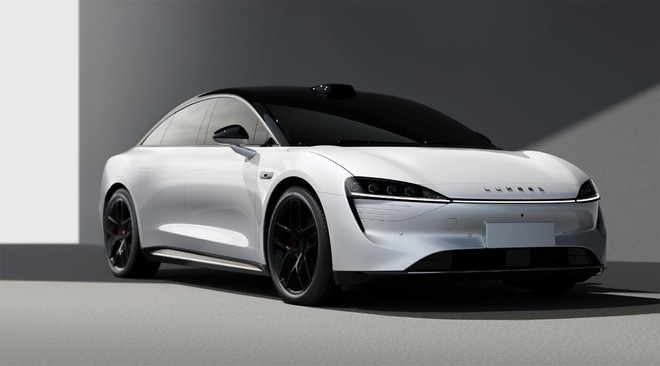 Luxeed is the Chery premium brand created in collaboration with Huawei which has long been more and more also involved in the automotive sector, collaborating with various Chinese car manufacturers. The first model will be the Luxeed S7 electric sedan which will be officially on sale in November.
Huawei believes a lot in this model, so much so that Richar Yu, head of the Chinese company's car division, underlined that "it will be superior to the Tesla Model S in many respects." Thanks to the technologies developed by Huawei you will be able to have multiple features advanced.
In fact, previously, Yu himself had said that the new Luxeed S7 would be the first car to have the HarmonyOS 4 operating system. Furthermore, you will be able to count on the LiDAR (present on the roof) and the ADS 2.0 driving assistance system also developed by Huawei. If we know more when the car will be officially launched on the market. However, already we know a little about its specifications given that the new Luxeed S7 is appeared on the website of the Chinese Ministry of Industry and Information Technology (MIIT).
FIRST INFORMATION
So, the new Luxeed S7 it measures4,971 mm long x 1,963 mm wide x 1,474 mm high, with a wheelbase of 2,950 mm. The weight of the car is between 1975 and 2170 kg, depending on the battery and version chosen. As for the powertrain, you can choose between the model with a single electric motor and the one with a double engine and all-wheel drive. The units used by the Luxeed S7 have all been developed by Huawei.
The single-engine model is equipped with an engine with a maximum power of 215 kW, while the twin-engine version is equipped with an additional engine with a power of 150 kW. Apparently, the first model will have of a CATL battery with LFP (lithium-iron phosphate) cells, while the second of a CATL accumulator but of the M3P type. Obviously, more details precise ones will arrive with the official launch of the electric car.
Luxeed S7 will be able to also count on 19 to 21 inch rims and it seems that it will be It is possible to have a Brembo braking system upon request. The car is based on Chery's E0X platform, designed for electric vehicles. Before long, therefore, we will be able to discover all the secrets of the new electric. He will arrive also in Europe? Very difficult given that the Luxeed brand is designed for the Chinese market.
Insane reception and lightning-fast charging? Motorola Edge 40 Pro, buy it at the best price from eBay at 719 euros.