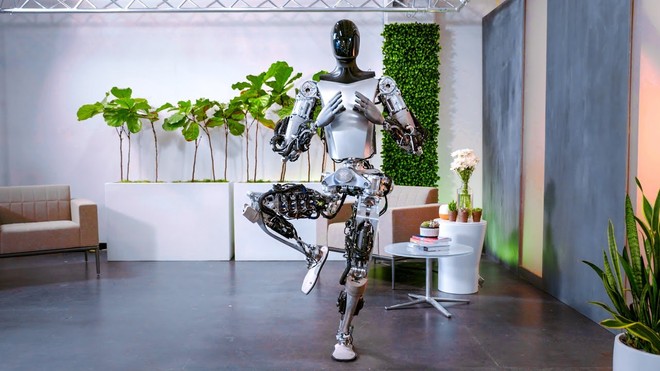 Tesla has provided a small but interesting update on the progress in the development of its humanoid robot Tesla Optimus< /strong>, also known as Tesla Bot. Through its social channels, the American company has released a new short film in which we see the robot in action. When this project was first announced, many didn't give it too much thought, thinking that it was more about of a rough idea rather than a real project.
Optimus can now sort objects autonomously & #129302;

Its neural network is trained fully end-to-end: video in, controls out.

Come join to help develop Optimus (& improve its yoga routine 🧘)

→ https://t.co/dBhQqg1qya pic.twitter.com/1Lrh0dru2r

— Tesla Optimus (@Tesla_Optimus) September 23, 2023
Instead, for Tesla it is a project that is not only real but of the highest priority. As we know, the objective is that of creating a humanoid robot to be mass-produced and used to carry out multiple tasks. During the company's AI Day 2022, Tesla gave a first demonstration of the work he was carrying out. Several months later Later, the company had provided further small updates on the project showing the progress made. Now, some small news arrives. on development.
DEVELOPMENT PROCEEDS
The video shows that Tesla is making new progress with its humanoid robot which, now, seems even more refined. The company showed how Optimus is now able to perform multier movements. fluid, with the humanoid robot easily sorting objects and even performing some complex movements such as balancing on one leg.
Thanks to the work on the robot's artificial intelligence, the American company seems to have managed to make important progress in the development of its movements. In addition to showing the skills of his humanoid robot, this video also serves to introduce new talents interested in working on the development of artificial intelligence and on this program. In fact, Tesla is currently looking for several new engineers to join the team working on the humanoid robot project.
Obviously, the work to be done is still a lotto reach Tesla's goal of marketing its humanoid robot. However, for the development of Tesla Bot, Elon Musk's company will be able to rely on its skills acquired in the automotive sector and in the development of Autopilot.
The most Android? small and powerful? Samsung Galaxy S23, buy it at the best price from Amazon Marketplace at 626 euros.