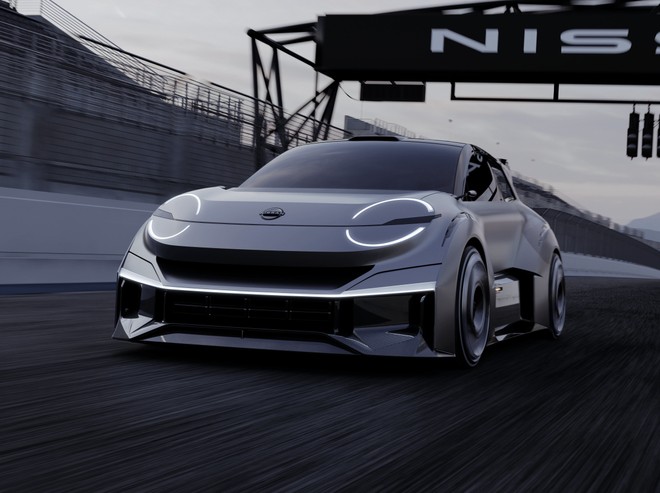 Nissan Concept 20-23 is an electric concept car that the automaker developed tocelebrate the 20th anniversary of Nissan Design Europe (NDE) in London.
As Makoto Uchida, President & CEO Nissan, the designers of the London studio were asked to "create an ideal car for getting around the city".
The NDE team is responsible for A simple task was given: to design a fun and ideal electric city car for young people to travel around London. The Concept 20-23 designed is a compact car strongly influenced by the world of online racing. And' the story it tells is appreciable, of how in the city the dimensions of modern life, mobility and zero emissions and also the stylistic features of online games.
The concept has a modern and sporty style inspired by online racing and Formula E. The front, which slopes up to meet the bonnet, houses the front LED headlights made up of two thin semicircles, one upper and one lower, which also include the direction indicators. Behind we find a large spoiler designed to generate the necessary downforce without compromising visibility. for the driver. At the rear too, the light clusters are LED, in the shape of a semicircle.
Peculiarity, the interiors are accessible via doors that open upwards like scissors. In the cockpit, we find a sports steering wheel, characterized by a long column with carbon fiber support. It has a rectangular shape and includes controls and buttons, as well as paddles to adjust the performance of the electric thruster. Furthermore, the center console is mounted on two vertical metal beams that fit onto the "spine" of the car that runs along the floor of the car. Essential information is displayed on just a couple of screens to minimize distractions.
A PREVIEW OF THE FUTURE MICRA?
Nothing is what has been said instead about the characteristics of the powertrain. Therefore, no details on the engine, battery, performance and autonomy. Interesting is the fact that this concept was born from the idea of ​​wanting to develop a "fun-to-drive electric city car". Its shapes, in fact, recall a little that of the Micra. That this concept anticipates some design elements that we will see in a future electric Micra (which might not even be called that), perhaps also proposed in a more refined version. sporty? After all, the relationship with the Micra is clear. Furthermore, past teasers of the future electric city car showed front LED headlights made up of two thin semicircles. All that remains is to wait for news from the Japanese car manufacturer.
NISSAN ONLINE CONFIGURATOR
Price and performance at the top? Xiaomi 13, buy it at the best price from eBay at 699 euros.