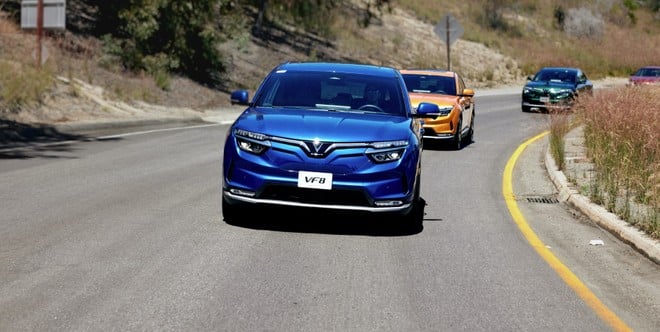 VinFast is preparing to officially land in Europe over the next few months. The Vietnamese car manufacturer, in fact, plans to deliver the first examples of its VF 8 electric SUV by the end of 2023 after obtaining all the necessary authorizations. In particular, as reported by Reuters, the company plans to ship 3,000 examples of its electric SUV to France, Germany and the Netherlands.
If the company succeeds truly achieve these objectives, the European Union could become its second largest market important after the one at home. After the Old Continent there would be the United States where the car manufacturer already has shipped 2,100 examples of its electric SUV. How much does the VF 8 SUV cost? Taking France as a reference, prices start from 50,990 euros.
Furthermore, CEO Le Thi Thu Thuy confirmed that during 2024 the company will introduce also the VF6, VF7 and VF9 models on the European market. It will be therefore it is very interesting to understand whether the Vietnamese producer will be capable of carving out its own space in the European car market.
It should be remembered that VinFast has an ambitious global expansion plan which even includes the construction of a plant in the United States.
complex debut
plan very ambitious but, for the moment, VinFast faces several difficulties. In fact, the American reviewsof the VF 8 electric SUV have highlighted several problems. This model, in fact, is was rejected on several fronts. The company, however, has made it known that it is working to improve its vehicle, especially on the software front.
In the second quarter of 2023, VinFast delivered 11,315 electric vehicles, mostly in the domestic market . Revenue in this period increased 131.2% to $327 million. Its net loss for the quarter was was $526.7 million, down 8.2% from the same period last year.
VinFast, part of the Vietnamese conglomerate Vingroup, is was established in 2017 and began producing electric vehicles in 2021 after abandoning the production of cars with internal combustion engines.
Best top of the range quality/price? Honor Magic 5 Pro, buy it at the best price from eBay at 820 euros.