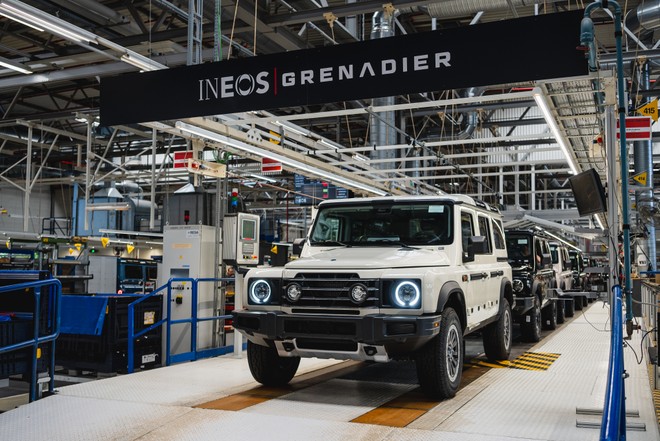 The INEOS Grenadier off-road vehicle is preparing to land in North America too. In fact, the first models intended for this market have rolled off the production line. The first model headed to the United States is a Grenadier Belstaff Fieldmaster Edition in Scottish White, which has concluded its final inspection in the quality control center.
The United States is becoming the largest market great for the car manufacturer since they are already over 7 thousand orders arrived. First customer deliveries will begin in November in the United States and January 2024 in Canada. The construction of the off-road vehicles, we remember, takes place in the Hambach plant, in France which the manufacturer bought from Mercedes in 2021 and in which it has invested 50 million euros over time to adapt the production lines. In fact, the Grenadier line now includes a new semi-automated paint shop, a new fully automated body shop and a new quality control center. Lynn Calder, CEO of INEOS Automotive, commented on the upcoming debut of off-road vehicles on the US market:
The start of production for North America is a significant moment for INEOS Automotive and in particular for our Hambach plant. Over the past six months we have accelerated the production rate to deliver vehicles as quickly as possible. as quickly as possible, whilst continuing to deliver the world-class quality standards we have set ourselves. With the addition of North America, our Hambach plant is producing vehicles for export to five continents. It couldn't be otherwise: the Grenadier is built for the world.
THE OFF-ROAD

INEOS Grenadier is offered on the market in the Station Wagon or Utility Wagon versions with 2 or 5 seats. The Utility Wagon variant is approved only as a commercial vehicle. The off-road vehicle features BMW engines: a turbo petrol with 286 HP (210 kW) of power and 450 Nm of torque and a twin-turbo diesel with 249 HP (183 kW) of power and 550 Nm of torque.
The backbone of the Grenadier is a box-section frame with sturdy rigid axles, a two-speed reduction gear and up to three lockable differentials. The interiors combine versatility and and practicality with the most recent technologies. The layout of the controls is intuitive and functional, with physical switches well spaced and easy to use. The infotainment system's central screen provides access to a wide range of information and settings menus. The console in the roof integrates controls and switches for off-road and auxiliary functions.
The Android more? small and powerful? Samsung Galaxy S23, buy it at the best price from Amazon Marketplace at 639 euros.