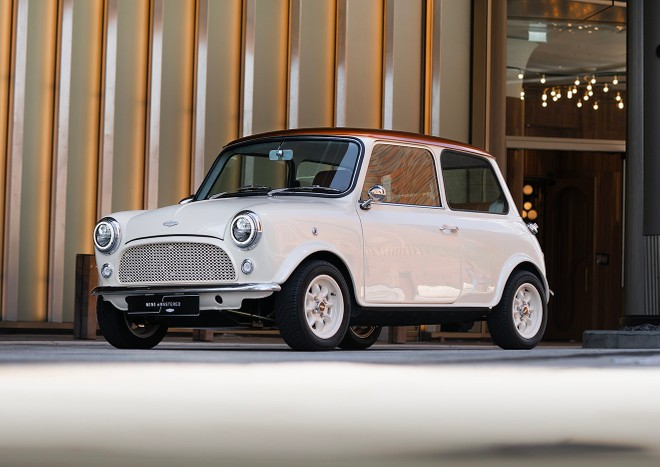 David Brown Automotive has been involved in the creation of Mini-based restomods for some time. Now, the English company has created a new project and presented the new Mini eMastered. As it already does to guess the name, it is a restomod of the MINI from the 1960s with an electric motor instead of this endothermic one.
Mini eMastered is offered at a starting price of 125 million pounds (almost 145 thousand euros) plus taxes. The cost can vary according to the level of customization requested by the customer.
AUTONOMY OF 177 KM

The English company is managed to keep the weight of the Mini to 640 kg. In place of the internal combustion engine we now find a unit electric with 72 kW and 175 Nm of torque. David Brown Automotive talks about a speed maximum speed of 148 km/h and acceleration from 0 to 100 km/h in 8.5 seconds (using Sport mode).
The electric motor is powered by an 18.8 kWh battery which allows an autonomy of 177 kmaccording to the WLTP cycle. You can only recharge in alternating current up to a maximum power of 6.6 kW. A full tank of energy takes about 3 hours. On an aesthetic level there are no major differences with the original model. The front, however, can rely on headlights with LED technology.
The interiors always have a classic look and can be customized down to the smallest details. Customers, in fact, will have the opportunity choose the materials and finishes. So, in this way it will be It is possible to create truly unique specimens. However, a touch of technology is not missing. In fact, in the cockpit there is There is an infotainment system with a 7-inch screen compatible with Apple CarPlay and Android Auto. The standard equipment also includes a Pioneer audio system and a USB port.
The first examples of the Mini eMastered should be delivered to the UK already. starting in autumn.
Small and super powerful? Apple iPhone 14 Pro, buy it at the best price from eBay at 988 euros.