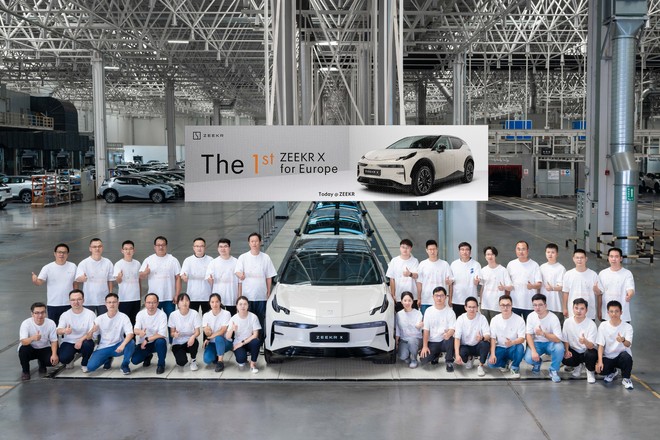 Zeekr continues to advance its growth strategy in Europe, announcing that it has kicked off in these days the production of its ZeekrAs we know, the Chinese car manufacturer of the Geely Group is already landed in Holland and Sweden. More ahead, sales will also start in other European markets including Norway, Germany, Denmark and France. To see the models of the Chinese brand in Italy you will have to wait, if there are no delays, until 2025.
A very first batch of the Zeekr already was embarked with destination Europe. Deliveries will begin in the fourth quarter of 2023. In early August, the automaker began production of the Zeekr 001 for the European market.
ZEEKR X
New Zeekr X that Luigi already has seen up close, it measures 4,432 mm long x 1,836 mm (excluding mirrors) x 1,566 mm high, with a wheelbase of 2,750 mm. The trunk has a capacity of of 328 litres.
The car is based on the Geely Group's SEA platform and has a Cd of 0.28. There are two versions in which the new model will be available. marketed: Long Range and Privilege. In the first we find a single 200 kW electric motorwith 343 Nm of torque. Speaking of performance, going from 0 to 100 km/h takes 5.6 seconds, while the speed maximum reaches 180 km/h.
The second, however, offers a dual electric motor and, therefore, also all-wheel drive. Overall, there are 315 kW available with 543 Nm of torque. From 0 to 100 km/h it takes just 3.8 seconds, while the speed maximum does not change (still 180 km/h).
Both models can count on a69 kWh battery with NMC (nickel-manganese-cobalt) cells made by CATL. Range according to the WLTP cycle, respectively, of 440 km and 400 km. In direct current, the accumulator can recharge up to a power of 150 kW (0-80% in 30 minutes). In alternating current, however, up to 22 kW.
How much does the new Zeekr X cost in Europe? Taking Holland as a reference, we start from 44,990 euros.
VIDEO
What's new? recommended to everyone? Google Pixel 7a, buy it at the best price from eBay at 428 euros.