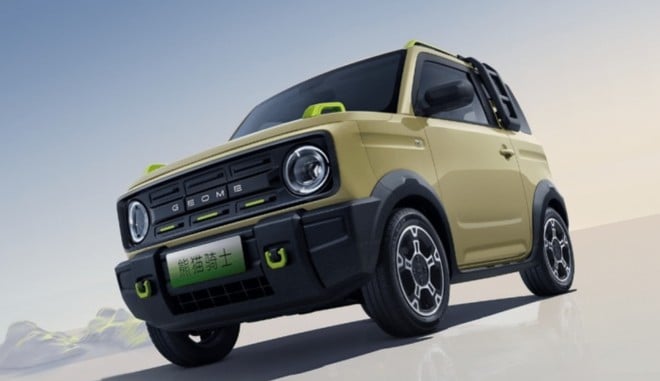 There is a lot of talk about the future electric Fiat Panda, yet there is a battery-powered Panda already and it is marketed in China by Geely. It is a city car that the Chinese brand had launched at the end of 2022. Even if the name is the same one, obviously there is no no connection between the two cars. The name of the Chinese model is a reference to the symbolic animal of China. In the case of the Italian car, the name is a reminder of the divinity Roman protector of roads and travellers.
Now, Geely has decided to launch a new version of its electric city car. It is called Panda Knight and is characterized by a style that recalls the world of off-road.
COMPACT DIMENSIONS
Deriving strictly from the Geely Panda Mini EV which is already as we know, the new Panda Knight continues to have compact dimensions. In fact, this model measures3,135mm long x 1,565mm wide x .1655mm high, with a wheelbase of 2,015mm. The front is been slightly redesigned but the round headlights that characterize the electric Geely Panda are still present.
We then find black plastic wheel arches, 14-inch wheels, a roof rack and even a ladder on the left side. The interiors feature a minimalist design but there is no lack of technology. Behind the wheel, in fact, is There is a 9.2-inch screen for digital instruments. Centrally, however, it is the 8-inch display of the infotainment system was placed. The ability of the trunk reaches 800 liters by folding down the rear seat backrests.
Speaking of the powertrain, Panda Knight can count on a 30 kW motor and 110 Nm of maximum torque, powered by a battery with 17.03 kWh LFP (lithium-iron-phosphate) cells. There is talk of an autonomy of 200 km according to the Chinese cycle. The battery supports direct current charging up to a power of 22 kW. Instead, in alternating current up to 3.3 kW. How much does this small Chinese electric cost? The price is of 53,900 yuan, i.e. just under 7,000 euros.
Arriving ever in Europe? Difficult but there is no information about it at the moment.
Small and super powerful? Apple iPhone 14 Pro, buy it at the best price from eBay at 988 euros.