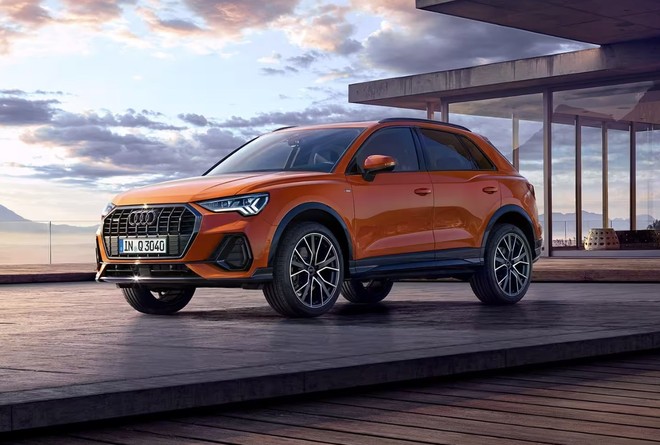 Audi is working on the development of the third generation of the Q3. In recent days some spy photos have emerged showing a forklift of the new SUV intent on carrying out a road test session. The car, clearly, still appears camouflaged with films and false elements that hide the new design. However, under the camouflage the car seems to have its definitive forms.
Therefore, the images allow us to take a look at the new model that will probably debut towards the end of 2024.
ALSO PLUG-IN
The next generation Audi Q3 will be still offered with internal combustion engines and will be There is also a Plug-in version which is precisely the protagonist of these spy photos. The proportions do not seem to differ too much from those of the current model. Up front, we can see a new grille similar to the one on the Audi Q4 e-tron. The light clusters are also new, placed on two levels.
Behind, the camouflage hides many details but you can still glimpse the inverted L-shaped light clusters which could be connected to each other by an LED bar. The interior is not visible. The spy photos, in fact, do not allow us to take a peek at the passenger compartment. However, there will certainly be a technological update with a renewed infotainment system.
As regards the technical specifications, the new Audi Q3 should have the MQB Evo platformwhich will be also used on the future Volkswagen Tiguan. Thanks to the use of the new platform, it is It is likely that the dimensions of the SUV will grow slightly to reach around 4.5 meters in length.
Speaking of the engines, it is It is likely that the new Audi Q3 will share some of the units seen inside the other Volkswagen Group models equipped with the MQB Evo platform. The Plug-in model, for example, should have the 1.5 TSI combined with an electric motor. Autonomy in mode electric should be around 100 km. The range should also include petrol engines, even Mild Hybrids.
Given that the debut of the third generation of Audi Q3 is still some time away, more details will certainly emerge over the next few months which will allow us to understand the new features ; that the house of the 4 rings is developing for this model.
[Spy photo: CarScoops]
Small and super powerful? Apple iPhone 14 Pro, buy it at the best price from eBay at 1,019 euros.