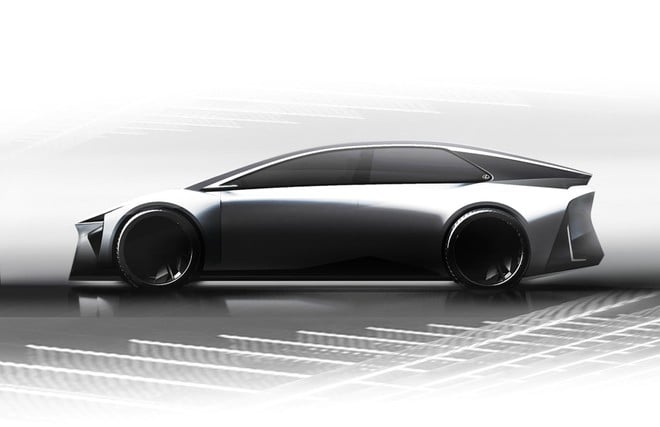 The new generation of Toyota electric cars will debut in 2026and will be able to rely on new batteries. The Japanese car manufacturer took advantage of a technical workshop on the topic "Let's change the future of cars" to talk about the new technologies that its electric cars will be able to use from 2026.
In particular, Toyota explored the topic of batteries in depth, talking about the technologies it is developing, adding some details compared to what has been said a little some time ago. These technologies, according to the car manufacturer, will be the key to making electric cars attractive to a greater number of people. wide range of customers and compatible with their needs.
We will need different battery options, just as we have different engine variants. &` It is important to offer battery solutions compatible with a variety of of models and customer needs.
THE NEW BATTERIES
So, entering more in detail, Toyota is working on different types of batteries, including solid state ones. Currently, the Japanese manufacturer is developing new batteries called "Performance" which will debut in 2026 with its new generation electric vehicles.
According to what Toyota said, these accumulators will allow the cars to have over 800 km of autonomy. Furthermore, they will allow for faster charging. rapid (from 10% to 80% in less than 20 minutes). Last but not least, these batteries will cost 20% less than those used today on the bZ4X.

At the same time, the car manufacturer is working on low-cost batteries called Popularisation. Toyota says they are built "using bipolar technology pioneered in NiMh hybrid vehicle batteries, combined with economical lithium iron phosphate (LiFePO) as the base material."
These batteries will be introduced in 2026-2027 and will allow the creation of cars with an autonomy 20% higher than that of the bZ4X. On the charging front, to go from 10% to 80% of the capacity it will take less than 30 minutes. Even more Importantly, these batteries will offer a 40% cost reduction compared to the batteries in the current bZ4X.
Toyota is also developing high-performance batteries, called High-Performance, which "combine bipolar structure with lithium-ion chemistry and a high-nickel cathode to achieve greater advances and further increase range to over 1000 km, combined with improved aerodynamics and weight reduction of the vehicle."
These batteries will lead to a further cost reduction of 10% compared to Performance batteries. On the charging front, it will be It is possible to go from 10% to 80% in less than 20 minutes. They will arrive between 2027 and 2028.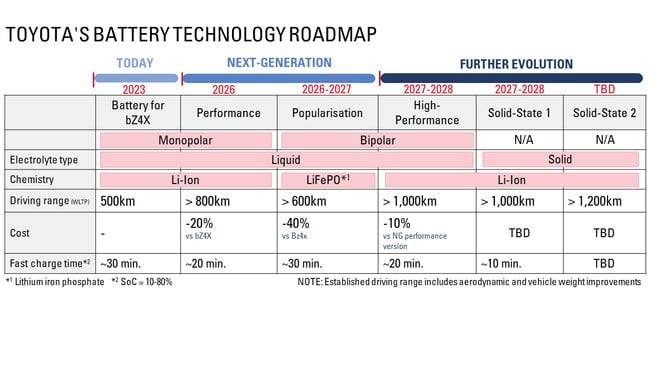 There will be a further step forward with the introduction of solid-state batteries on which Toyota is making important progress. The goal is to be ready for commercial use by 2027-28. Additionally, while solid state was initially slated for introduction on hybrids, Toyota's focus is on now aimed mainly at next generation electric vehicles.
The goal of the first generation of these accumulators will be a 20% increase in performance battery autonomy. However, it will only take 10 minutes to go from 10% to 80% of the charge. Toyota already has a solid-state lithium-ion battery with even higher specifications is under development which aims for a 50% improvement in autonomy compared to the Performance battery.
THE DEVELOPMENT OF AERODYNAMICS
For Toyota, the development of aerodynamicswill be fundamental for improving the autonomy of electric vehicles. However, this is a sector on which other car manufacturers are also working. The Japanese brand, specifically, will work a lot about reducing the thickness of the battery pack.
The battery is normally positioned under the floor of cars and this, according to Toyota, can lead to an overall increase in the height of the vehicle, to the detriment of aerodynamic efficiency. If the height of the battery can be reduced, it follows that the overall height of the vehicle can be decrease.
Today the battery pack of the bZ4X, including the case, is approximately 150 mm high. One day, Toyota plans to reduce the height of the battery to 120 mm and even 100 mm in the case of high-performance sports vehicles.
Best top of the range quality/price? Honor Magic 5 Pro, buy it at the best price from Amazon at 854 euros.