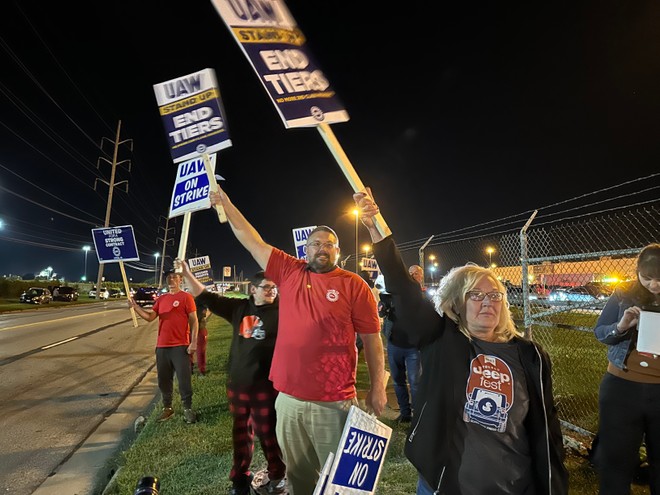 The failure to agree on the renewal of the employment contract with the three Big Automobile companies in the United States ( Ford, General Motors and Stellantis), triggered an unprecedented strike. The American union United Auto Workers (Uaw) had been seeking an agreement with the three big car manufacturers for months and the latest negotiations failed during the night.
At that point , the union decided to keep its promise by calling the strike. This is the most ambitious trade union action in the last decades of the sector. In fact, for the first time it is an agitation was started and carried out simultaneously against all three major car manufacturers.
THE STRIKE
The plants involved are those of General Motors in Wentzville, Missouri, Ford in Wayne, Michigan, and Stellantis in Toledo, Ohio. The union representatives have made it known that the strike will be targeted to hit the activities more important of the three automotive companies. Specifically, overall, there are approximately 12,700 unionized workers who have left their jobs within the factories: 3,600 from GM, 3,300 from Ford and 5,800 from Stellantis.< /p>
The UAW Stand Up Strike begins at all three of the Big Three.#StandUp pic.twitter.com/WsUdPt0or5

— UAW (@UAW) September 15, 2023
In particular, the workers who joined the strike are those who work in the painting departments and assembly lines. The impact of the strike for automotive companies is certainly important given that models such as the Ford Bronco, Ford Ranger, GMC Canyon, Jeep Wrangler and Jeep Gladiator are produced within these factories.
UAW ON STRIKE!!
Ford Michigan Assembly
UAW Local 900
UAW REGION 1A pic.twitter.com/AhpOxKbrG5

— UAW Region 1 (@UAWRegion1) September 15, 2023
The UAW has made it known that in the absence of compromises considered acceptable it is It is possible that there will be an expansion of the unrest to put even more pressure on automotive companies. An all-out strike would cost American industry dearly. The union's demands range from a wage increase of around 40% over four years to a reduction in the working week. Obviously, the car manufacturers presented their counteroffers but nothing happened. arrived at an agreement.
The news? recommended to everyone? Google Pixel 7a, buy it at the best price from eBay at 451 euros.