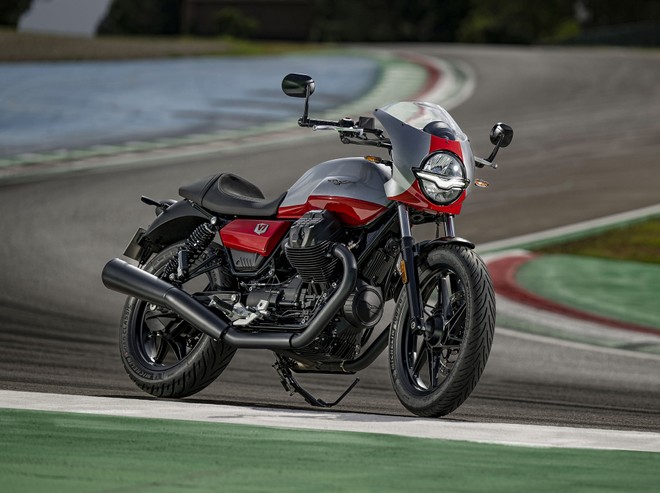 Moto Guzzi has unveiled a new version of its V7. It's called V7 Stone Corsa and is was presented during the Moto Guzzi Open House 2023. The bike can be already order in dealerships at the price of 9,999 euros.
REFERENCE TO THE PAST
The company says that the new V7 Stone Corsa represents a strong reference to its past in the world of competitions. Among the elements inspired by the past, the rounded-shaped windshield and the single-seater look saddle. This model is also characterized by the "bar end" rear-view mirrors. and the black anodized aluminum refueling cap.
Moto Guzzi V7 Stone Corsa also offers a front fork without gaiters. There is also a plate on the handlebar riser which underlines that it is a special edition. The new V7 Stone Corsa stands out for a two-tone livery, which is also a tribute to the golden era of motorcycle racing.
The metallic gray color is enlivened by a bold red band that runs vertically across the fairing, continuing along the lower part of the tank and on the side panels. In color with the bodywork it is The rigid cover for the rear portion of the saddle is available as an accessory, to make the latter totally single-seater, in pure racing style.
The beating heart of the Moto Guzzi V7 Stone Corsa is a 90° transverse V-twin, two valves per cylinder, air-cooled, capable of delivering 65 HP (47.8 kW) at 6,800 rpm and 73 Nm at 5,000 rpm . The dry weight is of 198 kg (218 kg in running order). The petrol tank has a capacity of of 21 liters (4 reserve).
Finally, the new Verde Camo color arrives for the V7 Stone range which will be available from October onwards. alongside the Rovente Red, Aluminum Grey, Metallic Yellow and Ruvido Black colours.
The novelty? recommended to everyone? Google Pixel 7a, buy it at the best price from eBay at 451 euros.