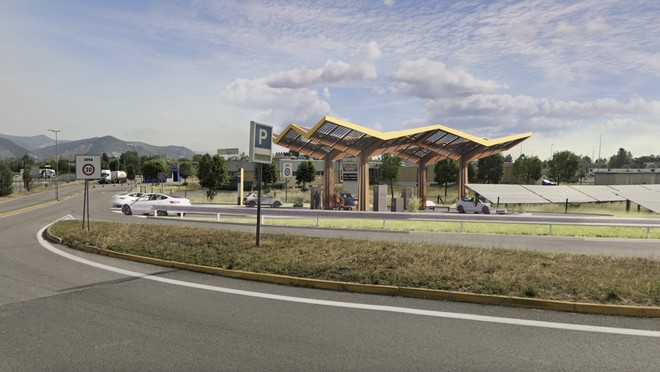 Fastned finally lands in Italy which thus becomes the The eighth country where the Dutch company is present. The first station for fast charging of electric cars will be built in 2024 at the Truck Park Brescia Est spaces in the Castenedolo area, where the largest truck park is located. wide of Europe, near the Brescia Est motorway exit (A4).
THE FIRST STATION
The first Fastned station in Italy is the result of the agreement signed between A4 Holding, its subsidiary A4 Trading (active for almost twenty years in services related to mobility along the A4 Brescia-Padova and the A31 Valdastico) and the 39;Dutch company.
The project involves the construction of a station equipped with 8 columnswhich will each deliver up to 400 kW. The infrastructure will be built in such a way that it can be expanded over time to also have 16 columns. The charging points will be protected by canopies on which solar panels will be mounted.
The partnership between A4 Holding Group and Fastned marks the beginning of the Dutch company's expansion path in Italy . It will be therefore it is very interesting to follow Fastned's growth project in our country and find out where further new stations will be built. Michiel Langezaal, Founder and CEO of Fastned, commented as follows: the arrival in Italy:
Starting our activities in Italy, the eighth country on Fastned's map, means a lot to Fastned and to me personally. Eleven years ago we founded Fastned with the aim of building a European infrastructure of fast charging stations. Now, the addition of Italy to our list of countries is another big milestone for Fastned. We are extremely happy to collaborate with the A4 Holding Group to offer motorists the best charging experience, encouraging many more people to switch to electric driving. We hope that our first station in Italy will bring many others along Italian roads as well as in major cities. in the years to come.
The perfect smartphone for the mid-range? Poco F5, buy it at the best price from Amazon at 369 euros.