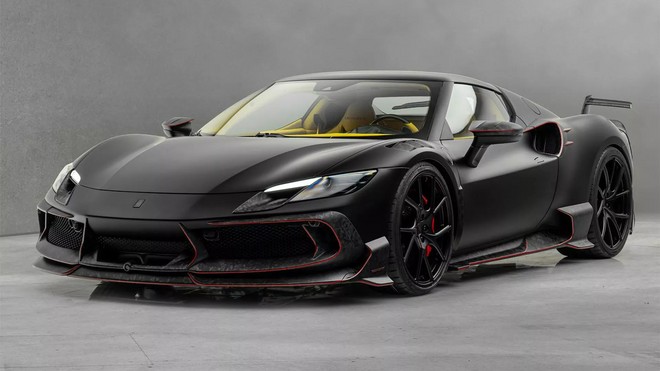 The German tuner Mansory presented the upgrade package for one of the latest creations from Ferrari, the 296 GTB . The "Storm" package brings the car's maximum power to 870 HP, 51 more of the original, adds several parts and appendages in forged carbon fiber, and implements a bright yellow color for the interior trim. The main elements of the aesthetic kit are:
Redesigned front fascia with new splitter and grille
Rear part clearly inspired by the FXX K with rear diffuser, side aerodynamic wings and small spoiler on the back
Large side skirts
Super light glossy black forged alloy wheels measuring 21×9 at the front and 22×11.5 at the rear. The tires are 255/30 and 335/25 respectively.
The increase in power is mainly due to the new exhaust system and the remapping of the control unit. In addition to the 51 HP more of power, there is also a small increase in maximum torque, from 740 Nm to 750. The 3-liter turbo V6 engine remains unchanged, so like the two auxiliary electric motors. According to the company 0-100 drops from 2.9 to 2.8 seconds, while the speed maximum is 330 km/h.
Inside, as we were saying, the yellow leather upholstery (with red contrasting stitching) stands out for the seats, dashboard, central tunnel, dashboard and parts of the steering wheel. There are also some further elements covered in carbon fiber and some red accents, especially at the air vents. There is no shortage of custom mats with the manufacturer's logo.
As always, Mansory does not declare official prices, also because the preparations are highly customizable depending on the customer's requests. However, it is reasonable to expect a decidedly significant figure, which could almost double the list price of the car, which we remember is close to 300,000 euros.
Small and super powerful? Apple iPhone 14 Pro, buy it at the best price from eBay at 999 euros.