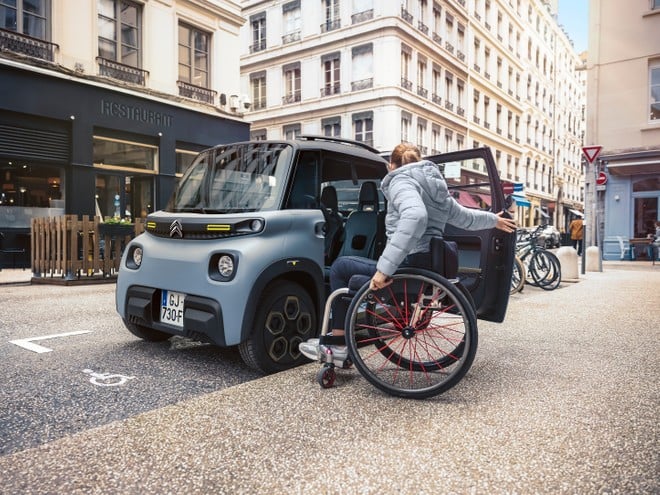 We know the Citroen Ami well and it is one of the most popular cars in the world. on the market for some time now. At the Autonomic 2023 trade show in Paris, the French brand presented the "Ami for All" concept, developed in collaboration with PIMAS, a company specializing in the modification of passenger cars for people with mobility. reduced. So how can you understand, this new version of little Ami is the perfect choice. It was designed to be driven by disabled people, especially those in wheelchairs.
The idea comes from the Star*up program, an incubator of ideas that allows Stellantis employees to submit their projects. If the proposition is selected, the employee has the opportunity to join. to turn it into reality; how is it? happened in this case. The project, therefore, is; born in 2022 and set itself the goal of making the small Citroen Ami accessible to the disabled as well in order to allow them too to be able to exploit the advantages of this model in the city environment.
CHANGES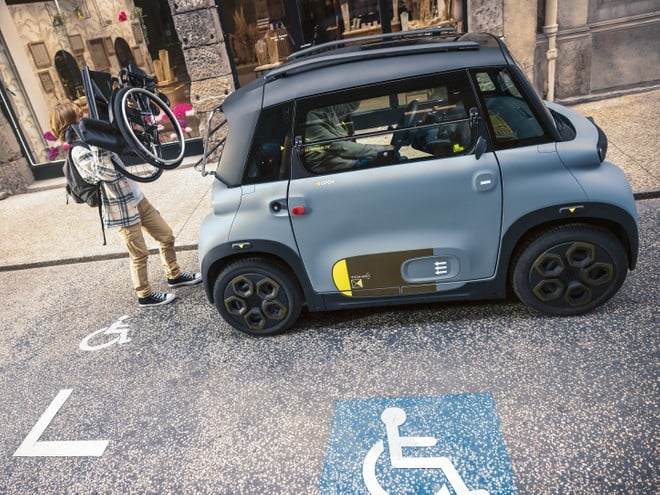 The kit developed by PIMAS which allows the Citroen Ami to be used by the disabled is a perfect solution. was designed to be easy to install. The first change concerns the introduction of a new hinge for the driver's side door which allows widening the opening angle to facilitate access by the disabled person.
In this way, after opening the door, it will be clear. It is possible to place a wheelchair parallel to the passenger compartment sill. A retractable platform and strap allow the person to be able to transfer themselves from the wheelchair to the seat of the small electric (and vice versa). The wheelchair can be used as a wheelchair. then be closed and housed in the passenger seat where it is fixed using a specially made strap.
In the event there is a passenger, the wheelchair can be be easily placed in a dedicated space in the rear thanks to an aluminum luggage rack. The wheelchair must be be placed on the luggage rack by the passenger who will then have to; cover it with a protective sheet.
To allow disabled people to be able to drive the Citroen Ami, the controls have also been modified. On the steering wheel is there is a knob that facilitates rotation with one hand. In addition, it is a mechanical lever has been placed that allows you to manage acceleration and braking.
Nothing is possible. It has been said about marketing but much will depend on what is happening. certainly from the feedback that Citroen will receive; by potential customers. From a mechanical point of view, however, nothing changes. Thus, this light quadricycle still has a 6 kW motor, which is powered by a 5.5 kWh battery. Speed ​​& maximum speed of 45 km/h and range of up to 75 km.
Top price and performance? Xiaomi 13, buy it at the best price from eBay at 649 euros.