In Valencia she recently achieved her first victory in the elite junior racing series F1 Academy: Bianca Bustamante still can hardly believe it. The Filipino pilot impresses with her talent and down-to-earthness.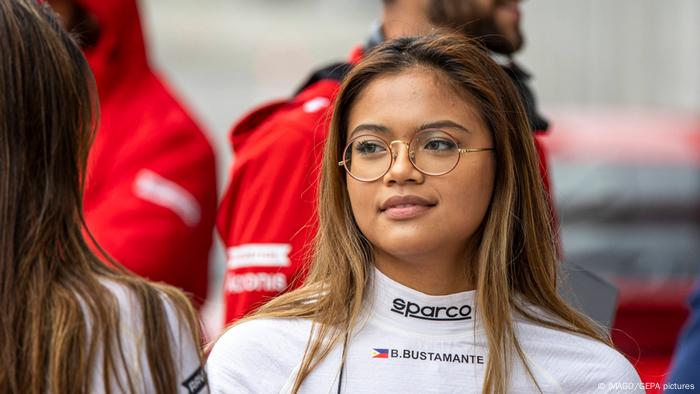 Life in the fast lane: F1 Academy driver Bianca Bustamante
"When I won, it was like the whole world exploded," Bianca Bustamante told DW. The President of the Philippines congratulated the 18-year-old on his victory in Valencia, a resolution was passed in the country's Senate and her face was featured on a giant billboard on Manila's busiest street.
"I honestly didn't know how to react. I didn't expect the impact to be so big. It was really a crazy moment for me. Experiencing all these things at 18 sometimes feels a bit too much. "
It would be easy to dismiss this reaction as a classic exaggeration that athletes like to use. But Bustamante's story explains why tears shed and the country celebrated when the teenager took the podium.
View this post on Instagram
Hard Road to Fame
Her motorsport-mad father bought Bustamante her first racing suit when she was just one year old. At the age of three she sat in a baby racing car, and at just six years old Bustamante knew that she wanted to be a racing driver!
"Financially it was definitely not easy for us. We are from the Philippines and our family is middle class here. My father is actually an overseas worker. He moved away when I was young just to earn money and support the family racing was really, really difficult for everyone. We made a lot of sacrifices, sometimes you could say too much. So I always felt like I had to pay them back."
Bustamante gave up a lot on the way to professional sports: she never went to a prom or stayed at friends' houses. She was homeschooled for most of her life.
"A few years ago we had trouble paying the entry fee, the fuel and the tires. That was a difficult path," she says. That's also why she contested every race with the utmost concentration because she didn't know if there would be a next one.
This tough school helped her. She has since risen from karting glory as a kid to the top rookie in the W Series. This year she competes for Prema Racing. The Italian racing team was already a springboard for many Formula 1 talents such as Charles Leclerc and Mick Schumacher.
View this post on Instagram
Family support
To have made it this far is a testament to Bustamante's determination. The distance from home is a challenge for her: "A race brings so much adrenaline. Other drivers have a home to go to afterwards, but for me home is a bit too far away, so I'm often alone. That is one of the challenges."
Even from a distance, however, she feels the support of her family. The close connection to her brother gives her special support. "I have a brother and he has autism and Down syndrome. I think that through him I really learned not only to think about myself, but also to be very selfless about a lot of things. There were moments when I had to be very patient and forgive him when he threw tantrums," says Bustamante. However, her brother was one of the first to call her after her win in Valencia.
"That's why I've always been very patient with life and with difficulties. It brought me a certain maturity. It takes a lot of self-control and discipline." Unsurprisingly, the premier class of motorsport is their declared goal. "I want to make it into Formula 1, that's my Mount Everest," Bustamante emphasized in an interview with DW. "Everything I do serves the purpose of hopefully getting there."
View this post on Instagram
Dream big
Last year Bustamante got a taste of it at the Hungaroring when she met seven-time Formula World Champion Lewis Hamilton. The two have a number of things in common: their talent and their ambition as well as the fact that they look different from most of the drivers in the field. For the teenager, the meeting was "a moment I will never forget," she says. Hamilton is also one of the earliest supporters of the F1 Academy.
"Lewis has always supported women in motorsport. He was one of the first people to really champion it. The fact is, it's not just about It's about us drivers, but also about engineers." McLaren, for example, have started a STEM program that is intended to attract women to technical tasks in motorsport. Bustamante herself is studying in the MINT field and is about to graduate at the time of the interview.
The story of the 18-year-old can encourage women to find their way in motorsport. With the long-term goal of Formula 1 in mind, the main thing for Bustamante is to win the next race and, as the winner, to call her brother even more.
(Adapted from English by Jens Krepela)