For the first time in 25 years, a late work by Pablo Picasso will be auctioned in Germany. The estimated value is at least 1.5 million euros. The painting shows the artist's second wife.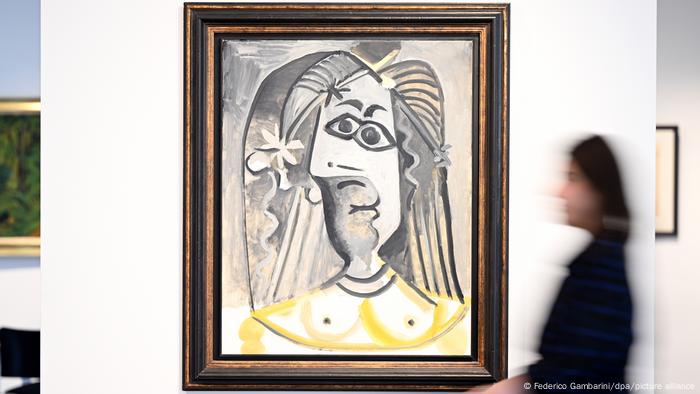 Late work in the Cubist style of Pablo Picasso
Two years before his death, Pablo Picasso created the painting "Buste de femme" (Bust of a Woman) in 1971. Art historians recognize the picture as Picasso's second wife, Jacqueline Roque. The Spaniard met the Frenchwoman, who was born in 1927, in 1953. She was more than forty years his junior. The two married after his first wife, Olga Khokhlova, passed away. None of his numerous lovers or wives portrayed Picasso as often as the little French woman with dark, thick hair and the classic Mediterranean face.
None of her many predecessors dedicated her existence so much to the artist and eccentric who lived in France from 1904. Jacqueline Roque lived with him and for him. She was at his service almost continuously until his death on April 8, 1973. When he died, she barely managed to survive. Emaciated and wracked with depression, Jacqueline Rocque ended her life 13 years after the death of the idolized artist she had called her "sun". Jacqueline Roque was 59 years old at the time of her suicide.
"Buste de Femmes" comes from Rocque's estate
The painting comes from her estate and will go under the hammer on June 5 from a German private collection at Cologne's Van Ham auction house. The estimated value is 1.5 to 2.5 million euros. That seems pretty cheap compared to the record price of 179.4 million dollars (around 160 million euros) for the work "The Women of Algiers". But that is mainly due to the fact that Picasso's late work is generally rated less highly on the art market.
The painting "Buste de Femme" was also presented in Berlin, Munich and Hamburg as a PR measure. According to the auction house Van Ham, it is the first time in at least 25 years that a major painting by Picasso has been auctioned in Germany.
Picasso is using his power
Museums around the world are celebrating Pablo Picasso this year on the 50th anniversary of his death. As part of the exhibitions and celebrations, the relationship between the native Spaniard and his wives and countless lovers was increasingly brought into focus. Only now – in the wake of #MeToo and a new wave of self-assertion – is it becoming apparent how well Picasso knew how to exploit his power and influence.
On Picasso's footsteps through Málaga
He himself made no secret of it. As he himself once said, he divided women into goddesses and doormats. Almost all went through this metamorphosis. But only in the anniversary year are book publications and exhibitions drawing attention to it. Some art connoisseurs already see Pablo Picasso's throne shaking.
Pablo Picasso – the art genius


"The Old Guitarist"

Pablo Picasso painted this picture of an old guitarist in the streets of Barcelona in 1903-1904. It is one of the most important works from his Blue Period, during which he painted predominantly in shades of blue to reflect his somber mood. Recent X-ray and infrared examinations revealed that there are other figures hidden behind the painting.

Pablo Picasso – the artistic genius


"Portrait of Gertrude Stein"

The Pink Period followed the Blue Period. From her comes the portrait of the American writer and art collector Gertrude Stein, painted in 1905-1906. Stein, who lived in Paris, was a patron of European avant-garde art and was instrumental in making Pablo Picasso famous.

Pablo Picasso – the art genius


"Les Démoiselles d'Avignon"

Picasso's "Les Démoiselles d'Avignon" (The Young Ladies of Avignon) is considered a seminal example of Cubism. Completed in 1907, it caused controversy for its extraordinary depiction of female bodies and distorted perspectives. If you want to see for yourself, you can examine the painting at the Museum of Modern Art in New York.

Pablo Picasso – the art genius


"Guernica"

With "Guernica", which Picasso painted for an exhibition in Paris in 1937, the Spanish painter reacted to the Nazi bombing of the Basque city of Guernica in the same year. The brutality of war is represented by various metaphorical figures such as a bull, a tortured horse or a crying woman holding her dead child.

Pablo Picasso – the art genius


"Dora Maar with cat"

Picasso created this painting of his lover Dora Maar in 1941. She was his muse and companion – for eight years. He then parted ways for the far younger Françoise Gilot. Picasso was not particularly good with women, as both Gilot and his granddaughter Marina Picasso describe in their memoirs. Today Picasso would be called a macho and a sexist.

Pablo Picasso – the art genius


"The Dove"

Picasso created this lithograph in 1949 for a poster for the Paris World Peace Congress in 1949. A year later Picasso designed the lithograph "Flying Dove" for the World Peace Congress in Sheffield, which, as the dove of peace, became the ultimate symbol of peace and is probably Picasso's most famous picture.

Pablo Picasso – the Art Genius


"Massacre in Korea"

Completed in 1951, this painting depicts the murder of innocent civilians by US soldiers during the Korean War. Experts believe that Picasso inspired by works such as Goya's "May 3rd, 1808" (1814) and Edouard Manet's "The Shooting of Emperor Maximilian" (1868). Recently, climate activists in Australia taped their hands to Picasso's anti-war work in protest.