It actually looked good for the German finalists from Wolfsburg. But then they gave up a 2-0 lead against Barcelona.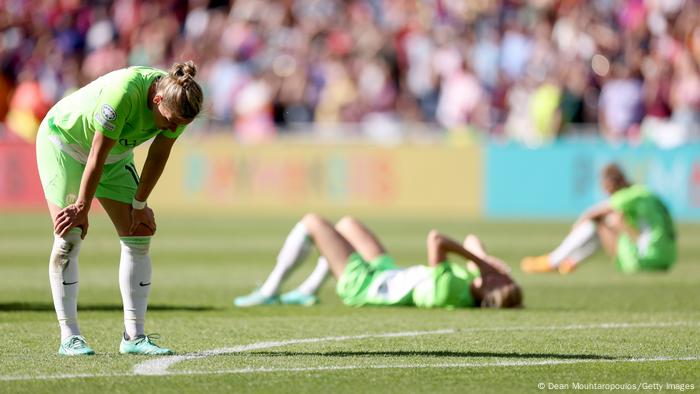 Devastated – the players of VfL Wolfburg
With the final whistle, the Wolfsburg soccer players fell to the ground, some buried their faces in their hands or cried like captain Alexandra Pop. Barcelona's players, on the other hand, danced exuberantly, cheered by their loud fans. After a spectacular 3:2 , the Catalans celebrated their second triumph in the Champions League. The 2-0 break lead was not enough for VfL Wolfsburg for the third title after 2013 and 2104. "We were so close," said Svenja Huth on ZDF. "It really hurts."
After Wolfsburg goals from Ewa Pajor (3rd minute) and Alexandra Popp (37th), the Spanish champions turned the game around in Eindhoven. Patricia Guijarro (48th/50th) and the former Wolfsburg player Fridolina Rolfö (70th) shot their team to the second premier class title after 2021.
Joy for the Champions League champions from Barcelona
Now the World Cup in sight
VfL have German football in Europe "once again represented outstandingly," said DFB President Bernd Neuendorf: "This final was a worthy conclusion to a fantastic season in women's football in Germany." At the World Cup from July 20th to August 20th, they want to continue this success story with many women from Wolfsburg in the squad.
fab/qu (dpa, sid)