After the sudden death of his drummer Taylor Hawkins, Foo Fighters mastermind Dave Grohl sets another marker in the nearly 30-year Foo Fighters history with the album "But Here We Are".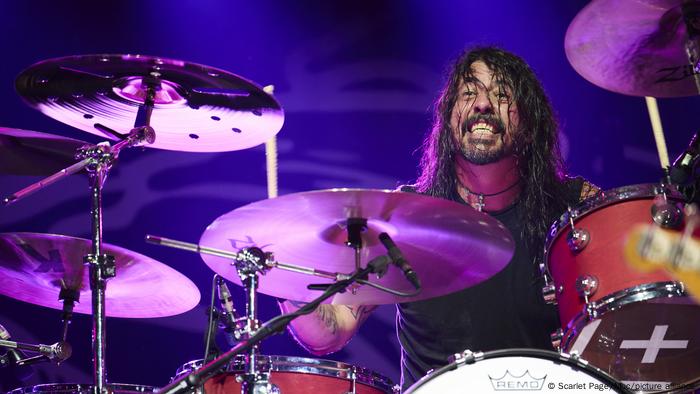 Drummer Dave Grohl is also a composer, vocalist, guitarist and boss of the Foo Fighters< /p>
The Foo Fighters' eleventh studio album is a reflection of the inner world of band founder Dave Grohl. Ten songs about farewell, about letting go and moving on, about sadness and confidence. It looks like Grohl's catharsis – a cleansing after having suffered blows of fate. Not only the death of drummer Taylor Hawkins in March 2022 hit him to the core. His mother, who had supported him since childhood, also died a few months later, in August 2022.
After Hawkins' sudden death, the Foo Fighters could have ended immediately, the pain was so great and the loss of an important band member and friend.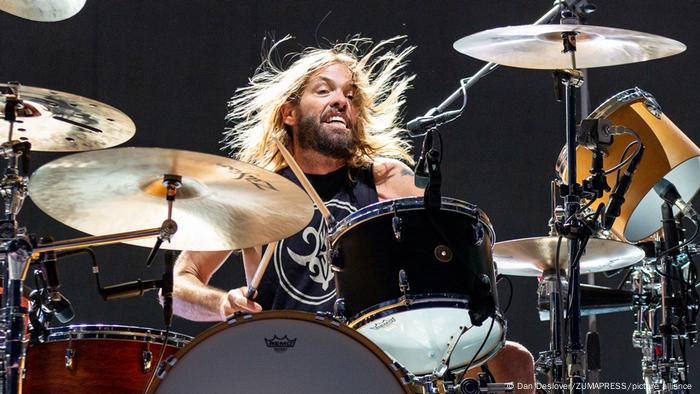 Taylor Hawkins' death came as a shock to the band and fans alike
But Grohl bravely carried on, Hawkins was honored with two tribute shows in London and Los Angeles and finally confirmed at the end of last year that the band would remain. With Josh Freese as the new drummer.
But we are here: But here we are
The band went back into the studio. The result with the title "But Here We Are" is here and convinces fans and critics alike. Honest stadium rock greets us directly in the first song "Rescued", which, like the surf rock number "Under You", deals with the grief for Taylor Hawkins. "The Teacher" is a ten-minute epic – ambitious, psychedelic and rocking, Grohl deals with the death of his mother, who was a teacher – borrowings from the guitar sound of The Cure can be heard here.
Musically, the album ties in with older Foo Fighters records – it's straight forward, rocky, rough, with warm guitar harmonies, Grohl's speciality, which give all the pieces a pleasant tension.
Lived together in a very small space for a long time: Dave Grohl and Nirvana singer Kurt Cobain
Songwriting wasn't really Grohl's job at the beginning of his career. She started as a drummer with the hardcore punk band Scream and really picked up speed with Nirvana. Back then, Grohl had found a friend and soul mate in Kurt Cobain. After Cobain's suicide in 1994, the band Nirvana was pulverized – and Grohl fell into a deep hole. From which he soon crawled out again.
Foo Fighters take off
He grabbed his song ideas, which had been dozing on cassettes and notes for years, went to the studio in October 1994 and recorded his songs completely himself – he masters drums, guitar, bass and vocals. For him, the recording session was like therapy – the "defibrillator that brought my heart back to its normal rhythm," he writes in his 2021 autobiography "The Storyteller". The result was the first Foo Fighters record to go straight into the charts, even number 3 in the UK.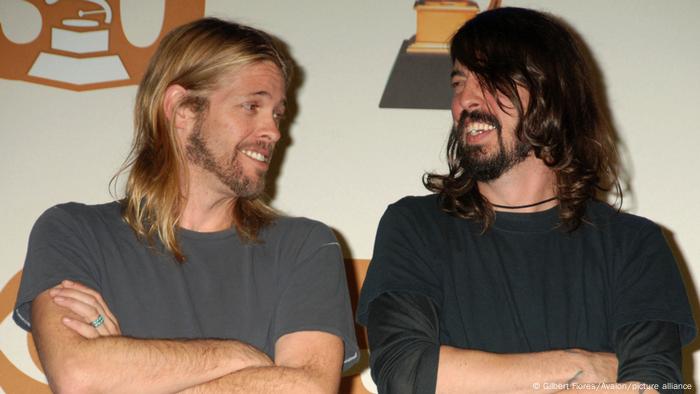 Soulmates: Taylor Hawkins (left) and Dave Grohl
Grohl gathered other musicians around him. There was only one direction for the Foo Fighters: Forward, with honest, down-to-earth, heavy and melodic rock. In 1997, Taylor Hawkins joined – after Kurt Cobain Grohl's closest friend and soul mate. All albums were quite successful and stayed in the charts for a long time, but the most successful was the seventh studio album "Wasting Light".
One song stands out: "White Limo" is a hilarious hard punk rock 'n' roll smash, a nod to Lemmy Kilmister's Motörhead. And Lemmy himself also takes part: in the video he sits smoking and drinking whiskey at the wheel of a stretch limousine, in the background the Foo Fighters as a typical rock band, with guitars, beer, champagne and joints. Fun fact: Lemmy never had a driver's license.
A throne for Dave Grohl
In June 2015, the Foo Fighters gave a stadium concert in Gothenburg, Sweden. During the second track, Grohl raged from one edge of the stage to the other, headbanging. Suddenly his foot got caught in a cable, he tripped and fell off the stage – in front of 50,000 people. Despite several broken legs, he had himself carried onto the stage on a stretcher and sat in a chair – after a good sip of whiskey and patched up in a makeshift manner. The Foo Fighters finished their concert.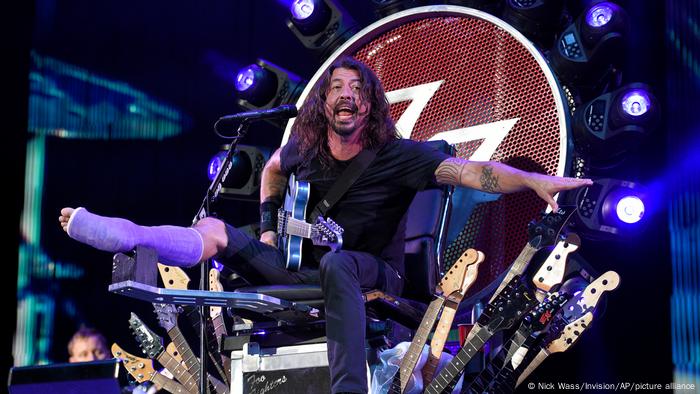 Grohl's throne is reminiscent of the iron throne from "Game of Thrones" with its guitar necks
In order to be able to continue touring, Grohl designed a kind of throne. From then on he sat on it and played every concert while sitting until he could walk properly again.
The Miracle of Cesena
This also included a very special performance: At the end of July 2015, 1000 musicians gathered in a field near the small Italian town of Cesena and played the number "Learning to Fly" by the Foo Fighters together. After the song, the initiator asked the Foo Fighters to give a concert in Cesena.
The video went viral – Dave Grohl, then still injured from the fall in Sweden, was touched and promised to come over with the Foos. No sooner said than done: the band came to Cesena in November 2015 – Grohl's throne was also in their luggage.
Loan to Axl Rose
The throne became a cult. Even when Grohl no longer needed him, his story continued. In April 2016, he was wheeled onto the stage of an arena in Las Vegas. Axl Rose – the singer of Guns N'Roses took a seat. He had broken his foot before the Guns N'Roses tour and also didn't want to cancel a tour because of such a trifle as a broken foot.
In 2018 there was another concert by the Foo Fighters in Gothenburg. The band came on stage, Grohl raced back and forth in the usual manner – and fell off the stage again. The shock in the audience didn't last long: the band had allowed themselves a little joke with a stunt double. The real Grohl happily jumped back onto the stage and rocked the stadium.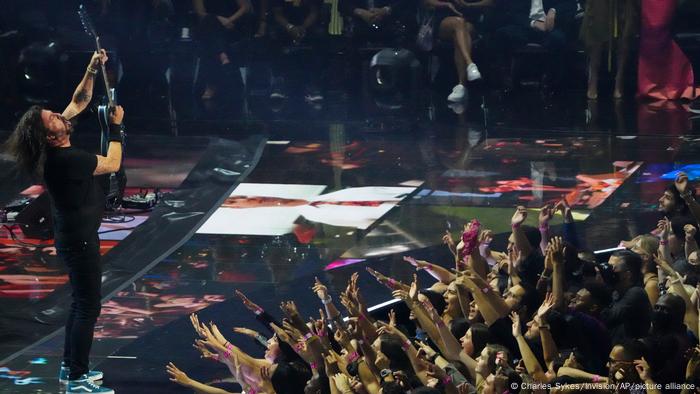 "Rampensau" Dave Grohl
In fact, the real Grohl fell again a year later. At a gig in Las Vegas, he accepted a can of beer from the audience, spilled part of it on an amp, exte the rest, climbed back up – and fell down. Since this stage wasn't that high, nothing happened to him and the concert went on.
Dave Grohl is literally a roly-poly
As with his stage falls, the always positive Dave Grohl also deals with his strokes of fate. He accepts it, gets up quickly and makes the best of it. He is bursting with humor and joie de vivre, living his unconditional love for music, for his friends, for his family.
The world-famous rock star isn't too bad to get involved with the "Animal" from the "Muppet Show". delivering drum battles or sitting in James Corden's limousine and clowning around at Carpool Karaoke. He takes his daughters on stage and lets them show off their musicality with a proud chest.
As spring 2020 the corona virus stopped the world and there were no more concerts, he began to write his book "The Storyteller". Grohl wears his heart on his sleeve here, telling of good and bad times, of love, sadness and confidence. As in his music. And so, once again, his way of telling stories was a great success with the new Foo Fighters album "But Here We Are".