The "European Political Community" (EPG) met for the summit in Moldova. There was a lot of verbal support for Ukraine there, but no resolutions. From Mimi Castel Bernd Riegert.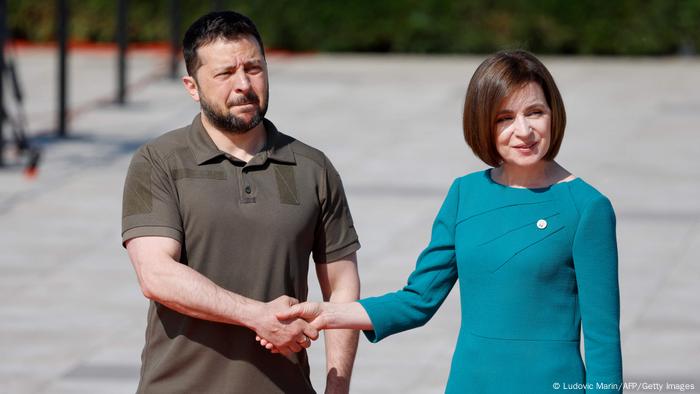 Excursion to Moldova: The Ukrainian President Volodymyr Zelenskyj visits his colleague Maia Sandu at the XXL summit
The swimming pool in the garden of the luxurious Mimi Castel winery amidst green hills remains unused on this sunny and hot Thursday. The 47 heads of state or government who have traveled from Europe don't have time to swim, but it's relaxed with a chat over cool drinks under parasols. The border with Ukraine is only 20 kilometers away. In the small group dynamic working groups on topics such as energy or cyber security, the leaders of states and governments don't seem really strained. The informal concept for the meeting of the "European Political Community" seems to be working.
Great European Summit in the Republic of Moldova
French President Emmanuel Macron created the format as a forum for better communication between the EU member states and the other European countries. It's about a "strategic dialogue", not about hard decisions. It is the second meeting of this kind after Prague in October 2022. And apparently XXL likes this kind of European family meeting. Meetings number three and four in Spain and Great Britain are already scheduled.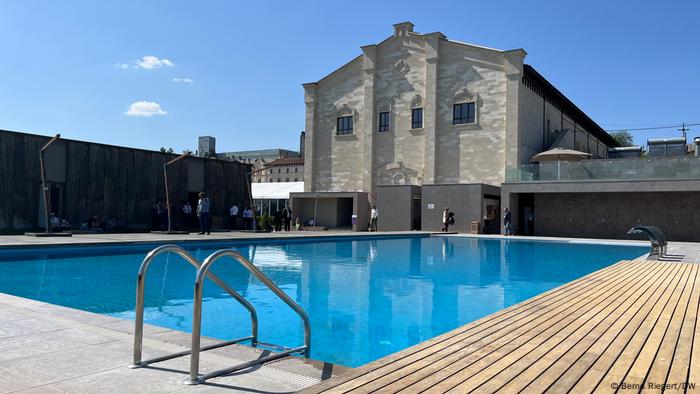 The chic pool remains empty: Zum The heads of state and government have no time to bathe
Support for Ukraine in Moldova
The main message from this summit in Moldova: Europe stands by Russia's attacked Ukraine for as long as it takes. All European countries came, except for Russia and Belarus, who, logically, were not invited. EU foreign policy chief Josep Borrell said: "Russia is not staying away because we didn't want to invite it, but because (President) Putin himself excluded Russia from the community with his war against Ukraine." Hungarian Prime Minister Viktor Orban also came to Mimi Castle, although he is opposed to EU sanctions and is considered Putin's best friend within the European Union. He walked the long red carpet rather lonely and kept to himself when chatting.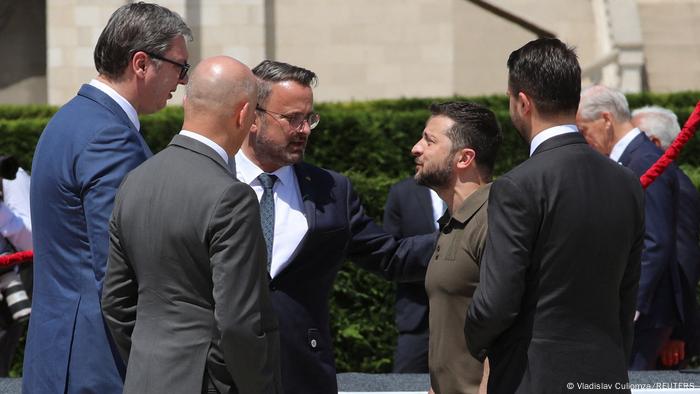 Loose formation : Heads of government at a standing reception with President Volodymyr Zelenskyj
The most noticed summit participant was the Ukrainian President Volodymyr Zelenskyj, who, despite the most recent attacks by Russia, made the rather short journey to the neighboring country by train at night. The cozy, peaceful winery and the war raging just a few kilometers away – they don't really go together, remarked the hostess, Moldovan President Maia Sandu. It is her goal to quickly restore this peaceful atmosphere to the whole of Europe.
Ukraine would like security guarantees
As always with international appearances, President Zelenskyj always had the same request: more help, more weapons, more speed. The Ukrainian President said his country was ready for the EU and for the NATO military alliance. "We'll see when NATO will be ready," said Zelenskyy. Until NATO accession, he demands individual guarantees of assistance from larger states such as France, Great Britain or Germany. "Security guarantees are very important, not only for Ukraine, but also for our neighbors like Moldova, because of Russian aggression against Ukraine and possible aggression against other parts of Europe."
The Ukrainian President, the French President and Federal Chancellor Olaf Scholz discussed in a small group what such security guarantees should look like. Concrete decisions were not communicated, but the Chancellor indicated that there was movement. "We have always said that there must be guarantees for a peace order after the war, and Germany will make a contribution to that," said Scholz. Lithuanian President Gitanas Nauseda, who will host NATO's next major summit in Vilnius in July, called for NATO to adopt a clear roadmap for Ukraine's accession.
Allies want to support Ukraine with fighter jets
And there also seems to be some movement with the F-16 fighter jets that Ukraine is claiming. Dutch Prime Minister Mark Rutte, whose country could potentially supply F-16s, said it would be discussed at Mimi Castel. Ukraine will hold a "peace summit" as soon as the war against Russia is won, said Ukrainian President Zelensky. However, he cannot say when that will be. Russia could end the war immediately. He is being forced on his country.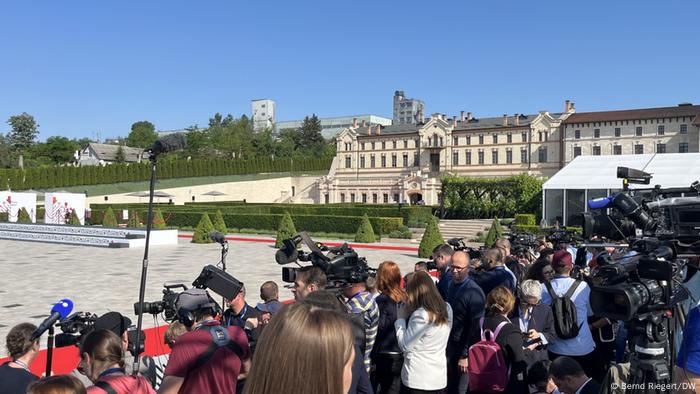 47 governments and 600 accredited journalists: the chats in the winery find a lot of media Attention
Difficult situation for Moldova
Moldovan President Maia Sandu expressly thanked her colleague Selenskyj for defending not only his country, but also hers and the whole of Europe. In Moldova, the government fears that it could be the next country on Putin's attack list after Ukraine. "Ukraine is keeping Moldova safe today and we are very, very grateful for that," said Maia Sandu, who governs a troubled country with many problems. Relatively poor, without an army worth mentioning, and committed to military neutrality under the constitution, Moldova would be pretty defenseless. In the breakaway Moldovan province of Transnistria there are even Russian soldiers, what Moscow calls peacekeeping troops, who have been protecting the post-communist rulers there for 30 years.
Republic of Moldova: The fear of the people of Cocieri
Pro-Russian forces also rule in Gagauzia, an autonomous region. "There is a majority of 50 to 60 percent that supports the European integration process," Europe expert Mihai Mogildea told DW. He analyzes Moldova's rapprochement with the EU for the "Institute for European Policy and Reforms" in Chisinau. If you include the large Moldovan diaspora in the polls, you would probably come up with 70 percent. "At the same time, there is an important segment of society, around 25 percent, that supports a deep and close partnership with Russia, despite Russian aggression against Ukraine."
Make Moldova join the EU faster than the Balkans?
The EU Commission is trying to convince the skeptics and make Moldova more ready to join with new financial commitments and many infrastructure measures. Only last year, the second poorest country in Europe, together with Ukraine, applied to join the EU. Because of the war, everything suddenly happened very quickly. Moldova and Ukraine were promoted to candidate countries after a few months. Moldova's President is now hoping that formal accession talks will begin by the end of the year. Moldova is making much faster progress than some countries in the Western Balkans in many areas, such as fighting corruption or the rule of law, Mihai Mogildea told DW. That is why the accession process can go much faster than in some Balkan states, which have been negotiating with the EU for years.