Despite allegations by an anti-racism group against referee Szymon Marciniak, the Pole will officiate the Champions League final. The referee had performed at a right-wing event.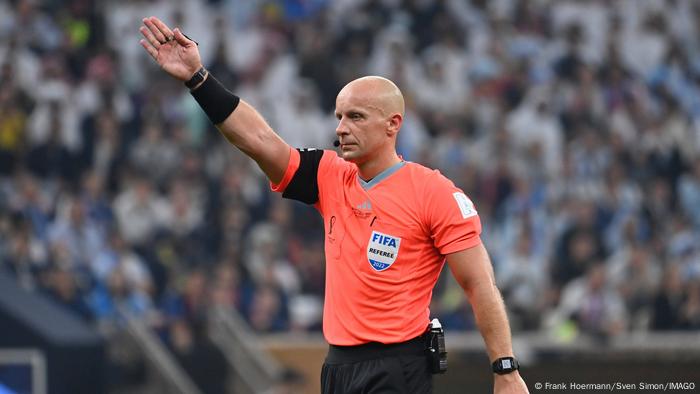 Referee Szymon Marciniak apologizes for attending the event organized by a right-wing nationalist party
Polish referee Szymon Marciniak will referee the Champions League final as scheduled despite allegations from a Polish anti-racism group. This was announced by the European Football Union UEFA on Friday. The final between Manchester City and Inter Milan will kick off in Istanbul on June 10th. The association "Never Again" from Poland, which works against racism, had asked Marciniak to distance himself from "right-wing extremist activities". Specifically, it was about the referee's participation in an event hosted by politician Slawomir Mentzen from the right-wing national and Eurosceptic party "Konfederacja". Marciniak was the main speaker there. Mentzen is considered the new face of the party and is very active on social networks.
"We don't want Jews, homosexuals, abortion, no taxes and no EU "- That's how he summarized his party's program in 2019. The European Football Union UEFA takes the allegations against Marciniak very seriously, the association said on Thursday evening at the request of the German Press Agency and called for "urgent clarification". "After examining all the evidence" a further communication will follow.
UEFA has now stated that the allegations have been examined with the utmost seriousness. The association also published a statement from Marciniak, who also refereed the last World Cup final between Argentina and France in Qatar. In it, the 42-year-old apologized for attending an event in Katowice on May 29. He was misled and unaware of the true nature of the event.
Poland's sports minister speaks of "manipulation"
Marciniak had previously spoken on Thursday evening. As a long-time referee, "fairness and respect for others always come first for him and I want to pass these highest values ​​on to others," he said in the Przeglad Sportowy newspaper. He "always distances himself from racist, anti-Semitic and intolerant statements," said the Pole. "I always say 'stop the hate' and will promote that the most important thing is to be a good person."
The Polish Ministry of Sport quoted Minister Kamil Bortniczuk of the national-conservative ruling party PiS as saying. "I am in contact with referee Szymon Marciniak. The denunciation case is a big manipulation." It will contact UEFA and provide a statement in support of referee Marciniak, it said.
The article was updated following UEFA's statement.
asz/ck ( SID, dpa)