She has been an international star for decades. Shortly before the finale of the 18th Germany's Next Topmodel season, Heidi Klum celebrates her 50th birthday. Looking back on an impressive career.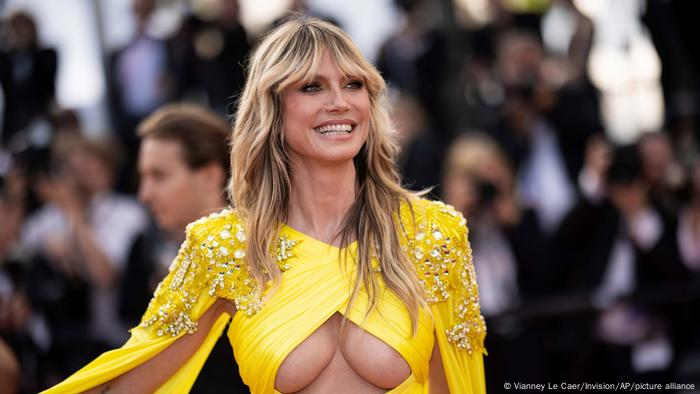 Heidi Klum turns 50
She works in Germany and the USA, is extremely prominent on both sides of the Atlantic and is also an enormously successful businesswoman. Heidi Klum entered the fashion business as a photo model, followed by lucrative projects, including her own model casting show and various fashion lines. Heidi Klum leads a jet set life as a superstar, "model mom" of the "Germany's Next Top Model" girls, mother of four and designer – and yet the now 50-year-old has no signs of fatigue; at least you can't tell by looking at her.
There are only a few stars from Germany who have achieved such fame, said fashion photographer Thomas Hayo in an interview with the business magazine Forbes. He has been part of the jury for Germany's Next Topmodel since 2011.
Heidi has been moderating the program "Germany's Next Topmodel" (short: GNTM) on the private broadcaster ProSieben since 2006, and millions of people are watching in fascination. GNTM is based on the US original that Heidi's girlfriend Tyra Banks launched in New York City in 2004. Heidi's announcements are feared at GNTM, because she says without hesitation if she doesn't like something. But she also shines in competition with the candidates, if their "little girls" perform well.
Praise and criticism
Germans generally admire Heidi Klum as a smart businesswoman, self-confident and quick-witted, the perfect GNTM presenter, explains Franziska Frosch, Deputy Editor-in-Chief of ELLE Extensions at Burda. "Heidi stands for success and discipline."
Karl Lagerfeld, after all, Germany's "fashion czar" had less glorious words for her. In the German talk show Johannes B. Kerner he said in 2009: "I don't know her. (…) Claudia (Schiffer) doesn't know her either. She was never in Paris, we don't know her."
< h2>Image of the self-made woman
Heidi Klum likes to portray herself as a self-made woman. Her fame did not fall from heaven, but is the result of hard work, self-control and personal development.
Heidi gives legendary Halloween parties – and wears unusual costumes
However, her GNTM catwalk show is also criticized: "Germany's next top model doesn't just make harmless entertainment, but spreads a political message: the ideal is immaturity, total submission to an authority", wrote the FAZ once. An opinion shared by many Germans to this day.
When there was still a lot of criticism at the start of the 18th season in spring 2023, Heidi Klum struck back: "After I had to listen to so many things, especially in the last year, I would like to take a stand now, dear Viewers." In a ten-minute defense speech, she justified herself: "I come from a different time when the industry worked very differently." Anyone who didn't fit into a size 34 could go home – that also affected her, but it was "her school," she explained. "We are a reality show and show exactly what's happening."
Tabbels' darling
In addition to her appearances on GNTM, the media are very interested in Heidi's private life. For all its perfection: her turbulent love life has a high entertainment value. The German tabloids in particular are full of it.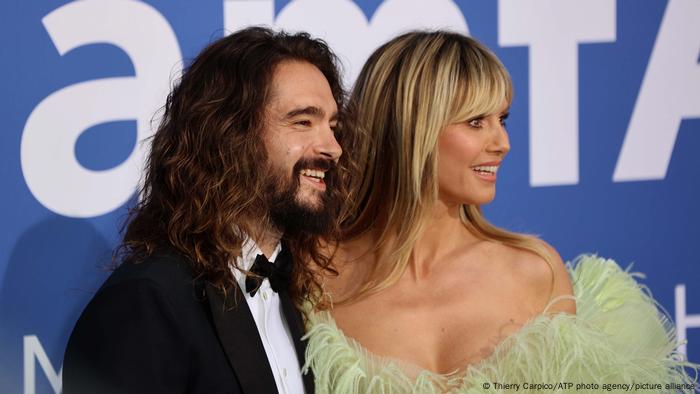 Tom Kaulitz and Heidi klum have been married since 2019
In 2018, Heidi Klum made headlines with her then new and much younger boyfriend, Tokio Hotel guitarist Tom Kaulitz, whom she married in 2019. Before that she was in a relationship with the art dealer Vito Schnabel, 13 years her junior. She has three children with her ex-husband Seal, her eldest daughter is from a previous relationship.
The American Heidi
It all started in 1992: Heidi won a German model competition and landed on the front pages of international fashion magazines. In the USA, she caused a sensation on the cover of the swimwear edition of the US magazine "Sports Illustrated" in 1998 and became the first German model for the lingerie manufacturer "Victoria's Secret".
Since then she has been commuting between the worlds – as a GNTM presenter, as a fashion designer for the supermarket chain Lidl and as a juror on American TV shows. From 2004 to 2017 she was part of the jury of the cult reality series "Project Runway", a casting show with a focus on fashion design. Participants who left the show, in which she also acted as a producer, she said goodbye in German with "Goodbye". As with GNTM, she was neither reserved with criticism nor stingy with encouraging words on this show.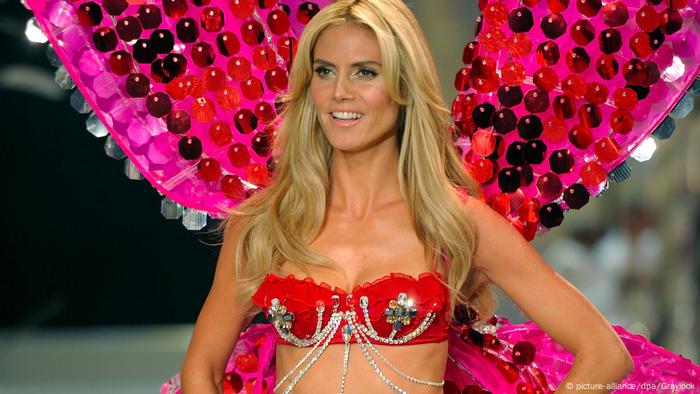 German Victoria's Secret Angel, 2008
After allegations of sexual harassment, "Project Runway" has not been produced by Harvey Weinstein since 2017.
Heidi showed respect for the women who dared to go public: "I admire these brave women who share their stories, because change can only come when there is a dialogue and people are held accountable," said she told People Magazine at the time.
As one of four jurors, Heidi also decides on the fate of the candidates of the talent show "America's Got Talent" – her feedback is also unvarnished and direct.
"Do we have an expiration date?"
Heidi Klum has been in the spotlight with no end in sight. She once told Ellen Degeneres why she stayed in the modeling business: "I think there are a lot of women my age, 50-year-olds, 60-year-olds, 70-year-olds – do we have an expiration date? Can we Don't you feel sexy too? I feel sexy!"
If you look at the legions of her fans, you can only say: That certainly applies to Heidi Klum.
This article was updated to mark Heidi Klum's 50th birthday on June 1, 2023.