In order to obtain a Schengen visa, Moroccans often rely on the services of online intermediaries. Among them are traders who make traveling to Europe difficult and expensive.
Schengen visa in the passport: "It's a disaster"
In Morocco, a relatively new line of business is making life difficult for travellers: unauthorized intermediaries have taken over the arranging of appointments , which are required for submitting an application for a Schengen visa – i.e. for an entry permit into a large number of countries in the European Union and some neighboring countries. This makes it harder for Moroccans to travel to Europe.
"It's a catastrophe," said Moroccan actress Dounia Boutazout on Instagram in March: Visa appointments were sold for 11,000 Moroccan dirhams, the equivalent of a good 1,000 euros. The popular artist had tried to apply for a Schengen visa prior to a European tour of her theater company, but could not get an appointment directly at one of the official visa centers.
Your only other option was to contact one of the unauthorized online intermediaries in Morocco who sell such appointments for a fee they set themselves. With the help of bots, the companies automatically reserve all free appointments as soon as the official allocation center activates them online.
Legal loophole as a business model for visa sales
It is neither forbidden to book a large number of appointments nor to sell them. The growing industry of unauthorized futures dealers is taking advantage of this loophole. They do not offer consular services but act as intermediaries. They then collect high sums from applicants for the appointment, which can be up to ten times higher than the actual fees.
Most European consulates outsourced the appointment to authorized service providers years ago. They argue that such a procedure saves time in processing applications, since the authorized visa centers would only forward applications that are complete and meet the requirements for Schengen entry.
The largest authorized provider in Morocco is TLScontact, which assigns appointments for the German and French consulates. The Spanish consulate has commissioned BLS International to do this, while the Dutch and Italian consulates work with VFS Global. The officially authorized external service providers also charge fees for making appointments. But these are a moderate 80 euros for an appointment for a short stay as a tourist and increase depending on the length of the stay abroad.
Dounia Boutazout is not the only one who has been trying unsuccessfully for weeks to book an appointment through an official visa center. Adil Tchikitou, head of the Moroccan League for the Defense of Human Rights (LMDDH), is concerned. "Most of the embassies know that the appointments are passed on, but have not shown any interest in solving this problem for over a year," he tells DW.
He and other human rights organizations have already complained to the European authorities about this "mobility deprivation," as he calls it. Although, according to Tchikitou, "no significant reforms have yet been initiated," embassies are beginning to respond to growing complaints from Moroccan citizens.
Europe is slow to respond to intermediaries issuing visas
A spokesman for the Dutch Ministry of Foreign Affairs told DW that the ministry had taken steps to stop the unauthorized mediation. These include "digital waiting lists" to ensure agents no longer have the ability to sell or resell appointments.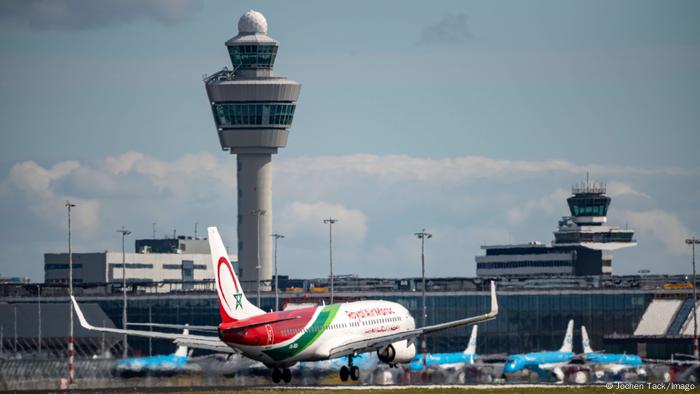 Moroccan jet arrives in Amsterdam: Netherlands adopts "digital waiting lists"
The Spanish Consulate's external service provider, BLS International, has introduced a photo-based verification system for applicants, linking each appointment to a picture of the applicant. This recording is then compared with the passport photo. In this way, appointments can no longer be reserved by bots.
Italy's Consulate General in Casablanca initially warned of "middlemen" with reference to "manipulations in the allocation of appointments" and recently terminated its contract with TLScontact. It now works with a subsidiary of VFS Global.
According to its own statements, Germany's Foreign Ministry is also working on a solution to the problem, but did not name any concrete steps. "New dates for Schengen visas in Rabat are regularly released, but these are allocated within a very short time," confirmed a spokesman for the German Foreign Office in Berlin, adding that the ministry was "taking new steps to improve the situation and to increase prevent intermediaries from blocking appointments".
For actress Boutazout, these measures and promises come too late. She refused to pay the excessive fees charged by the unauthorized intermediaries and was therefore unable to make an appointment to submit her visa application. Her European theater tour has been cancelled, and she has to bear the financial losses alone.
Deutsche Welle has asked TLScontact for an opinion on pricing and scheduling, but has not received any response from the company as of the time of publication.< /p>
Adapted from English by Phoenix Hanzo