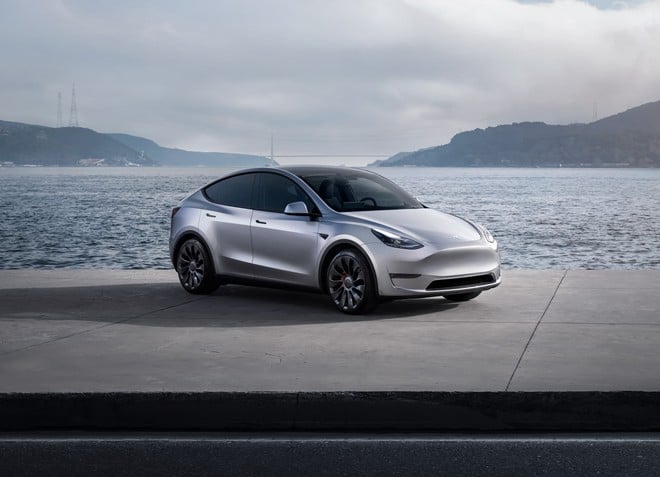 It seems that Tesla has started to integrate the new Hardware 4.0 on the Model Y. Let's talk, remember, about the new computer that manages the driver assistance systems that the American manufacturer's electric cars are equipped with. A hardware platform that is; Has been improved to allow cars to progress faster. on the subject of driving assistance.
It seems that, to date, only the Tesla Model 3 has not yet received the new Hardware 4.0 platform. It could be a hint that the new computer can only be introduced with the restyling of the sedan which should debut later this year. In the USA, therefore, the first models of the electric SUV equipped with the new platform have been identified. All without any specific announcement from the company.
A choice probably made so as not to influence the sales of cars that do not yet have Hardware 4.0. Furthermore, the automaker continues to insist that "true autonomous driving" will be able to be made available also on cars equipped with the Hardware 3.0 platform.
Exciting news! Model Y are now shipping with Hardware 4! I just went to the delivery lot to see and found a couple. Here are some photos I just got of the cameras on a brand new red Performance Y and AWD Model Y. The lot is filled with new cars awaiting delivery! @elonmusk #Tesla pic.twitter.com/m4Xyga0tN5

— Zack (@BLKMDL3) May 25, 2023
Marketing choices aside, the new system is a big deal. always based on a processor with Samsung's Exynos architectureand it is able to offer an ability to; calculation higher than that of the 3.0 platform. In addition, Tesla has integrated new cameras and an unprecedented radar. All to allow the driving assistance platform to be able to function better by having a more comprehensive vision. clear and precise of what is happening around the car.
CONFIRMED: Tesla has begun producing Model Ys with Autopilot HW4!! We spotted a few mixed in with their existing HW 3 inventory in South San Francisco just now!
H/T: @BLKMDL3 pic.twitter.com/po91ywjbSE

— The Kilowatts 🚗⚡️ (@klwtts) May 25, 2023
According to what has emerged in the past, the form factor of Hardware 4.0 is now much more expensive. very different than that of Hardware 3.0. Therefore, it will not be possible to adapt it to be used also on current cars. All that remains is to find out more; with the arrival in the hands of customers of the first Model Y models equipped with the new Hardware 4.0 platform.
Just the many new features introduced by the new system, however, make it doubtful that over time Tesla will be able to offer the same experience of using its driving assistance systems also to cars equipped with the Hardware 3.0 platform.
The perfect smartphone for the mid-range? Poco F5, buy it at the best price from eBay at 379 euros.