Five people fell victim to right-wing terror in Solingen in 1993 because they came from Turkey. Their relatives are still suffering to this day.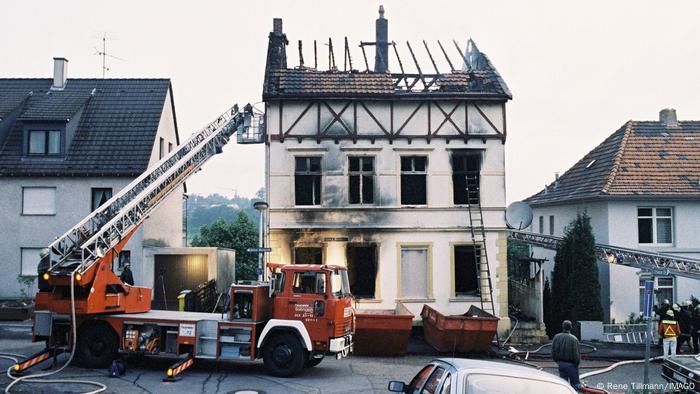 Burn out: the house of The Genç family on the morning after the night of the attack
Five chestnut trees now stand where the Genç family's house once stood. Five young girls and women died here on May 29, 1993; right-wing extremists had set the house on fire. They were driven by hatred of foreigners. To people like the Gençs who come from Turkey.
At that time, a wave of right-wing violence had swept through newly reunited Germany. In view of the increasing number of refugees, politicians in the Bundestag debated heatedly about restricting the right to asylum. And on the streets, racism erupted into violence – and sometimes even murder. In Hoyerswerda, Rostock-Lichtenhagen or Mölln – and at the house of the Gençs in Solingen, near Cologne in western Germany.
Don't let grass grow over the deed
The chestnuts there , planted a few years after the fact, are now almost as high as the house that was demolished after the fire once was. Shortly before the 30th anniversary of the assassination attempt, the trees are in full bloom. Only four cellar steps are a reminder that people lived here. They are overgrown with grass, dandelions and ferns.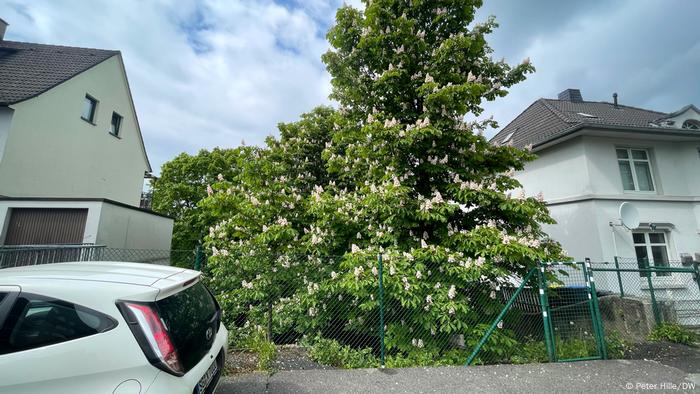 Blank: the Genç family lived here
Cihat Genç is committed to ensuring that the crime is remembered. His sisters Hülya and Saime were murdered at the time. They were only nine and four years old. With them died Gürsün İnce, Hatice Genç and Gülistan Öztürk. In order to fight racism, it is important not to let these victims fall into oblivion, said the 26-year-old. "Everyone has to be involved and do their part." For example through conversations at school or at work.
"As little hatred as possible"
The perpetrators of that time have long served their prison sentences of 10 to 15 years. Now, shortly before the 30th anniversary, three of them are going public through their then lawyer: They are protesting their innocence. In the statement made available to DW, one of the men wrote: "I would like to once again inform the families of the victims of this terrible crime: the three of us did not kill your family."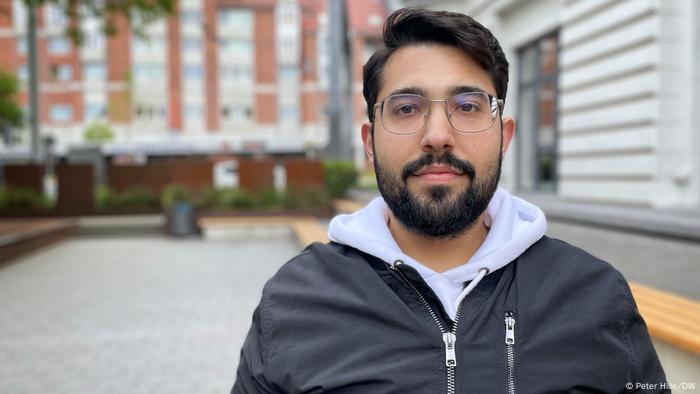 Cihat Genç at the place, which will soon be named Mevlüde after his grandmother
Cihat Genç does not want to comment on this letter. Does he hate the perpetrators? "I want the perpetrators to suffer at least as much as my parents do," he told DW. "But I don't feel any hatred because my religion forbids me to do so. I try to feel as little hatred as possible."
A place for the message of peace
Cihat Genç is happy that the city of Solingen will name a square after his grandmother Mevlüde Genç on the anniversary of the attack. The day after the attack, she called for reconciliation – even though she had lost two daughters, two granddaughters and a niece. She became a world-respected ambassador of peace and promoted a coexistence of cultures until her death in 2022.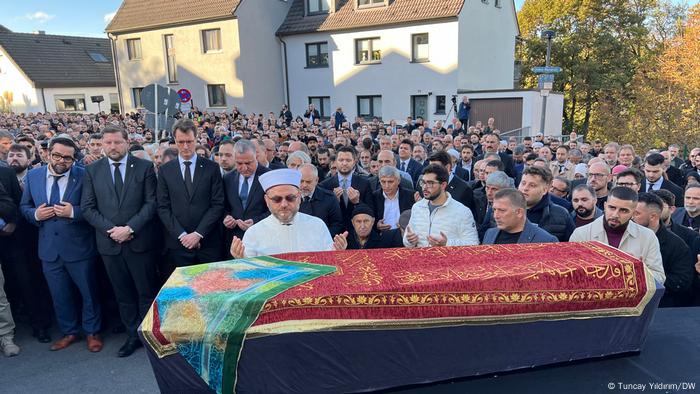 Sympathy: Funeral ceremony for Mevlüde Genç in Solingen on November 1, 2022
The future Mevlüde Genç-Platz is somewhat squeezed between a busy federal highway and residential buildings with stucco facades in the center of Solingen. No, he doesn't come here often, says her grandson Cihat and looks around. "We as a family actually wanted a street to be named after Mevlüde Genç." We will continue to work towards this.
"We belong in this society"
If you follow the four-lane federal highway for one and a half kilometers, you will end up at the "Spitze" educational center. In a former doctor's office, Rasim Çetin and his colleagues tutor students. It is mainly children from migrant families who are taught here. A copy of a fourth grader's report card is hanging on the wall, almost every subject has a "very good" – motivation for everyone else.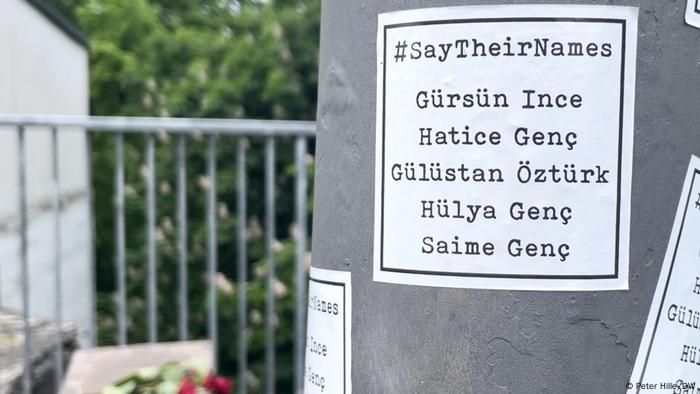 Don't forget: Gürsün İnce, Hatice Genç, Gülüstan Öztürk, Hülya Genç and Saime Genç were killed in the arson attack
Çetin is also chairman of the "Alternative Citizens' Initiative", which sits on the city council and is primarily committed to the concerns of Solingen residents with a migration history. That is one in three of the approximately 160,000 citizens of the city – 30 years ago they were hardly visible in German politics. "We belong in this society," Çetin told DW. "We've been here for 60 years, first as guest workers from Italy, Spain and Turkey. We've experienced good and bad together." Racism is still a problem. "It's a disease. We can only fight it together."
Fear that the violence will continue
Çetin is committed to building a museum at the scene of the crime; he would like a Mevlüde Genç school and a student exchange with Turkey. Çetin is pleased that the Federal President and ministers are coming to Solingen again on May 29th. Cem Özdemir will also be Germany's first minister from Turkey.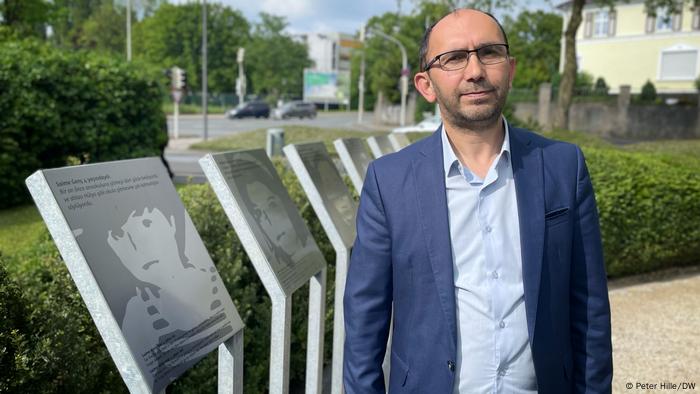 Rasim Çetin wants that the victims of the attack are not remembered just once a year
"But there has been a commemoration here every year on May 29 for 30 years. And the day after, everyone forgets what happened. But that must never be forgotten." Because not only then did some politicians stir up hatred of migrants. Even today, attempts are being made to spread racism, fascism and Islamophobia, especially on social media.
In 1993, many people of Turkish origin in Germany were afraid of neo-Nazi violence. Turkish families bought rope ladders to escape the flames in the event of a fire. Erkan Sarikaya remembers that time well. He was 15 and on the soccer field when his brother came running and told them about the arson attack. "Fear of death was my first feeling," he told DW. "Our thought was: It's the next house in an hour and so on and so forth."
Remembering the "baseball bat years"
Born in Solingen, he now works for the public utility company and oversees bus services, among other things. He says he didn't experience any racism until the attack. "You didn't know anything like that. Everything was good, everything was peaceful. Up to this day." Sarikaya also remembers the riots that raged after the arson attack in Solingen – nationalist Turks and German autonomists, among others, marched through the city center, threw stones and smashed shop windows.
Contemporary witness: Erkan Sarikaya experienced the heated atmosphere in the city as a 15-year-old
However, he also remembers the kilometer-long chains of lights with which thousands wanted to set a sign against neo-Nazi violence – in Solingen and elsewhere. "Baseball bat years" some call this time today. In the early 1990s, right-wing extremists and their supporters not only set houses on fire and rioted in front of asylum seeker homes. They also went around the houses armed with baseball bats or knives, often in bomber jackets and combat boots, intimidated dissenters and attacked foreigners. In some areas, especially in eastern Germany, they dominated the street scene.
161 fatalities since Solingen
Since the attack in Solingen, the number of fatalities from right-wing violence in Germany has decreased. However, the Amadeu Antonio Foundation lists 161 people who have since been killed by right-wing extremists. Racism and xenophobia increasingly turned to violence again in 2015 and 2016, especially as the number of refugees increased.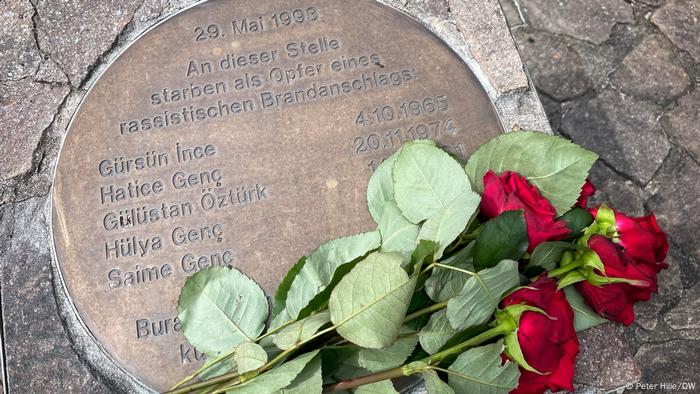 Remembrance at the site of the attack: the victims were between four and 27 years old
Erkan Sarikaya is happy that things have been peaceful in Solingen since 1993. He hopes that one day his hometown will again be primarily associated with the knife blades made here – and not with the arson attack that many people in Germany think of when they hear "Solingen".
Anschlag von Hanau: Fight against oblivion