New roads and parks, comprehensive reconstruction: money is once again pouring into the crisis-ridden country of Libya. But can this boom last and what does the general public gain from it?
Libya is experiencing a small economic boom
"After a difficult and turbulent period, there is hope," says Mustafa Abu Braidaa, a shopkeeper in Tripoli, Libya. "Of course there are still many challenges," says the 32-year-old. "Inflation, the currency has depreciated and costs have gone up. And yes, it takes a long time for things to get better. But there are positive changes and I think all of that contributes to an improvement for people like me."
Khadija Al-Buri, a 26-year-old nurse from Tripoli, is also cautiously optimistic despite all the concerns. "I am worried that fighting could flare up again. There is a lot of uncertainty and confusion, but I have hope for improvement," she says. "I think what we're seeing now makes people positive."
Divided nation with two centers of power
Libya has been split in two since 2014, with governments opposing each other in the east and west of the country. The United Nations-backed Government of National Unity has its seat in Tripoli – in the west of the country. The competition, often referred to as the Parliament or House of Representatives, sits in Tobruk, in the east of the country. Both are backed by a variety of local militias and foreign powers, and both have repeatedly attempted to wrest control of one another.
There are new construction projects in several Libyan cities – like here in the capital Tripoli
After several years of fighting and instability, however, the greatest violence has – at least for the time being – largely come to an end, although the power struggle is not over and the core conflict remains unresolved. Recently, however, attention has been focused on the country's economic prospects.
Libya has the largest oil reserves on the African continent. The country made 20.4 billion euros in oil revenues last year from the bottlenecks caused by the war against Ukraine. According to the Organization of Petroleum Exporting Countries, oil prices rose from an average of 38 euros per barrel in 2020 to just over 93 euros per barrel last year.
According to the World Bank, Libya's national budget was in the black in 2022. And for 2023, the International Monetary Fund (IMF) sees the "peak growth of Arab countries" at 17.9 percent in Libya, as stated in the monthly report by the Konrad Adenauer Foundation . It must be taken into account that the gross domestic product (GDP) in Libya is so low. Still, the increases are significant.
But is this good economic news affecting the lives of Libyans?
Better life for city dwellers
In places like Tripoli and Benghazi there are many new and remarkably conspicuous buildings, and the infrastructure is also being visibly expanded, confirms Claudia Gazzini, senior Libya analyst at the think tank International Crisis Group. "There are parks and roads that didn't exist before, and there are amazing shopping malls," says the expert, who was recently in Libya.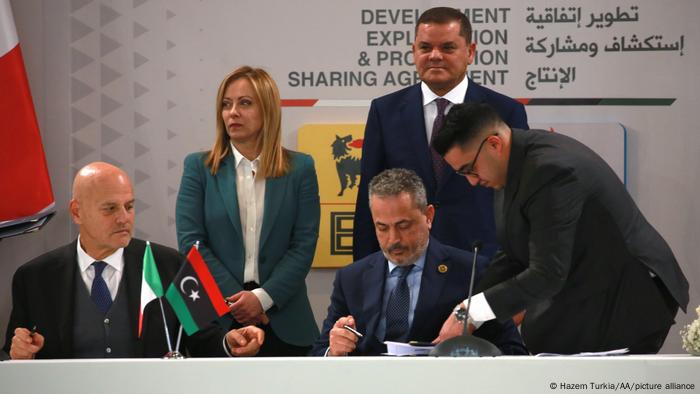 In January, Italy signed an $8 billion gas exploration deal with Libya
"On the whole, for many ordinary Libyans, this is gratifying. When they are in Tripoli, they will hear from the residents how much better everyday life is than it was two years ago. So there is no doubt that the residents of the Big cities may benefit in some way from the recent economic boom."
However, Gazzini explains that much of the current economic growth is benefiting the country's elite in particular, since their relatives distribute the construction contracts and the money. "The prospects of a major economic boom from which ordinary Libyans could benefit are still far off." In Tripoli, Benghazi and partly also in Misrata you can see glittering buildings. "But what about the Libyans in smaller towns, in the mountains and in the desert?"
Nevertheless: "The bottom line is that Libya could not have wished for better conditions than those of 2022 or – at least so far – those of 2023," says political scientist Jalel Harchaoui, an associate fellow at the British think tank Royal United Services Institute. The oil is flowing and the income is currently providing the country with a good income. In addition, the population is comparatively small with around seven million people.
Elites have a clear advantage
The situation is still unsatisfactory for many Libyans, Harchaoui told DW. As in many other countries dependent on oil revenues, almost three quarters of the Libyan workforce is employed by the government. But the population is growing too fast for the government to employ everyone. Youth unemployment remains high and was around 51 percent in 2022.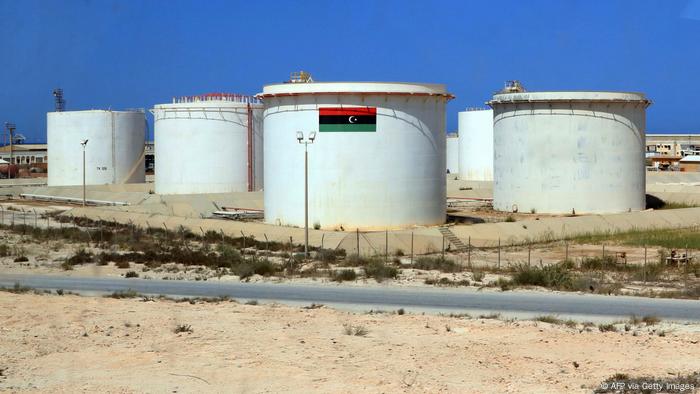 Last year, European Countries nearly three quarters of Libyan oil exports
"This means that the state's income does not really benefit the entire population," explains the Libya expert and also refers to the lack of transparency in infrastructure projects.
"For example, Egyptian companies were invited to build a bypass in the near Tripoli," he says – and gives a very critical assessment: The road is "very expensive and not particularly useful. Everything was done to please Egypt politically."
Also of concern to him is the reconstruction in downtown Benghazi, where families who wanted to stay in their damaged homes have been disturbingly evicted to make way for new buildings. "Reconstruction is therefore taking place in the interests of the elites," says Harchaoui, "and not according to the needs of the population."
Deception and trade
Despite all this, the economic recovery could be an opportunity for Libya, experts agree. In July 2022, the Tripoli government approved the appointment of Farhat Bengadra, a former head of Libya's central bank. His job is to run Libya's major oil company, the National Oil Corporation.
Bengadra is a supporter of General Khalifa Hafter, who controls the government in Tobruk in the east of the country. Observers suspect he got his new post as a result of a private agreement between the two opposing governments, from which both sides appear to benefit.
"Since this informal agreement was reached in July last year, we have seen a lot of machinations between the two camps," says Libya expert Claudia Gazzini. "Both camps receive very lucrative funds in a dubious way – everything is informal and affects individuals rather than institutions. But this relationship also maintains peace on the ground," she emphasizes. "The actors involved have a greater interest in these agreements than to wage war against each other."
Can elections help?
For some time now, Libya has been calling for general elections in hopes of reuniting the country under a democratic government. According to the plans of the United Nations, another attempt at a nationwide vote is to be made before the end of this year.
"But elections are essentially a catalyst for change," notes Gazzini. "And these deals between former enemies are very profitable for both sides." Profit-sharing and economic growth are therefore "clearly at odds with the roadmap supported by the UN".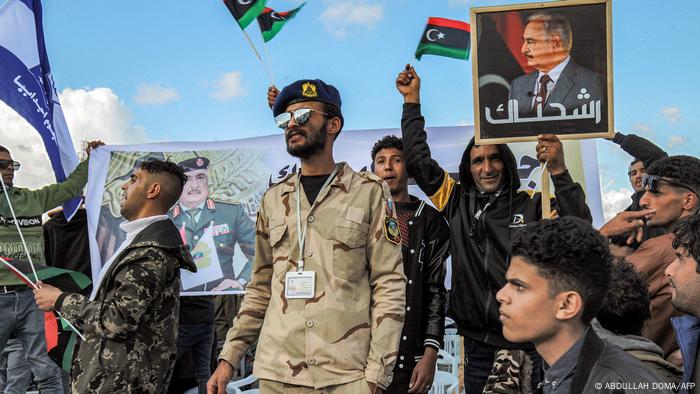 In Tobruk, former Libyan warlord Khalifa Hafter (on the poster) is in control
Gazzini believes that formalizing previously informal "machinations" could help win Libyan politicians for an election. Expert Harchaoui, on the other hand, fears that the current situation, even if it gives hope, will only reinforce corruption and the lack of transparency among Libya's political elites.
One thing is clear from the experts' perspective: Despite new ;Shopping malls and streets, political instability and insecurity remains the dominant factor in Libya, be it due to oil price fluctuations or internal fighting by Libyan militias.
This article has been adapted from English.