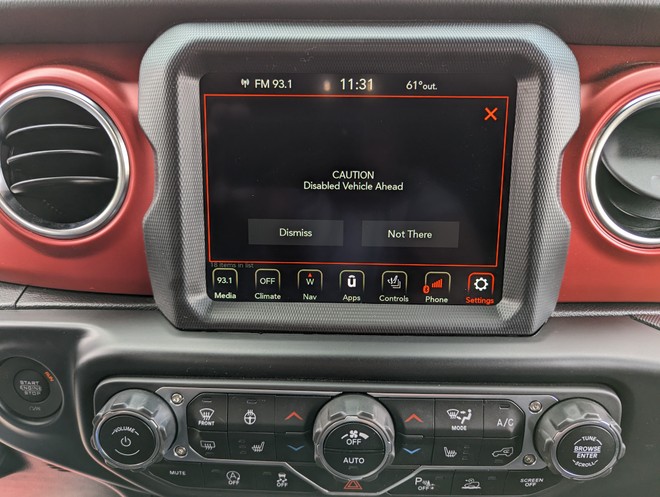 Stellantis is working on a new safety system that it intends to implement on cars sold in the United States and Canada. It's called H.E.L.P. (Hazard Enhanced Location Protocol) and is the step after the introduction of the Emergency Vehicle Alert System (EVAS).
The EVAS system take advantage of the connectivity; V2X present on more than 1.8 million cars of the Stellantis Group in these markets to make it easier to ride. travel safe. EVAS is a standard function of Uconnect which allows you to receive warnings of any dangers along the roads (accidents, works in progress and much more). EVAS alerts come from HAAS Alert's Safety Cloud platform, a digital alerting solution used by thousands of public and private road fleets in North America.
Therefore, starting from the foundations provided by V2X and EVAS, the automotive group is working, in collaboration with Emergency Safety Solutions, on the new Hazard Enhanced Location Protocol system which was created to expand the safety functions dedicated to broken down vehicles /accidents stopped on the side of the road.
HOW DOES IT WORK?
When this system is activated inside a car stopped on the road, it is sent to Safety HAAS Alert cloud the exact location of the car. At this point, a warning is sent to all approaching cars equipped with the Uconnect infotainment system or with systems connected to the Safety Cloud. In this way, drivers have 15-20 seconds' notice, equal to about 0.5 km at normal speed. highway.
Furthermore, thanks to the Hazard Enhanced Location Protocol system, broken down vehicles will be able to share essential safety messages with all cars connected to the Safety Cloud platform. H.E.L.P. can be activated manually by the driver when the vehicle is stationary or automatically in safety-critical situations, such as in the event of an accident or a punctured tyre.
Stellantis is also working on an evolution of H.E.L.P. for vehicles equipped with LED lighting. Thanks to the H.E.L.P. Lighting Alerts will be available. It is possible to make the hazard lights and other exterior lights flash according to speed. and screens scientifically optimized to best attract the visual attention of oncoming drivers. Yves Bonnefont, Chief Software Officer Stellantis, commented:
The wide diffusion of the EVAS system in North America demonstrates how Stellantis is harnessing the power of connectivity to the Internet. V2X and on-board technology to make mobility easier. more safe for customers. The attention to drivers and passengers, which is not necessary. second to none in every market we operate in, – the foundation of our transformation into a mobility technology company; sustainable. We are proud to be the first global automaker to make V2X digital signaling a standard safety feature for connected customers, and we continually look to expand its capabilities.
Best Top Range Quality ?/price? Honor Magic 5 Pro, buy it at the best price from Amazon at 949 euros.