Highly talented Bundesliga professional and tragic figure – Marco Reus has embodied Borussia Dortmund over the past decade. The title he longs for most is once again dramatically denied.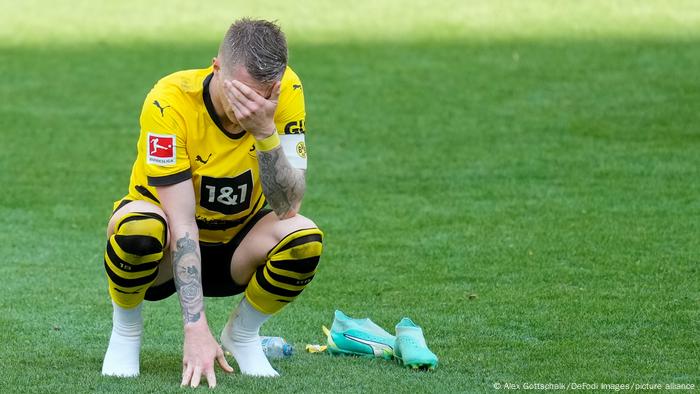 BVB captain Marco Reus can't believe it – again nothing came of the championship title
For minutes Marco Reus was disappointed on the lawn. The veteran and BVB captain hid his face behind his hands, tears flowed. Again, the 33-year-old missed out on the championship title he so desperately wanted. The chance to fulfill his lifelong dream was huge. But Reus and his teammates let them lie: FC Bayern is champion again.
So many would not only have given the Dortmunders, but especially Reus, the championship from the heart. "The whole club, the whole city would be very happy with him," said BVB sports director Sebastian Kehl before the season finale: "Marco has wrote a lot of stories here. He has achieved great things here for many years, he has scored an incredible number of goals." However, the Ur-Dortmunder Reus had often been a kind of tragic figure in recent years and had repeatedly missed decisive games, entire tournaments and thus also in the Bundesliga with Borussia Dortmund and possibly one or the other title win due to serious injuries.
Via Ahlen and Gladbach back to BVB
Basically – one could say maliciously – Dortmund's dry spell in the championship began with the move from Reus from Mönchengladbach to BVB in the summer of 2012. At that time Reus was 23 years old. Born in Dortmund, he had trained at BVB for ten years as a youth, but was then found too weak to make it into the Bundesliga squad. That's why Reus left his Dortmund homeland, took his first steps in professional football with LR Ahlen in the 3rd and 2nd leagues and then developed into an outstanding Bundesliga player in three years with Borussia Mönchengladbach.
Now he was good enough for BVB and the move back to his Borussia in Dortmund, which had just become German champions twice in a row under Jürgen Klopp, should be the next career step for Reus. The goal: collect titles in black and yellow.
A to Z of all conceivable sports injuries
But things turned out differently in a painful way: Reus repeatedly sustained long-term injuries and was unable to help BVB on the pitch. He also missed some major tournaments with the national team. At the 2014 World Cup in Brazil, where the DFB team won the World Cup, he was absent due to a torn syndesmosis ligament. Participation in the EM 2016 prevented a stubborn pubic infection that cost Reus half a year of his career. He missed the 2017 Confederations Cup because he tore his cruciate ligament, which put him in checkmate for even longer. Even when he won his first title, winning the DFB Cup with Dortmund in 2017, he had to be replaced injured at the break.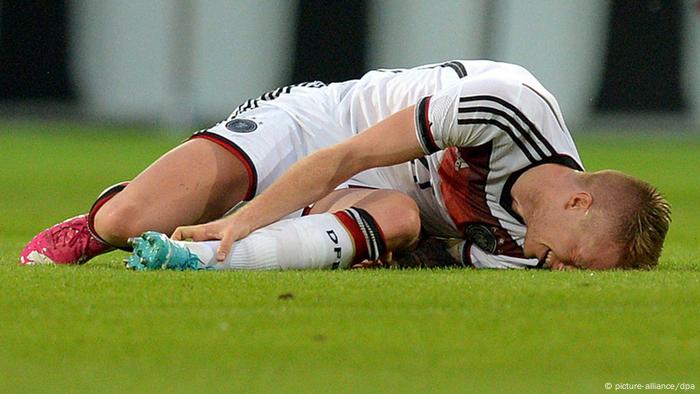 Probably the most bitter injury: Marco Reus missed the 2014 World Cup because of his torn syndesmosis ligament
Muscle fiber tear, ligament strain, bone edema, muscle bundle tear, adductor injury and, and, and – the list of Reus' injuries reads like an A to Z of all conceivable sports injuries. If you take the trouble and add up all the downtime that the football portal transfermarkt.de lists in Reus' injury history, you get 1264 days since July 2012. That's almost three and a half years in which Reus was injured or not fit. It would have meant all the more to the now 33-year-old that he would finally have crowned his time at BVB after eleven years with the championship title. "It was said again and again that he never became German champion. He always felt sorry for that, it hurt him," said Kehl.
Annoying questions about mentality
Reus and Dortmund had been very close to the shell before. In December 2018, the team under coach Lucien Favre had a nine-point lead over FC Bayern after 15 games. But then the team collapsed in spring 2019. Suddenly there were no victories, the comfortable distance to Bayern melted away. With an impressive 5-0 win in a direct duel, Munich passed BVB in the table and ended up becoming German champions again.
So far, Marco Reus has won the DFB Cup twice and the DFL Supercup twice with Dortmund
A discussion then ensued in Dortmund as to whether the team was even capable of winning a championship title – a discussion that always focused on captain Marco Reus. When on the 5th matchday of the following season, after BVB had had a good start to the season, a reporter took an unfortunate last-minute equalizer as an opportunity to ask the mentality question again, Reus burst his collar. "It's getting on my nerves. You guys with your mental shit!" he snapped at the questioner, revealing how deep his sting was. "We were stupid at 2-2, definitely. But don't give me that mental shit. Same shit every week."
Questions about the Dortmund mentality came to the fore again this season. Because BVB didn't use the blunders of the troubled FC Bayern several times to settle down in the table or at least stay in front of the Munich team. In fact, Dortmund twice "managed" to gamble away the lead they had just gained – first with an avoidable 3:3 draw in Stuttgart, then with another draw in Bochum, in which the referee played a decisive role.< /p>
Championship as the crowning glory of a career
The part that Reus contributes to Borussia's success is apparently no longer decisive. He's still the captain, but he hasn't been in Dortmund's starting line-up since the 4-2 defeat against FC Bayern on matchday 26.
Marco Reus (right) has only been a substitute for Dortmund for weeks
In the last game of the season, BVB coach Edin Terzic Reus made a change in the 40th minute .minute one. At this point it was 0:2 from the point of view of Dortmund. After all, Reus whipped his team forward again, in the end it was 2-2. Only one goal was missing for the title. How bitter. But somehow it also suited Marco Reus' career.
The article was updated after the last matchday.