Music genres from all over the world inspire the Berlin musician Peter Fox. He wants to connect cultures with his music, he says. But he is accused of cultural appropriation.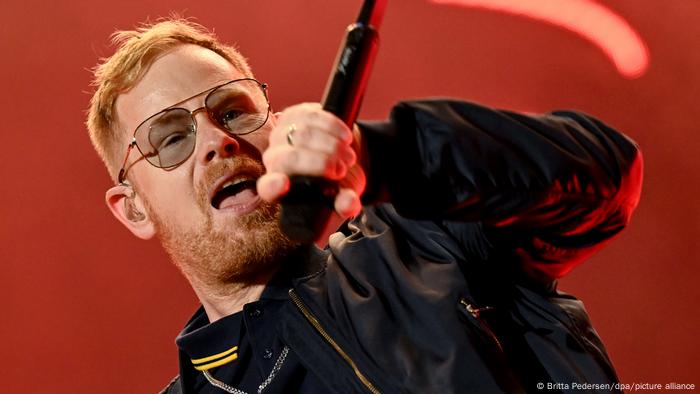 < p>Fifteen years after his first successful album "Stadtaffe", the Berlin musician Peter Fox has released his second solo album. The first single from it, "Zukunft Pink", had already been released in autumn 2022.
The text settles accounts with everything that the Germans complain about and counters this with a future that shines "pink". An optimistic vision, where there is no argument, where it doesn't matter who loves whom or what the color of their skin is, where everyone is thriving. There is also ice cream, pink grapefruit and gin: "Because we are the future, I see the future in pink".
Cultural appropriation?
The song went through the roof. Finally positive vibes after the corona pandemic, in view of the war in Ukraine, the climate crisis and existential needs. "Future Pink" was celebrated across the country and was a number 1 hit for weeks. But he was also a bone of contention.
Like many other – especially white – pop stars, Fox was accused of "cultural appropriation": A white, privileged takeover of elements from musical genres of other cultures, with which one adorns oneself in order to make a profit at the expense of minorities .
Inspired by the South African house sound "Amapiano", Fox created a track that should show what music from Germany can be capable of. Namely importing a sound and playing it back in your own language, with respect for the original and the people who invented this original. In this case it was about the "Amapiano". This music style is not just a subgenre of house music, but consists of various house music and jazz influences – developed in South African townships. It is also the soundtrack for the emancipation of South Africa's black population.
Freak de l'Afrique: Afro beats for the dance floor
Fox, who himself has French roots – his birth name is Pierre Baigorry – tried to do everything right: In the press material for "Zukunft Pink" he named beats from South and West Africa as his source of inspiration, but not explicitly the musical style "Amapiano". , whose history and representatives are mentioned. In response to the criticism, he referred to the end credits of the music video, in which he explains his musical inspirations and names various African artists. He also never marketed his single as something "brand new".
Despite all the trouble, the success of the song could no longer be stopped. "Zukunft Pink" became a huge hit in Germany – and now the fans are happy about the accompanying album "Love Songs".
"Multikulti" vs. "cultural appropriation"
Peter Fox is one of the front men of Seeed. Since the 2000s, the dancehall caballeros from Berlin have shown that Germany can also do reggae. Big hits ("Ding", "Aufsteh'n", "Dickes B") tell about life, about dancing and partying, and about Berlin, the city where the multicultural group got together in 1998. The term "cultural appropriation" wasn't as popular then as it is today; everyone played what they wanted – and "Multikulti" was particularly hip back then and a sign of mutual respect, integration and peaceful coexistence of different cultures.
Seeed – the dancehall power
Bands like Seeed, Culcha Candela or the Ohrbooten, the German-Romanian Miss Platnum, the Hamburger Jan Delay and many more made rap, hip hop, R&B, reggae, dancehall, ragamuffin, Balkan pop, funk and soul and mixed – without each other to keep thinking – the music of different continents to an extremely danceable, electrifying sound – pop music from Germany, inspired by artists from all over the world.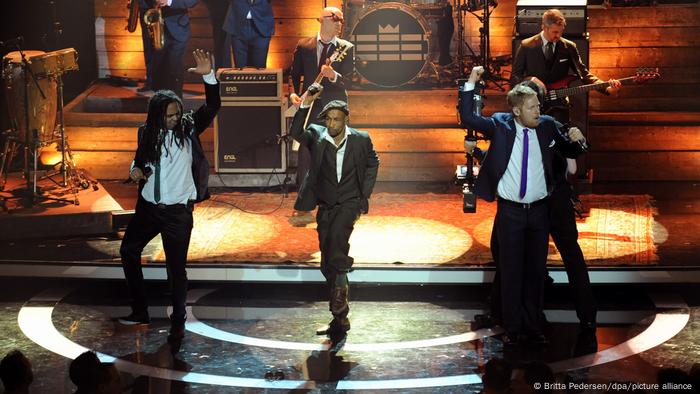 Seeed in action: Demba Nabé († 2018), Dellé and Peter Fox
In September 2008, this Seeed singer stood out from this highly creative musician bubble. By then, Peter Fox had also established himself as a sought-after composer and producer. During an official Seeed break, he went into the studio and produced his solo album entitled "Stadtaffe". According to Peter Fox, this German-language pop record should "be cool in every respect". And stand out strongly from the Seeed sound. So Fox invited the 40-piece Babelsberg Film Orchestra to the studio, used brass and let it bang and rattle.
Celebrated album to celebrate: "Stadtaffe"
Fox then unleashed this new sound – often called "film music for dancing" – on the German audience. The single "Alles Neu" was the program: the look goes where everything is possible, old things are buried, everything is reissued, polished and changed. Pumping rhythm, carried by energetic strings – the song reached number 4 in the German charts. Fox's conflict with his hometown Berlin is reflected in his first number 1 hit "Schwarz zu blau". It's dirty, inhuman, cold and ugly – and the next moment there's a warm smile in the bakery, the sun rises and the black sky turns blue.
In 2009 Peter Fox went on tour with "Stadtaffe"
The title song "Stadtaffe" deals with Fox's facial paralysis, which he lives with due to a viral disease ("In a city full of monkeys, I'm the king because I sing for the masses with a wry face") – but mainly it's about the Making the city your own, rising above it by celebrating everything away.
Celebration runs like a red thread through the album, it goes forward, it pulsates, it electrifies. It reached number 1 in the German album charts and was gold-plated 15 times. A record of the century that turned the German music scene upside down – celebrated not only by the public, but also by the press and critics.
The success made things difficult for Peter Fox. He announced that there was no way he would continue solo. Promised, released another impressive live DVD and rejoined the ranks of his old band Seeed.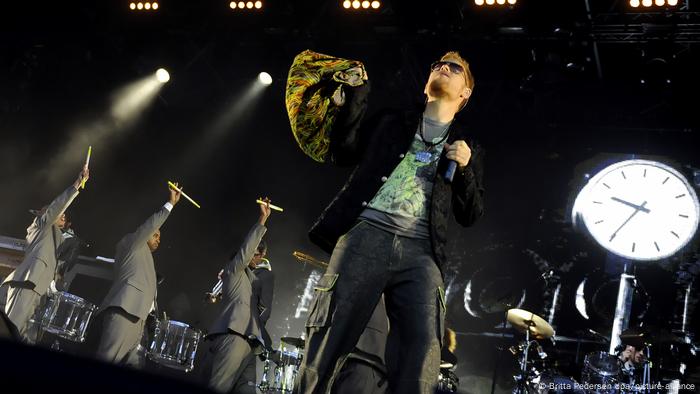 < p>For his live concerts, Fox brought the drumline "Cold Steel" from the USA
There were more albums with Seeed, even after Fox' colleague Demba Nabé died unexpectedly in 2018. And all of a sudden, one day in October 2022, the internet exploded: "Future Pink" was here!
Amapiano now too known in Germany
After the trouble about the song had subsided, Peter Fox brought black musicians from South Africa, Zimbabwe and Germany on board in December 2022 and released an "Alliance Remix" of "Zukunft Pink". The songs are sung and rapped in German, English and the African language Lingála. A gesture of reconciliation to all his critics. In addition, "Amapiano" has gained numerous fans in Germany, which benefits many South African artists.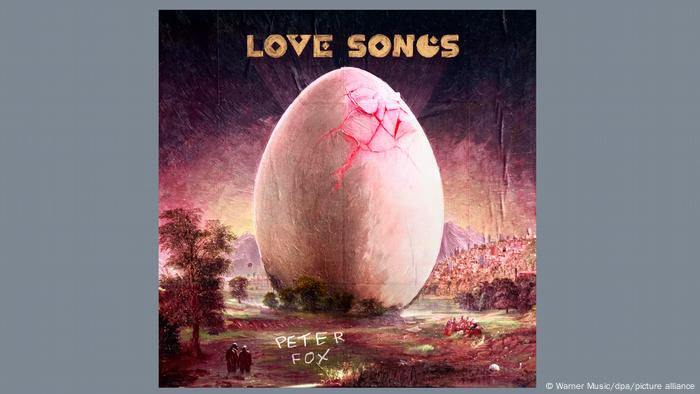 < p>Fans have been waiting for this for a long time: "Love Songs" will be released on May 26th
When Fox announced his album "Love Songs" in April, he promised: "People, 'Love Songs' will be released on May 26th .and is about love and its absence.An album full of choirs, outdoor recordings and endless percussion.The good old strings also make an appearance…check it out!".
15 years ago between "Stadtaffe" and "Love Songs", Peter Fox is now over 50 and has two children. He doesn't let the partying go away on this solo record either. He elevates his beloved city of Berlin to a planet where people of all skin colors and stature celebrate together – themselves and the music of the "others", without which a vibrant culture would be unthinkable.