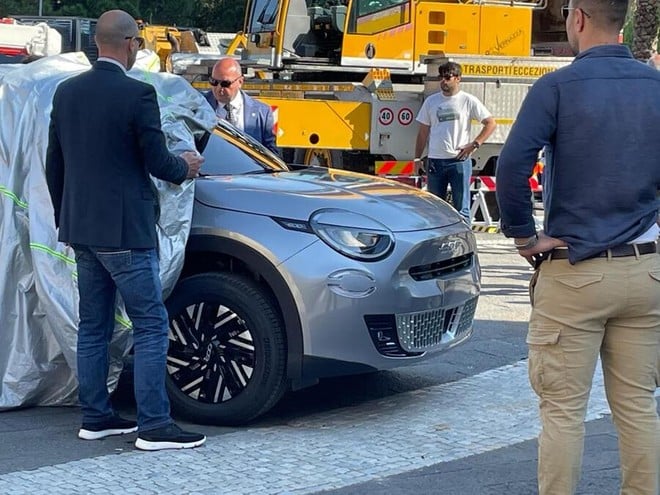 The new images of the FIAT 600 arrive, the new electric B-SUV that the automaker will bring to the market. debut soon. Recently, we saw some photos taken on a set during the recording of a commercial in Lerici, Liguria. Now, again from Lerici, we can take a look at the interior of the car. This "peek" inside the car & egrave; possible thanks to the CEO of FIAT, Olivier Francois, who through his Instagram account has shared some Stories (from which some frames have been extracted) within which he was able to share his stories. It is possible to briefly see the interior of the B-SUV.
In fact, he was on board the car during the recording of the commercial. Whether it's the CEO who allows you to take a peek inside the cabin before the car is even presented is a matter of course. a curious fact, an advertising move of sure effect given the attention that there is; towards this new model.
Therefore, we can see that the dashboard has several similarities with that of the electric FIAT 500. A choice that is not surprising at all. Centrally it is present the large display of the Uconnect infotainment system with some physical commands below. Behind the wheel we can also glimpse the digital instrumentation screen.
Slowly we are therefore discovering more and more; details of the new B-SUV. The presentation, as we have already done; told a few times, it could be held on July 4th, a special anniversary for the car manufacturer. On that day, the first 500 was presented in 1957 and the new 500 was unveiled in 2007.
We remind you that the electric FIAT 600 will have a few years of history. much in common with the Jeep Avenger and therefore probably will have; of the same powertrain. So, let's talk about a 115 kW (156 HP) electric motor with 260 Nm of torque, powered by a 54 kWh battery that will allow you to use the electric motor. an autonomy of around 400 km according to the WLTP cycle.
It is possible that in some markets, such as the Italian one, the new model could also be offered with an internal combustion engine, just like the Jeep Avenger. So, all we have to do is wait for news – on the official launch of the FIAT 600.
The perfect smartphone for the mid-range? Poco F5, buy it at the best price from eBay at 379 euros.