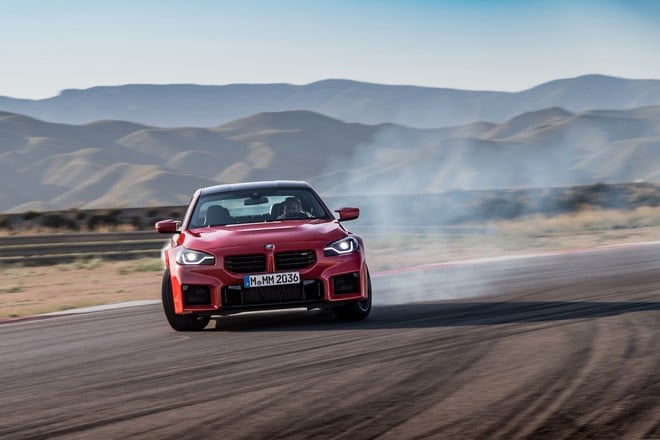 The new BMW M2 was presented in October 2022. We are talking about a sports car equipped with a 6-cylinder M TwinPower Turbo of 3 liter displacement capable of delivering 338 kW/460 HP with 550 Nm of maximum torque. Rear-wheel drive, 8-speed automatic or 6-speed manual gearbox and acceleration from 0 to 100 km/h in 4.1 seconds.
Although this model has only recently arrived on the market, the German car manufacturer is already working on a more recent version; extreme. It is the BMW M2 CSof which a new forklift is included; been intercepted during road tests. The manufacturer's technicians are in fact finalizing the development of this new sports car which should be launched on the market during 2024.
STILL MORE? EXTREME
The bodywork of the car is the protagonist of the spy photosit obviously still appears covered in foils to hide the details of the design. However, it can be note that the sports car will have; of a specific body kit that will allow & agrave; to make the look more; aggressive. In front we can observe the presence of a bumper with new and more redesigned bumpers. large air intakes as well as a specific splitter. Behind, on the other hand, there is a spoiler integrated into the tailgate and the 4 tailpipes.
The BMW M2 CS will aim for a new style. a lot about lightness. Precisely for this reason it is; It is possible that different parts of the car could be made of carbon fibre. We can also note that the model in the spy photos has 20-inch rims, the same ones we already have. seen on the BMW M4 CSL.
As far as the engine is concerned, it is; easy to imagine that it will come; a more powerful version of the current unit; of the BMW M2. It is speculated that the power could hover between 500 and 520 hp. There will be to understand, moreover, if the new sport will be; proposed with the automatic gearbox or only with the manual one. All that remains, therefore, is to wait for further information on the development of the car.
[Spy photo: CarScoops]
Limited budget? Redmi Note 12 4G, buy it at the best price from Amazon at 149 euros.