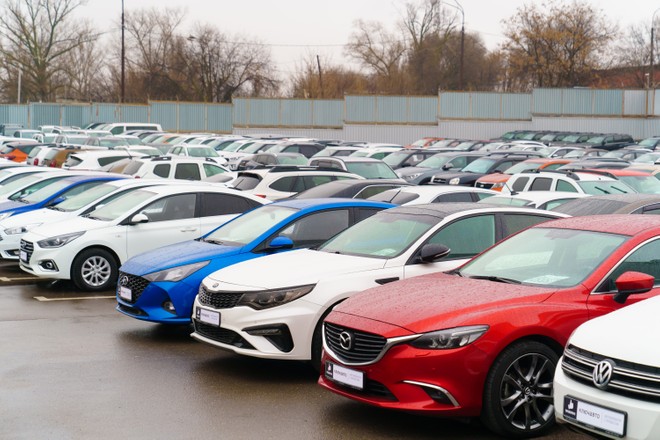 In March 2023, the used car market in Italy is back in positive territory after the month of February was closed with a slight decline of 1%. According to the new UNRAE report on the used car market, in March there were 472,528 transfers of ownership compared to 440,214 in the same period of 2022, equal to an increase of 7.4%. %. Specifically, net transfers increased by 7.7% and mini-transfers by 6.9%.
Looking at the data for the first quarter of 2023, the used car market in Italy is growing. up 5.7% with 1,258,683 transfers of ownership, against 1,191,092 in January-March 2022.
DIESEL MODELS ARE THE FAVORITES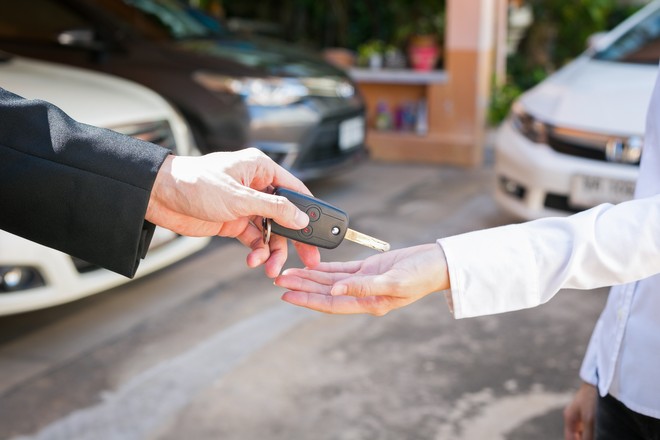 The photograph taken by UNRAE on the second-hand market in March highlights that diesel modelsthey continue to be largely the most popular in the world. in demand, with a market share of 47.8%, albeit down on the 48.8% of the previous year. Followed by petrol cars with 39.1% (39.7% in 2022). Third place for hybrid cars with a share of 5.2% (3.7% in 2022). Then we have LPG at 4.4% (4.5% in 2022) and methane at 2.4% (2.1% in 2022). The net transfers of pure electric cars (BEV) and Plug-ins stand at 0.5% and 0.6% respectively.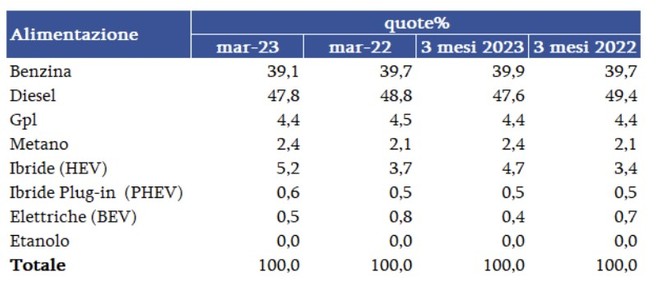 Going forward, the division by contractors sees exchanges between individuals/companies accounting for 55.6% of all transfers of ownership. 40% share for those from operator to final customer. The passages coming from the rental double to 1.6% (0.8% in 2022) and those from km 0 drop from 3.2% to 2.9%. As for the age average number of cars, the share of net transfers of cars with more than 10 years of service decreased; (49.3% against 50.4%). On the other hand, the share of 6 to 10 year old cars rose to 15.3% and that of 4 to 6 year old cars also increased (12.5% ​​in the month).
The share of cars from 2 to 4 years fell (to 12.0% in the month), while that of cars from 1 to 2 years grew (4.4%) and that of older cars remained stable. recent from 0 to 1 year (at 6.5%). Looking at the data at the level of the regions, 15.7% of property transfers took place. they took place in Lombardy. Followed by Lazio, down to a 9.8% share and Campania to 9.2%. Trentino Alto Adige is growing slightly, at 3.1% share, thanks to the contribution of the companies; rental.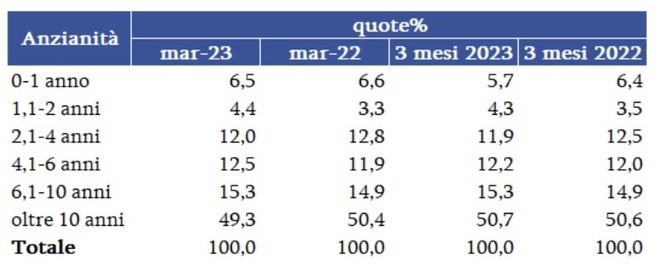 On the front of mini-transfers, the share of private individuals or other companies loses 1.4 points. who exchange their car, to 61.4%, while the share of car withdrawals by operators is reduced by half a percentage point, to 26.9%. Cars withdrawn from long and short-term rentals are on the increase, while that of cars from Km0 is decreasing.
The mini-volumes of diesel cars are growing again at 53.9%, while those of petrol cars are down, at 31.0%. Methane contracted slightly (at 2.3%), while LPG stopped at 5.0%. Hybrid car mini-volumes rise to third place: 6.3% share. Plug-ins increased slightly at 0.7% and BEVs at 0.9%. In terms of age, the weight of the older cars of 10 years drops to 39.5%. On the other hand, the seniority brackets are growing. from 6 to 10 years (19.2% in the month), from 4 to 6 years (13.8%) and from 1 to 2 years (6.0%). On the other hand, the most popular cars are decreasing. fresh from 0 to 1 year (5.2%) and those from 2 to 4 years (16.4%).
Limited budget? Redmi Note 12 4G, buy it at the best price from Amazon at 149 euros.