With the advent of mobility, there is no need to worry about being mobile. electricity, today companies are working a lot on the development of batteries, the most common element; important to electric cars. Alongside the technologies that are used today to make accumulators, other solutions that can be adopted in the future are being tested. On the subject of batteries, Stellantis announced that it had decided to invest in Lyten, an American company that works on the development and use of graphene with a three-dimensional structure.
Therefore, the automotive group, through Stellantis Ventures, its venture capital fund, will support the Lyten to accelerate commercialization of Lyten 3D Graphene applications for the mobility industry, including the LytCell lithium-sulfur battery for electric cars, lightweight composite materials, and new on-board sensing systems.< /p>LITHIUM-SULFUR BATTERIES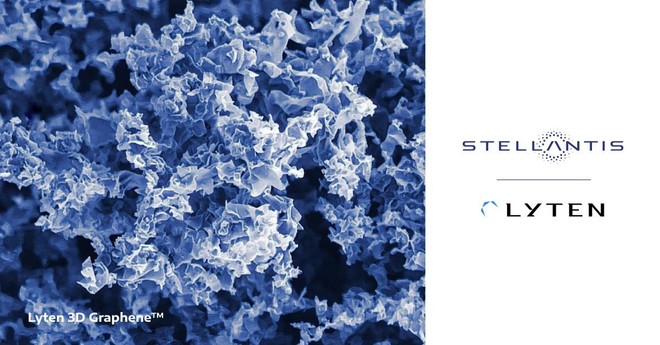 Stellantis says that Lyten's lithium-sulfur batteries, unlike traditional lithium-ion ones, do not use raw materials such as nickel, cobalt and manganese. Given the well-known problems in the procurement of raw materials for traditional accumulators, Lyten's lithium-sulfur batteries, highlights the automotive group, can offer an alternative solution with nickel, manganese and cobalt-free cathodes.
Additionally, raw material procurement and manufacturing for lithium-sulfur batteries can be challenging. take place locally, in North America and Europe, thus strengthening the the sovereignty regional. As Stellantis points out, this technology can respond "to the needs of companies looking for lightweight, high-density batteries; energy, not at risk of supply chain interruptions".
Furthermore, thanks to its battery technology, Lyten intends to offer its customers a secure source of high-performance and environmentally sustainable products, while allowing automakers to benefit from the growing incentives provided by US and European policies, such as those provided for in the Inflation Reduction Act.
Lyten's lithium-sulfur battery, composite materials and sensor technologies will initially be manufactured at its 13,000-square-foot facility located in Silicon Valley. For Stellantis, this investment is part of the objectives of the Dare Forward 2030 corporate strategic plan. In fact, in 2022 he created Stellantis Ventures to invest in early and late stage startups developing innovative and sustainable technologies for the automotive and mobility sectors. Carlos Tavares, CEO of Stellantis, said:
Having recently visited Lyten together with our CTO Ned Curic and our Head of Stellantis Ventures, Adam Bazih, we were impressed by the potential of this technology to contribute to greater mobility in the future. clean, safe and accessible. Lyten's materials platform represents a key investment for Stellantis Ventures, aligned with the company's Dare Forward 2030 goal of accelerating the deployment of innovative technologies by putting the customer at the center. In particular, Lyten's lithium-sulfur batteries have the potential to become a key ingredient in driving mass-market EV adoption globally. Likewise, their material technology could help reduce the weight of vehicles, an achievement that our industry will need to follow. necessarily obtain to achieve the net zero carbon emissions targets.
The perfect smartphone for the mid-range? Poco F5, buy it at the best price from eBay at 379 euros.