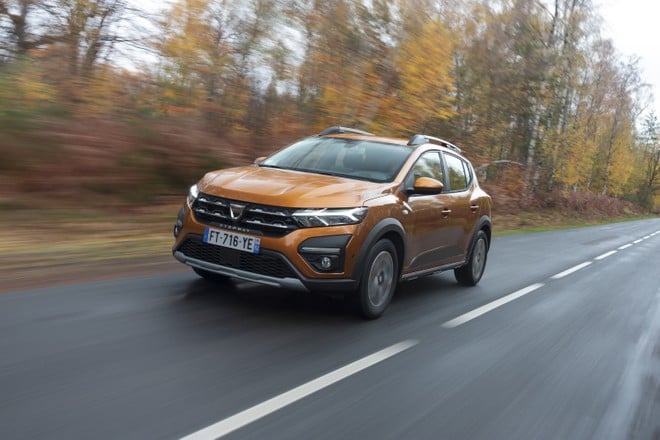 In the month of April 2023, 960,191 cars were registered in Europe, equal to an increase of 16% compared to the same month of previous year. This is the ninth consecutive month of growth for the auto market in the Old Continent. According to the analyst of Jato Dynamics, Felipe Munoz, one of the reasons that led to this positive trend is the the easing of supply chain pressures which has increased the availability of new products. of new cars.
THE DEMAND FOR ELECTRIC DRIVES IS GROWING
According to the report by Jato Dynamics, the positive result for April 2023 is the best result. also due to the growing demand for 100% electric vehicles. In the past month, these models achieved a market share of 13%, an increase of almost three percentage points compared to April 2022. Overall, 126,009 BEVs were registered.
In particular, in April 2023 the Volkswagen Groupled the electric league with a 98% increase in registrations to nearly 31,900 units. It is more about twice as many electric cars registered by Tesla (14,200). In this particular ranking, in second place we find the Stellantis Group whose registrations of BEV models, however, have increased by only 5%. Geely and the remaining Chinese manufacturers combined also performed well in April 2023 with sales totals of 8,334 and 7,114 units, respectively. registered.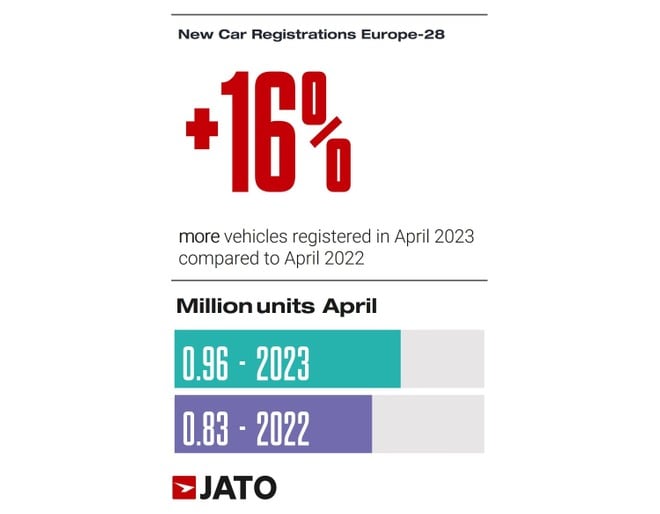 The report adds that Stellantis, Volkswagen Group and Geely have also drove the registrations of PHEV models. The demand for these vehicles is high. remained stable with a total of 71,960 units. registered.
FIRST THE DACHA SANDERO
Looking at the European auto market as a whole, Chinese-made vehicles accounted for just 3.4% of all new registrations with a total of nearly 32,000 units. This figure includes vehicles produced by Chinese manufacturers and vehicles produced by Western brands in China. According to Munoz, Chinese automakers are gaining ground less quickly than many have predicted.
As of April 2023, the Dacia Sandero is on the road. been the most model; sold on the European auto market. With 18,659 units; registered, it beat the Volkswagen T-Roc and the Opel Corsa. The Sandero is; was the car more registered in Belgium and Ireland, and the second in Portugal and Spain. Dacia also saw a 147% increase in registrations of the Jogger with a total of 7,237 units, increasing the total sales volume by 44%.
Among the electrics, instead , in first place we always find the Tesla Model Ywhich beats the Volkswagen ID.4 and Volkswagen ID.3. In the classic of the PHEV models of April 2023 to "triumph" it is was the Ford Kuga. Second and third place for the Volvo XC60 and the Link & Co 01. In terms of car brands, Volkswagen is in first place followed by Audi and Toyota. Last month, SUV registrations totaled slightly more than the previous month. of 492,000 units, equal to a market share of 51.3%.
TOP 10 OF APRIL 2023
Dacia Sandero: 18,659
Volkswagen T-Roc: 16,746
Opel Corsa: 16.578
Renault Clio: 15.792
Peugeot 208: 15.026
Fiat/Abarth: 500 13.775
Toyota Yaris Cross: 13.626
Volkswagen Golf: 13.209
Dacia Duster: 12.953
Skoda Octavia: 12.817
TOP 10 ELECTRICS
h3>
Tesla Model Y: 10.553
Volkswagen ID.4: 6.542
Volkswagen ID.3: 5.913
Skoda Enyaq: 4.393
Dacia Spring: 4,191
MG4: 4,174
Volvo XC40: 3,943
Fiat 500: 3,877
Peugeot e-208 3,809
Renault Megane E-Tech Electric: 3,484
TOP 10 PLUG-IN
Ford Kuga: 4,055
Volvo XC60: 3.604
Lynk & Co 01: 2,740
Kia Sportage: 2,665
Hyundai Tucson: 2,068
BMW X1: 1,994
Volvo XC40: 1,919

li>

Mercedes C-Class: 1,680
Peugeot 3,008: 1,511
Mercedes GLC: 1,478
Small and super powerful? Apple iPhone 14 Pro, buy it at the best price from eBay for 994 euros.