The mood in the German economy clouded over in May for the first time in six months. This is shown by the current business climate index from the Ifo Institute in Munich.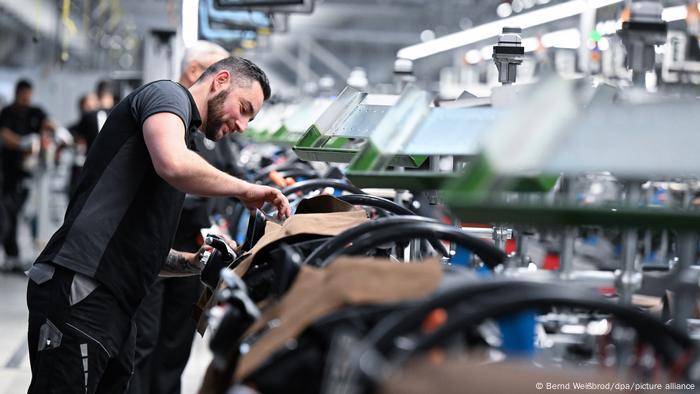 Assembly line in the Sindelfingen plant from Mercedes-Benz
The mood in the German economy clouded over in May. The barometer for the business climate fell to 91.7 points from the revised 93.4 points in April, as the Munich Ifo Institute announced on Wednesday in its survey of around 9,000 executives. It was the first decline in the barometer, which is closely watched on the financial markets, after six increases in a row. Economists polled by Reuters had expected a drop to 93.0 points.
The drivers of the development were significantly more pessimistic expectations. The 9,000 companies surveyed rated future business significantly worse than in the previous month. But the companies were also a little less satisfied with their current business: "The German economy is skeptical about the summer," said Ifo President Clemens Fuest. The mood in the economy has received a "significant damper". The German Chamber of Industry and Commerce (DIHK) is anticipating an economic downturn and high inflation for this year. There were still no signs of a broad upswing. According to a forecast by the EU Commission, Germany will be at the bottom of the table in the euro zone in terms of economic momentum this year, with growth in gross domestic product (GDP) expected to be 0.2 percent.
Economy "is treading water"
According to the Ifo Institute, the usual spring occupancy threatens to be canceled this time. "The German economy is treading water," said the head of the Ifo surveys, Klaus Wohlrabe, to the Reuters news agency on Wednesday about the survey of 9,000 managers by his institute. "In the second quarter, things are likely to stagnate." The gross domestic product of Europe's largest economy had already stagnated in the first quarter, after having even shrunk by 0.5 percent at the end of 2022. "Another sign of weakness. It still looks like a recession," warned Jens-Oliver Niklasch, economist at LBBW.
The expert sees one reason for the ongoing lull in the interest rate hikes that central banks around the world are raising respond to higher inflation. "The rate hikes seem to dampen demand," Wohlrabe said, referring to the rise in interest costs. For example, export expectations in German industry have fallen. "She has probably received significantly fewer new orders," said the Ifo expert. "Demand is becoming a problem." This applies even more to the construction industry, where many projects are being canceled due to increased material and interest costs.
But there are also rays of hope. The material bottlenecks have decreased again – as has the proportion of companies that want to increase their prices. "It will probably take a while before the end consumers relax," said Wohlrabe, referring to the development of inflation. Consumers are currently still holding back when it comes to consumption.
hb/dk (rtr,dpa)