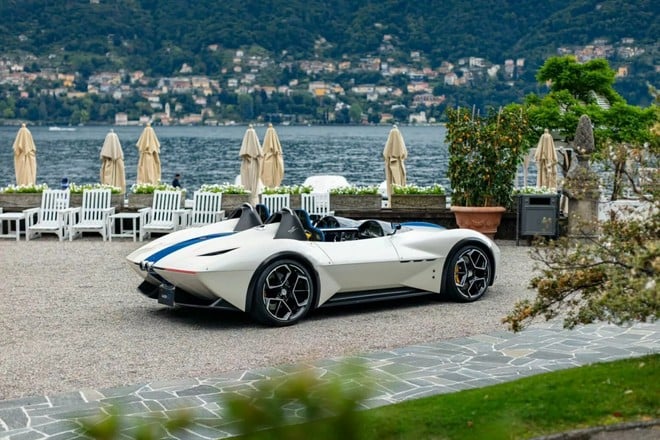 Those who love supercars and especially those from Maranello don't need to be told who they are. Ken Okuyama, "father" of Ferrari Enzo with important past in Pininfarina. The Japanese presented the Kode61 Birdcage at the prestigious Concorso d'Eleganza of Villa d'Este, a super barchetta that is based on the design of the little boat. to the Maserati Tipo 61 of the same name, a racing spyder that It was produced between the end of the 50s and the beginning of the 60s in just 16 specimens.
And it will be; produced in very few specimens(strictly handmade and in Japan, in the Yamagata factory) also this Kode61, the price of which is not too expensive. top secret. Everything is inspired by the Tipo 61, from the livery to the structure, passing through the windshield incorporated into the bodywork, while for the rims the team led by Okuyama seems to have paid homage to today's Maserati, the one capable of making supercars like the MC20.
The formsare those of our times: sharp lines, modeled with the intention of cutting through the air as best as possible, some references also to the Birdcage 75th concept of 2005, when Okuyama himself, through Pininfarina, celebrated the 75th anniversary of the company. Is not serious; no technical details were communicated, even if the two high exhaust pipes at the rear and the large air intake at the front suggest the presence of a heat engine.
Retro interior; for the Kode61 Birdcage, Okuyama and his team mixed analog and digital elements. Much more; the former than the latter, analogue instrumentation for the pilot and what is; probably the only screen on board is; in front of the passenger. On display is what appears to be a 6-speed manual gearbox with a design reminiscent of the cars of the past.
In short, not many numbers have been revealed, almost none to be honest. On the shores of Lake Como almost only the design counts.
The perfect smartphone for the mid-range? Poco F5, buy it at the best price from eBay at 379 euros.