"I don't know how to live with that shit!" A well-known Russian music producer criticized the Ukraine war in a leaked phone call. The recording causes confusion. From Riga Jennifer Pahlke.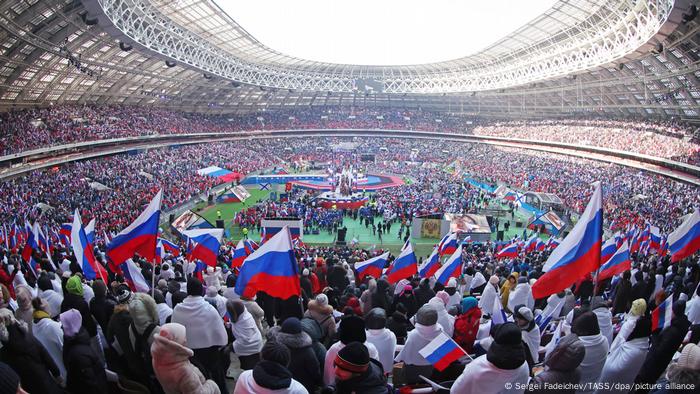 Pro-Russian concert in Moscow
Half an hour that might change your whole life: music producer Iosif Prigozhin and oligarch Farhad Akhmedov chat about the Ukraine war and Russian politics. In doing so, they downright insult Russian President Vladimir Putin and ex-President Dmitry Medvedev. What the two friends do not suspect: their conversation is recorded and later published. In the controversial phone call, Akhmedow complained: "For us, for our children, the future, their fate, was messed up." The native Azerbaijani, who was even a member of the Russian parliament until 2009, berates the Kremlin chief: "He doesn't give a damn about the people. He's the damned Satan. He's a damned wimp." On top of that, Putin is "a midget, underdeveloped and incompetent". To which Prigozhin agreed: "Of course they are bloody criminals!" In the end, Akhmedov's verdict was that Putin would not be able to save himself: "He will be held accountable."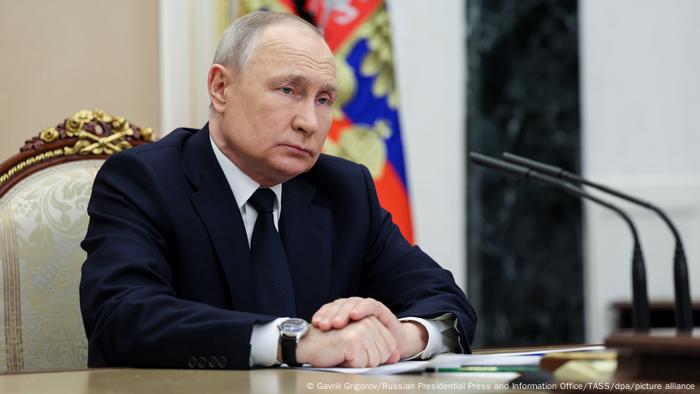 < p>Putin is used to using the music scene for his purposes
Is the conversation real or fake?
Immediately after the release, doubts arise: is the recording real? Prigozhin initially denies everything, but then admits that some sentences are real. Overall, however, the conversation was falsified with the help of artificial intelligence. Akhmedow has not yet commented. But many in Russia, such as literary critic and poet Ilya Kukulin, assume the conversation is real, as he told DW: "The proof of this is in many details. You really have to try very hard to get it all invent."
Can you see a split in the Russian elites?
Kukulin says that there are plenty of producers in Russia who think like Prigozhin. Nevertheless, there can be no question of a split between the elites. Artemy Troitsky, Russia's best-known music critic, stated in an interview with DW: "90 to 95 percent of the Russian music industry, actually the entire cultural industry, are shocked by what is happening at the moment. Nevertheless, they remain silent."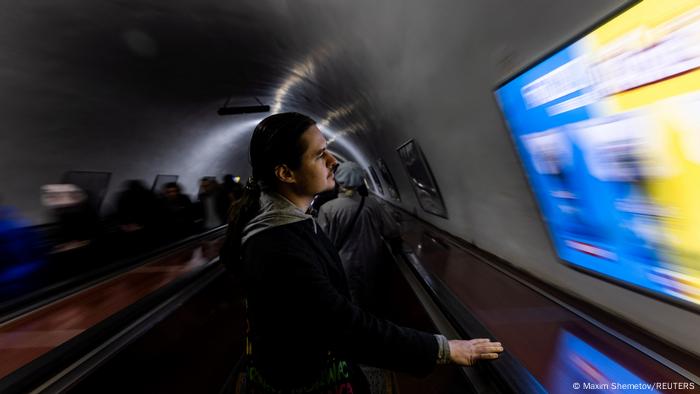 Some musicians flee Russia, like Alexei Antropov
Or they would outwardly support Putin and the Russian war with statements, participation in pro-Russian concerts or in video clips. But once they were in their own four walls, they would call the situation a disaster. "In general, this duplicity is understandable. The fact is that the entire Russian elite, and this includes businessmen and top officials, and even representatives of the security forces, lost a lot during this war. They can no longer travel abroad. Many are on the sanctions list. Some have lost their businesses," explains Troitsky. On the other hand, Russia has always been part of world culture, including global show business. Artists would have performances, contracts with publishers in the West. Today that only applies to those who publicly condemned the war and left Russia. "They're all afraid to speak out openly against the war, against Putin and against all these war crimes. All in all, of course, these aren't artists to be envied. Equally, their cowardly attitude doesn't deserve any respect," says Troitsky.
Why is the music scene important for the Kremlin?
In Russia there is a very long tradition of spreading pop music. This was already pronounced in the Soviet Union – great composers such as Dmitri Schostokowitsch or Sergei Prokofiev wrote hymns, military music and marches. There were also tons of songs about the Russian revolutionary leader Lenin, the Communist Party and the Great Patriotic War, as World War II is called in Russia. In the 1980-1990s this tradition came to an end. Now it is experiencing a renaissance. "Compared to the Soviet era, one must of course say that the quality of this pop propaganda has fallen immeasurably," sums up music critic Troitsky. People used to love patriotic songs. But that's over now: "There are only opportunists, conformists and mediocre singers who work in this area."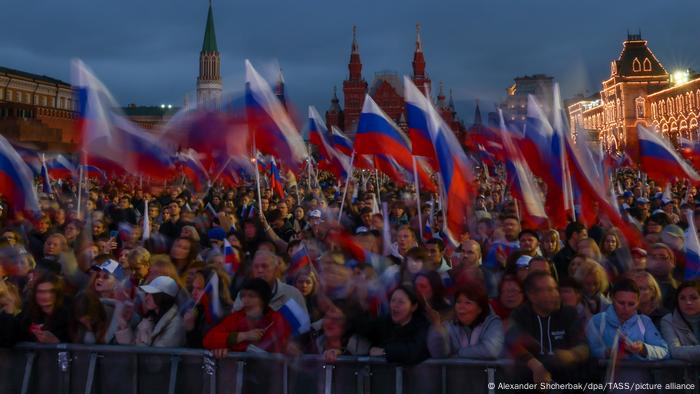 Moscow celebrated the fake referenda with concerts
Nevertheless, it is important for the state to legitimate Russia's war of aggression against Ukraine in the eyes of the public and create a nationalist sense of community. And that's best done with patriotic songs: "The state holds all these huge rallies in stadiums, on Red Square and so on. Of course, events like this can't just be filled with speeches. That would be too boring." For Troitsky, however, it is clear that this is not a mass phenomenon. There would only be a dozen pop propagandists popping up everywhere: "By and large, this Putin-era pop propaganda is a failed story. Just like his war in Ukraine".