There are a lot of beautiful photos appearing on Instagram. You can save them to your Instagram collection so you can easily find them later. This is how the collections work on Instagram, which you can create alone or with friends.
That nice coffee shop where a friend just visited, that incredible view during your colleague's vacation… There are a lot of photos on Instagram where you think: I have to remember that for later. Fortunately, this can be done in a very simple way, because you can save photos you like in collections. For example, create a collection of your favorite city, so that you know exactly where you can get the best breakfast on your next visit.
Create an Instagram collection
Instagram collection with friends
Save Instagram photos to Collection
You can share photos of others save them to Collections for later viewing. These will be special albums within the Instagram app itself. The photos will therefore not appear in your camera roll. The owner of the photo can see that the photo was saved by someone, but not by whom.
You save a photo in a Collection by tapping the bookmark icon at the bottom right. You can also tap the three dots in the top right and choose Save. By default, the photo ends up in the general collection, but you can also choose to create all kinds of separate collections around a specific theme so that it is more organized.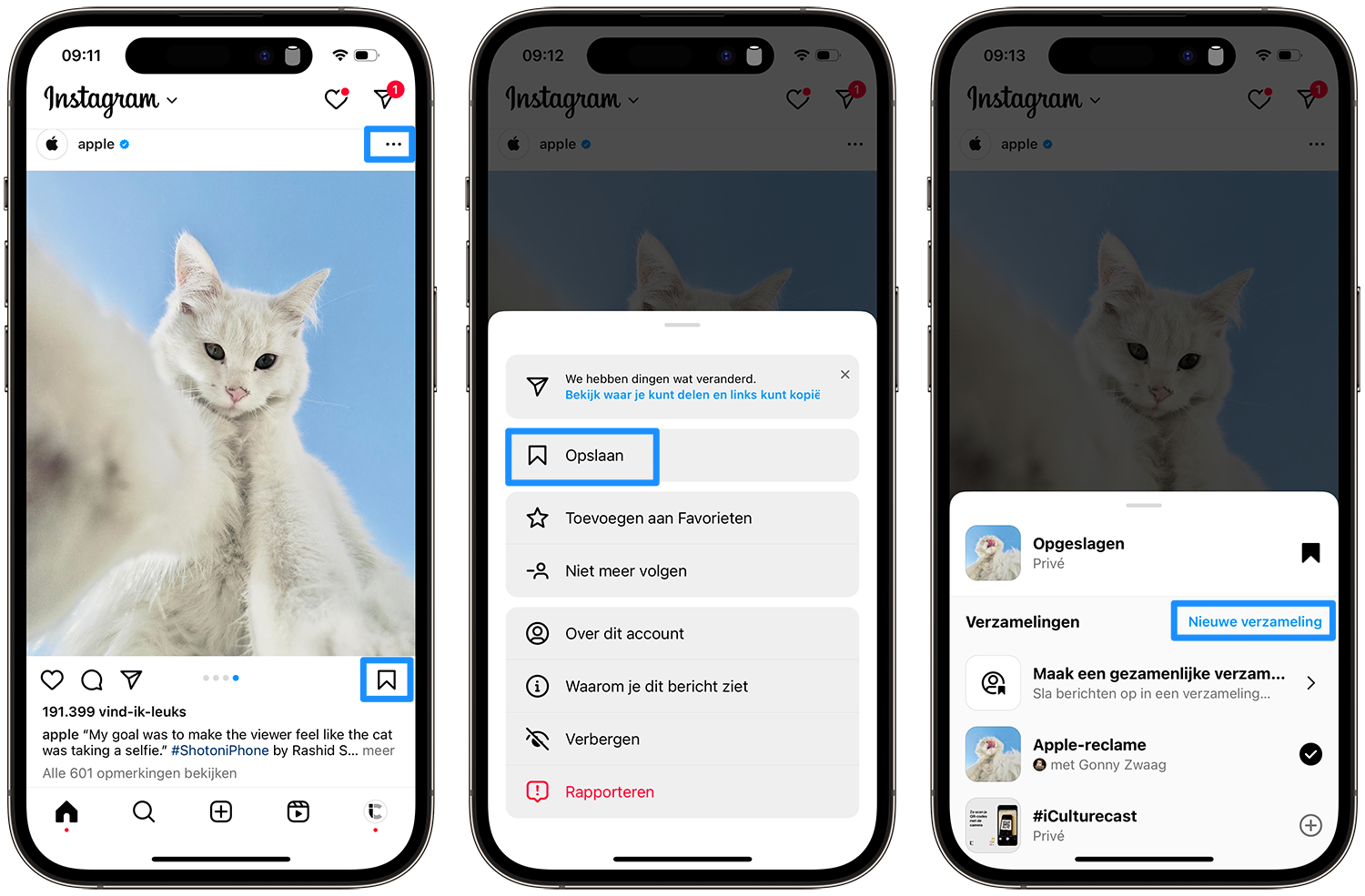 If you want to tackle it in a structured way, it is useful to create a few Collections right away. It will then be easier for you to save messages to a particular Collection.
To do this:
Go to your profile and tap three underscores.
Tap Saved.

< li>Tap the plus sign to create a new Collection and give the collection a name, for example 'Tim Cook memes'.

Tap Next and add some posts.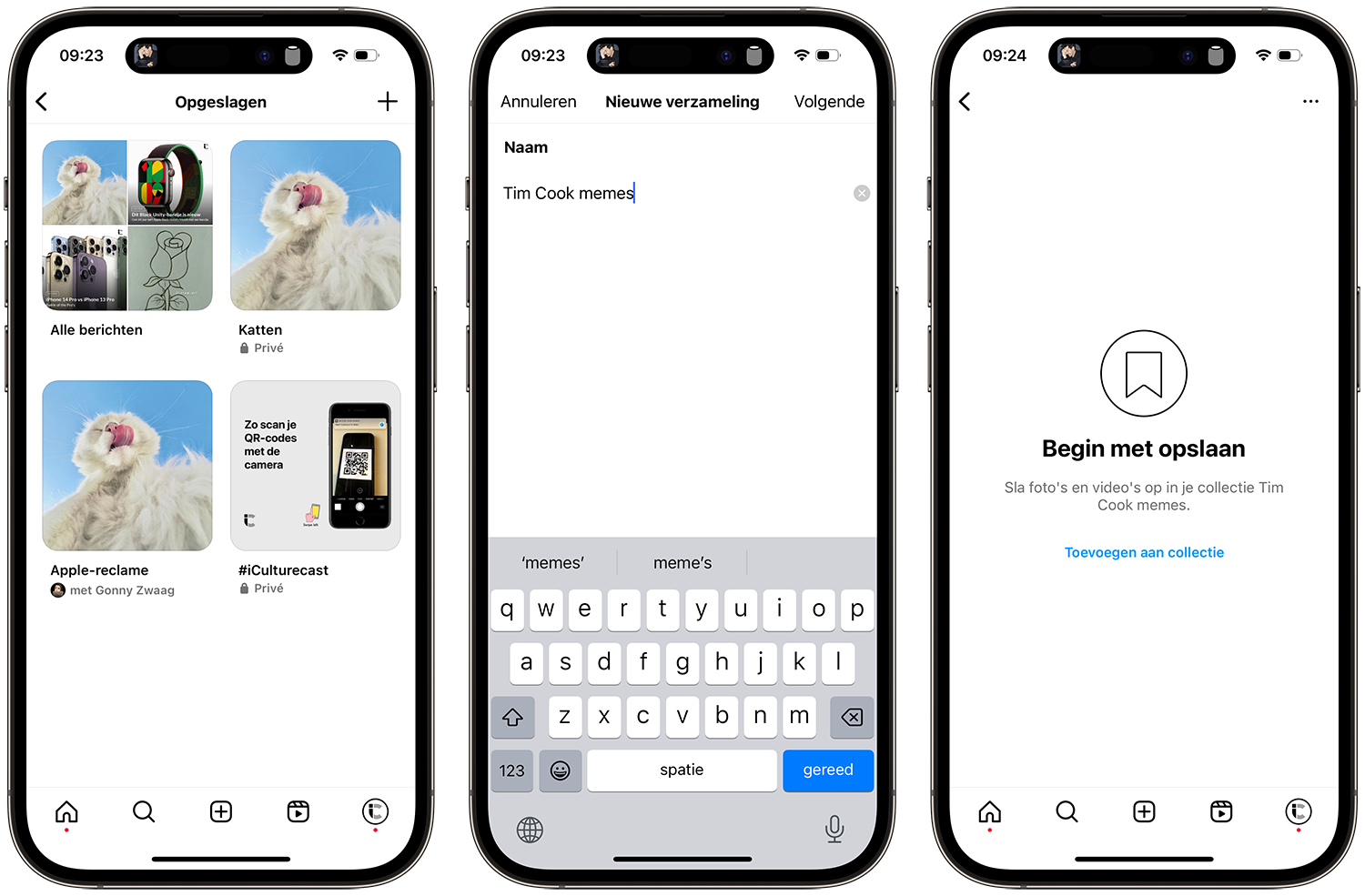 Good to know: if the creator of the photo deletes the post, it will also disappear from your collection.
Instagram collection with friends
A relatively new option is to create an Instagram collection of friends. You can then, for example, exchange holiday plans or nice addresses and immediately know where to go on your next visit to London, Paris or another metropolis.
Creating a collection with friends is very easy: when you save a post to your collection, you can immediately flip a switch to indicate that you also want to share it with friends. Own collections are now labeled 'private', while joint collections allow you to manage a list of people. Both you and your friends can join the collection and add new photos. You can save photos from the Instagram feed, but also items from the Explore page and even DMs.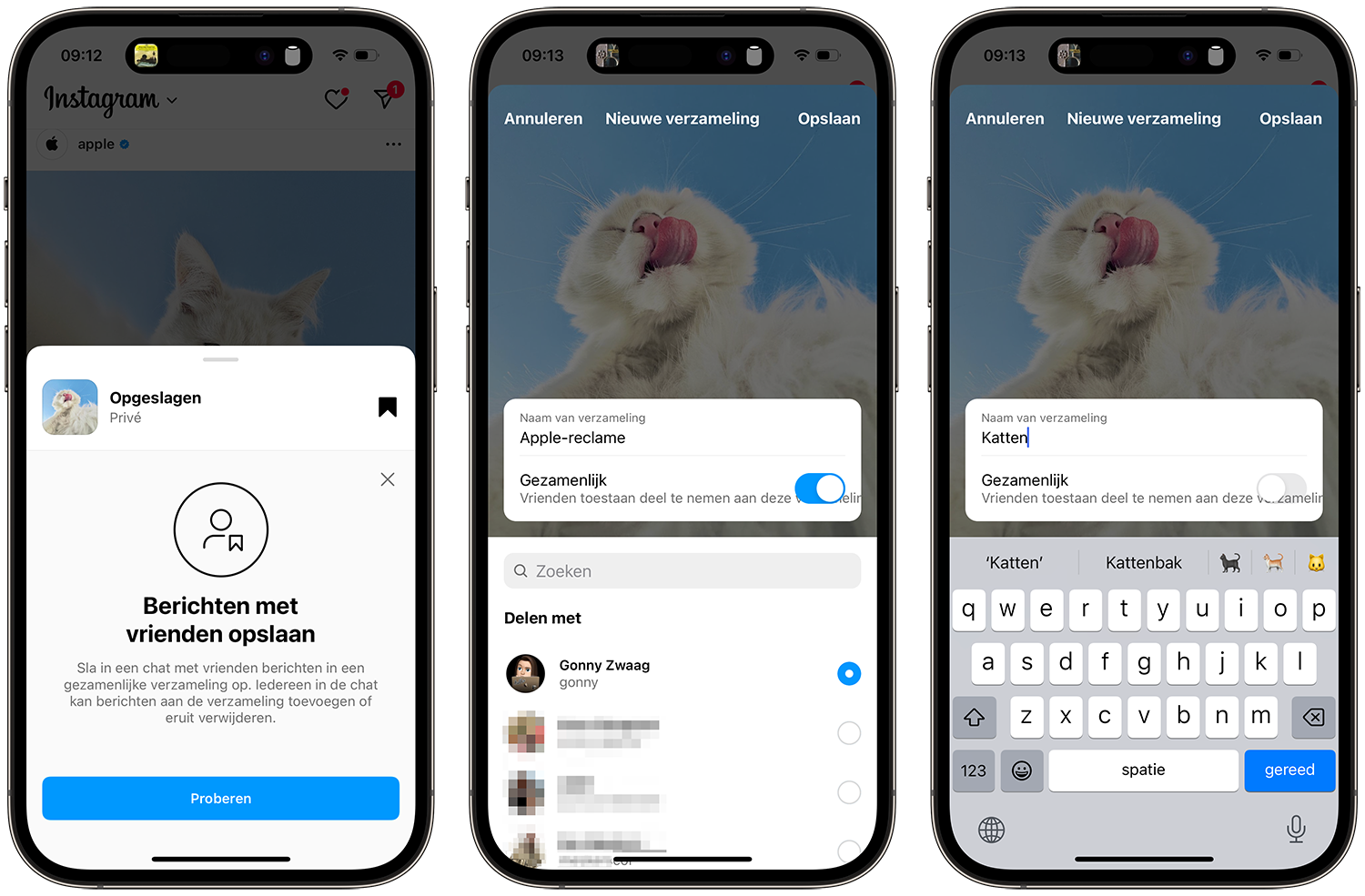 To use this function, tap the bookmark icon at the bottom right again and choose to create a joint collection. Give the collection a name and choose people who can participate. They receive a notification that they have been added as administrators of the collection. You can have up to 250 people participate.
If you add a message from an account that is locked, only the people who follow this account can see the photo.
Friends who share together, stay together &# 129309;

You can now save content with friends through collaborative collections.

Find a post you like → tap save icon → create new collaborative collection → name collection and toggle "on" pic.twitter.com/8cMKoOlMFA

— Instagram (@instagram) March 29, 2023
We have many more useful Instagram tips!
Here's how you can Storing and backing up Instagram photos
Setting up and using multiple Instagram accounts: this is how it works
How to share multiple photos on Instagram at the same time

< /ul>

See also

How to save and collect Instagram photos

You can save your own photos in Instagram so that you can easily find them later and print them, for example. You can also save other people's photos in Collections, which you can organize yourself. This tip explains how it works.