Are you serious about getting started with Apple Arcade? Then a nice game controller is a good start. The best controllers for iPhone, iPad and Apple TV from Gamevice, Steelseries and other manufacturers can be found here.
Game controllers for your iPhone, iPad and Apple TV
Nowadays you no longer have to buy a special controller to play with your iPhone, iPad or Apple TV. If you already have a controller for your Xbox, PlayStation or (since iOS 16) a Nintendo Switch, it is often already suitable. So you can just use an existing Xbox, DualShock 4 or Nintendo Switch controller that you have lying around. In addition, special game controllers for Apple devices are available, sometimes with the Made for iPhone seal of approval, but this is an ongoing matter. In this overview you will find the game controllers you can choose from and which have been adapted for it.
General game controllers:
Xbox controllers
PlayStation controllers
Nintendo Switch controllers
Special controllers:
Backbone
SteelSeries Nimbus and Nimbus+
Razer Kishi
Rotor Riot
Anchor Powercore Play
HyperX ChargePlay Clutch

< li>Gamevice

Which game controllers?
Xbox game controllers
Suitable Xbox game controllers:
– Xbox Wireless Controller with Bluetooth (Model 1708)
– Xbox Series S Wireless Controller
– Xbox Series X Wireless Controller
– Xbox Elite Series 2 Wireless Controller
– Xbox Adaptive Controller
Since iOS 13, iPhone and iPad owners can also use Xbox controllers, starting with the Xbox One, but more and more models have been added over time. That's good news, because if you have an Xbox, you probably have a controller lying around. It must be a newer Bluetooth model and not the original controller from 2013. The latter uses Microsoft's own connection technology and is not suitable for Apple devices.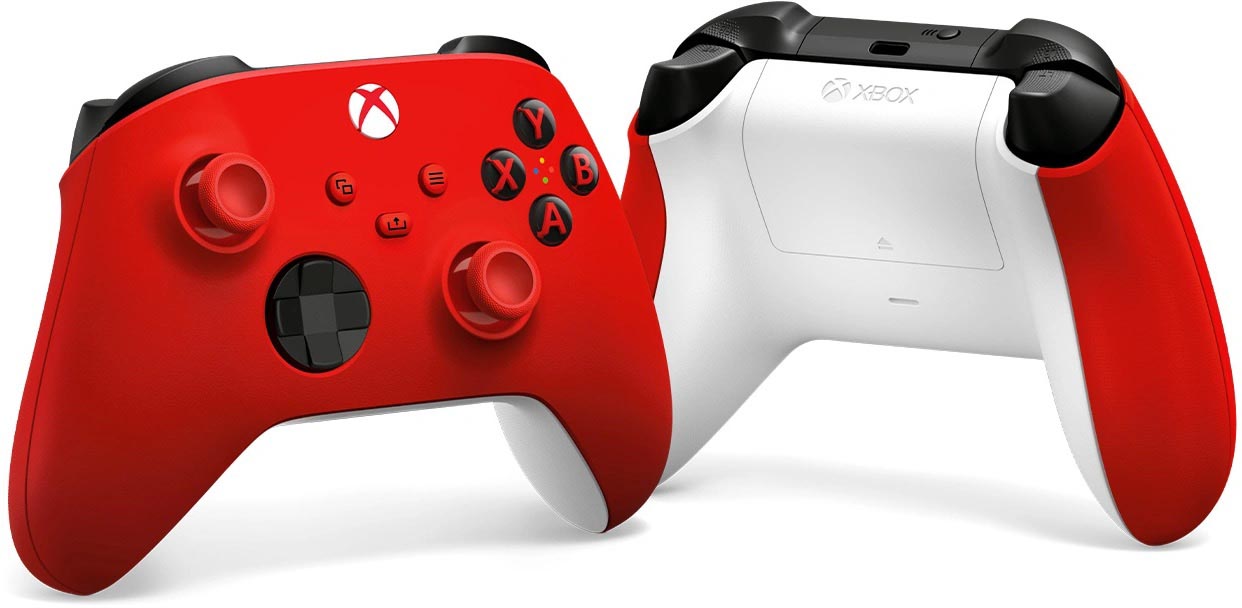 Apple no longer sells the Xbox One controller in the Apple Store, but you can find it at many other stores. The controllers have a layout that many gamers like. You can use all the buttons and triggers, but of course it won't work with platform-specific applications. Also good to know is that these controllers are suitable for most PC games, so if you want to play on multiple platforms, you're in the right place.
WirelessEliteMore
PlayStation game controllers
Suitable PlayStation controllers:
– PlayStation DualShock 4 wireless controller
– PlayStation 5 DualSense Wireless Controller
– Playstation 5 DualSense Edge controller
Of course we can't discuss the Xbox controllers without also mentioning the Sony counterpart. Sony calls the DualShock 4 "our most comfortable, intuitive controller ever" and many people prefer the symmetrical layout and the more streamlined design, instead of the round shapes of the Xbox One controller. The DualSense and DualSense Edge controller of the PlayStation 5 are now also suitable. So you have the choice.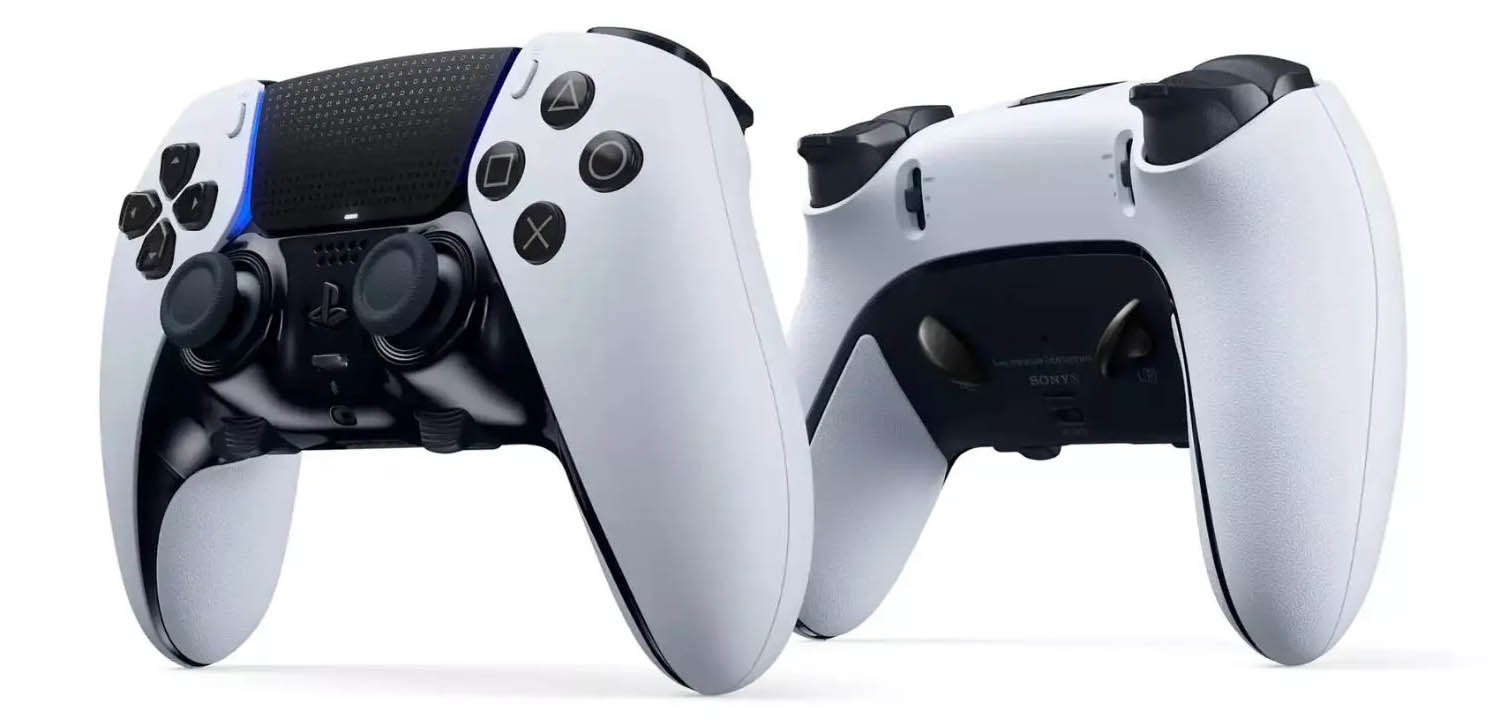 The PS5 DualSense Edge controller requires at least iOS 16.4, iPadOS 16.4, macOS Ventura 13.3 or tvOS 16.4. This controller was released in January 2023 and has adjustable triggers and other improvements compared to the normal DualSense controller (except for the battery life, which has decreased). You also have customizable profiles, so you can tailor the assignment of buttons to the activity. It costs three times as much. Apple sells the Sony PlayStation DualSense controller in white for €79.95. You can also find these at other stores. For the DualSense Edge controller you have to spend a lot more money, namely around €239.
You have access to the same buttons and triggers as other controllers, but there are also a few PlayStation-specific buttons that you won't use on the iPhone and iPad. The trackpad is touch sensitive. The price is almost the same and so are the options, so it's purely a matter of preference which layout you like best.
DualShock standardDualShock colorsDualSenseDualSense Edge
Nintendo Switch controllers
Suitable Nintendo controllers:
– Nintendo Switch Pro Controller
– Nintendo Switch Joy-Con controller set
The latest development in controllers is support for the Nintendo Switch game controllers. This has been possible since iOS 16 and tvOS 16. The Joy-Cons can be used individually or paired in pairs to form one controller. If you have a Nintendo Switch and sometimes want to play a game on your Apple TV, this is good news.

< img src="/wp-content/uploads/6bcac7fefc00e263e4c6524d635c53cd.jpg" />
Nintendo Switch ProNintendo Switch Joy-Con
Backbone (One) for PlayStation and Xbox
Play your favorite PlayStation games on the go with the Backbone One PlayStation 5 controller. This controller for your iPhone is in PlayStation 5 style. Click the iPhone in the holder and play games with the PS Remote Play app, without having to have a television. This works thanks to cloud streaming. You can also play games from the App Store with the ease and ease of use that you know from the PlayStation DualSense controller. The buttons are therefore identical to this controller. You can optionally plug in earphones for your in-game audio.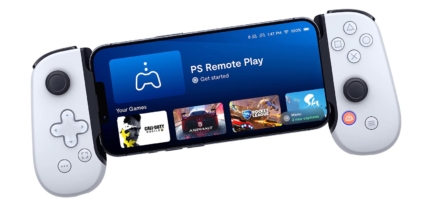 The controller has a Lightning connector. There is also a variant for Xbox, with the usual x, y, a and b buttons!
You can buy the Backbone One for around 90 euros at Coolblue, at MediaMarkt and similar stores.
SteelSeries Nimbus+
With the SteelSeries Nimbus you can choose from the original controller from 2016 or the newer Nimbus + from 2021. The SteelSeries Nimbus + is similar to the first version in many ways. It has the same buttons, with two control sticks, a D-pad and four shoulder buttons. In addition to the home button, there is also a new menu button on the front. Also new is that you can now also press the control sticks, which can come in handy with some games. The shoulder buttons have also been improved.
While the battery life of the original model was still 40 hours, the Nimbus+ has extended it to 50 hours. Charging is still done with a Lightning cable. There is a holder to attach to your iPhone, so that you can easily use the controller with it. MFi certified and therefore works without problems on all your Apple devices.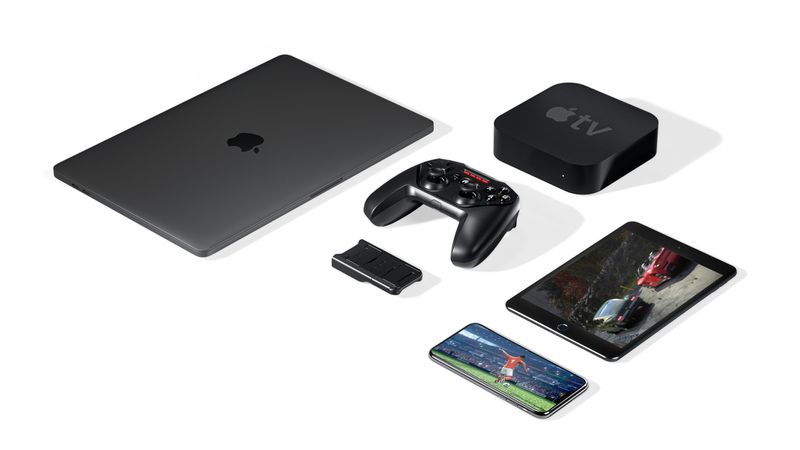 Apple sells this controller for over 90 euros in the Apple Store, but you can find it much cheaper elsewhere. The original Nimbus is no longer readily available and is of less interest to Apple users. This first generation does not have a holder for the iPhone, so you will have to find a way to see the screen of your device properly.
Razer Kishi
The Razer Kishi game controller for iPhone. This has been developed in collaboration with Gamevice and consists of two parts. You attach them to either side of the iPhone. The controller is connected to the iPhone's Lightning port, so you don't have to charge a battery. There are two generations: the original iOS variant costs around 100 euros and dates from 2020 and the brand new Razer Kishi V2 was released in November 2022. The new variant can be recognized by the fact that the four game buttons (A/B/X/Y) are gray, while they are colored on the original model. There is also a combined model that is suitable for both iPhone and Android.

This game controller has a direct connection for lower latency. It has a directional pad, two thumbsticks, A-B-X-Y buttons and shoulder bumpers.
Rotor Riot
Apple itself sells the Rotor Riot game controller for (55 euros) in which you can put your iPhone. It may not sound very attractive to use a wired controller, but there are advantages to it. For example, the connection is very reliable. You also don't have to worry about the battery life and the pass-through solution ensures that you can charge your iPhone while gaming. Also included is a clip to attach to your iPhone. This works with a Lightning connection, but there is also a USB-C version for other smartphones.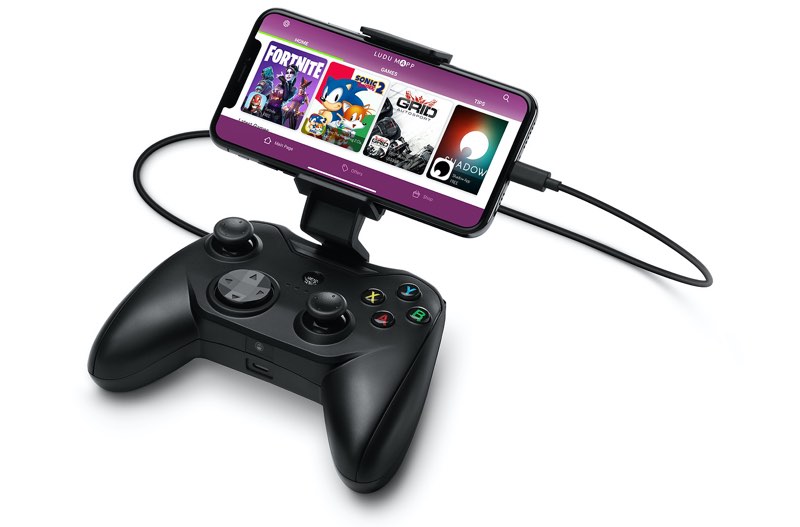 Please note that you can only use this controller in landscape view. The Rotor Riot's buttons and analog joysticks are nice and robust, and the joysticks are also clickable for L3/R3 actions. Cheap and a great solution if you don't have an existing controller. There are different models: the RiotPWR RP1852 (black), RiotPWR RP1950ESL (white) and RiotPWR RP1950X (white) are suitable for iOS.
View:
Rotor Riot at Coolblue (black)
Rotor Riot at Coolblue (white), also in newer model
Rotor Riot at Amazon
Rotor Riot at Apple Store
Anchor PowerCore Play 6K
The Anker PowerCore Play 6K stands out because it has no buttons. This accessory has two functions: the shape gives you a better grip and the built-in power bank keeps your iPhone charged. So it's basically a battery case that's a bit easier to hold.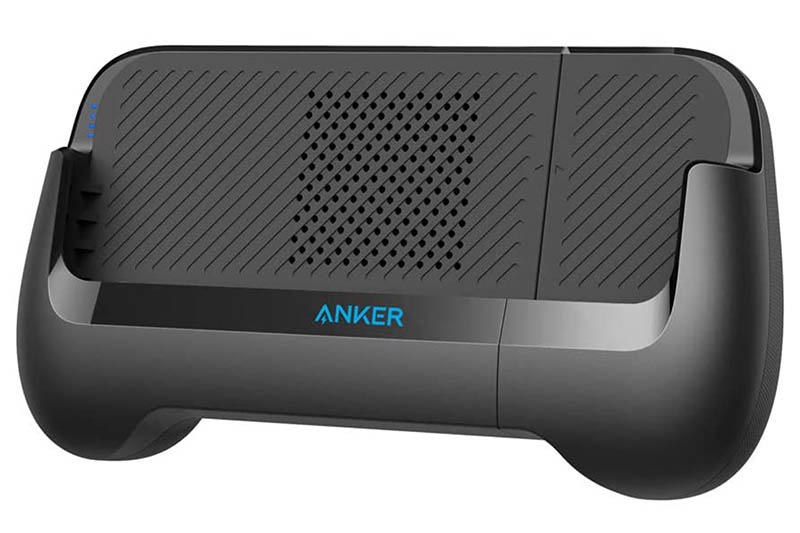 This is especially useful for games that don't have special support for controller buttons. The Anker PowerCore Play has a 6,700 mAh power bank on board, with which you can charge your iPhone two to three times. The sliding mechanism fits almost every iPhone. It is also suitable for Android devices, where the output is a maximum of 15 Watt via USB-C. For iPhones, 12 watts is the maximum. There is also a fan inside to prevent overheating.
The Anker PowerCore Play is available at Amazon.nl for approx. 40 euros.
HyperX ChargePlay Clutch
The HyperX ChargePlay Clutch also has no buttons, just like the Anker game controller we review above. But there are still big differences. HyperX's model has a Qi wireless charger and a 3,000 mAh battery built in, which is magnetically attached to it. You can detach the battery if you just want to game and not charge.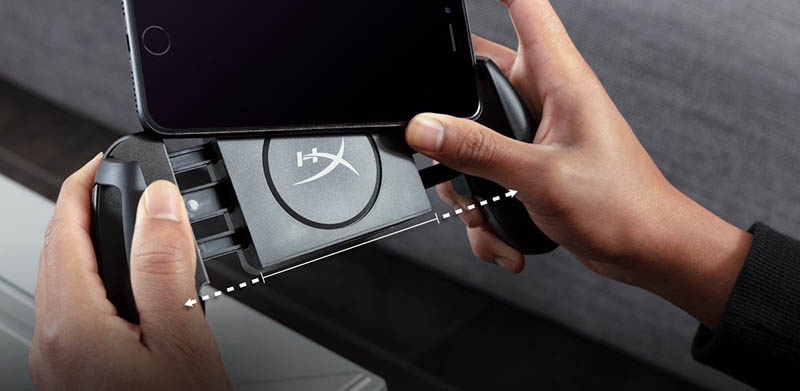 It fits smartphones with a length between 129mm and 172mm. With a price of around 60 euros, it is a lot more expensive than that of Anker.
The HyperX ChargePlay Clutch is available for around €60.
Gamevice Controllers
Various models of the Gamevice Controller have been sold, but are currently no longer readily available. It is therefore best to take a look at the second-hand circuit.
There is a variant for large and small iPads and you can find models for the iPhone. There is something to be said for gaming on a larger iPad: because of the large screen and the powerful processor, the experience is very immersive: you are completely sucked into the game. The Gamevice Controller consists of two parts, which are connected to each other via a rubber band that runs along the back. You connect the right side to the Lightning port of your device, so no wireless connection is required. There are two analog sticks and two shoulder buttons, on each side of the screen. On the left you will find a traditional joypad and on the right you will find four buttons.

The Gamevice Controller for iPhone can do much more than play iOS games. You can also control your DJI Spark drone or your Sphero robot with it. Linking is done via the accompanying iOS app and operation is then more pleasant than via the buttons on the screen. This way you can control your drone or robot very precisely. Gamevice has its own 'Works with Gamevice' program, which makes it work with over a thousand mobile games, including Street Fighter IV and Minecraft.
Please note that you buy at least the second generation of the Gamevice Controller, which came on the market in early 2017. The controller consists of two parts, which are connected to each other. You attach them to the bottom and top of the. The second generation has a Lightning connection and therefore no longer needs to be charged separately. The previously released models have their own battery.
Which game controllers?
As mentioned, you can use several well-known game controllers to play on your Apple devices, including those from Sony, Microsoft and Nintendo. They all cost around 50-70 euros with prices going up to 100 euros. Want to check out cheaper game controllers? Then check the offer at bol.com or look in the outlet at Mediamarkt. It doesn't really matter which one you choose, as long as they work with Bluetooth and have the buttons you need for the games you want to play.
Apple first introduced official support for game controllers in iOS 7. Manufacturers were able to make gamepads that were officially approved and with the buttons working properly. Since then, things have changed: more suitable games have been added, the price of game controllers has come down and they are now often suitable for gaming on the Apple TV. The d-pad, analog sticks and triggers are the same on all of these game controllers.


Some controllers connect with a Lightning cable, while others work via Bluetooth. The models with Bluetooth are the most ideal if you also want to be able to play games with the Apple TV. Furthermore, there are models that only work on certain iPhones or iPads, turning your iPhone into a kind of handheld gaming system. Keep in mind that when you buy a new iPhone, you will also have to replace your game controller.
MFi game controllers
Apple once introduced a quality mark for game controllers. These so-called MFi game controllers can be recognized by the Made for iPhone certificate (MFi). Manufacturers had to have their gamepad approved by Apple for this. It makes the accessories slightly more expensive than usual, because manufacturers have to pay a fee to Apple. You also had relatively little choice. Nowadays you no longer have to pay attention to the MFi quality mark and it works with almost all modern controllers.
You can read how you can connect these and other game controllers to the Apple TV in our tip.
See also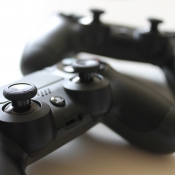 How to connect a game controller to your Apple devices
You can easily link game controllers to your iPhone, iPad, Apple TV and Mac. This works with the most common game controllers of the well-known game computers, such as PlayStation, Xbox and Nintendo Switch.
Since tvOS 14 it is possible to play multiplayer games. You can read more about game controllers and the Apple TV in the tips below:
This is how you can connect a game controller to your Apple devices
Connect an extra remote control or Siri Remote to the Apple TV
How to recognize Apple TV games that you can play with a controller< /li>
This is how you check the battery status of the Apple TV Remote and game controllers
How to pair an older game controller with the Apple TV (and this is what the buttons do)
Also check out our overview of Apple Arcade, which lets you play for a fixed monthly fee.
Also check out

< img src="/wp-content/uploads/e8a7d5f471c13fd699fbe649be5c0459.gif" />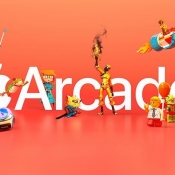 Everything about Apple Arcade, Apple's gaming service
Apple's own game service is called Apple Arcade. You can play all games for a fixed amount per month. In this overview you can read what it costs and on which devices you can play. Everything about Apple Arcade at a glance!