Chipolo Card Spot is the solution for people who want to put an AirTag in their wallet, but don't have room for it. This flat map always fits. We have tested it in this review you can read what we think of the Chipolo Card Spot.
Chipolo Card Spot review
Earlier we reviewed the Chipolo One Spot, a plastic tracker that is suitable for Apple's Find My network. The Chipolo Card Spot we are discussing here is basically the same, but in the form of a flat card for your wallet. This is not only intended for klutz who always lose everything, but also for people like me who like to keep an eye on their stuff. For example, I regularly check whether my bicycle is still in front of the door and whether I still have my keys in my pocket. Chipolo Card Spot is the solution for people who also want to keep an eye on their wallet. It also works with the Find My network and we've tested it extensively.
Review: Gonny van der Zwaag (@gonny). The review was carried out in March 2023 and describes the situation at that time. The tracker was provided by the manufacturer for this review.
Chipolo Card Spot in brief
These are the most important features:
Tracker for Apple's Find My network
Sizes the size of three bank cards stacked on top of each other (a credit card is 0.76 mm thick on average)
Fits in almost any wallet< /li>
Only available in black
Battery not replaceable
Length 8.5 cm, width 5.4 cm, thickness 2.4 mm
Weight 16.5 grams
Available for €39.95 at Apple, Amazon and other stores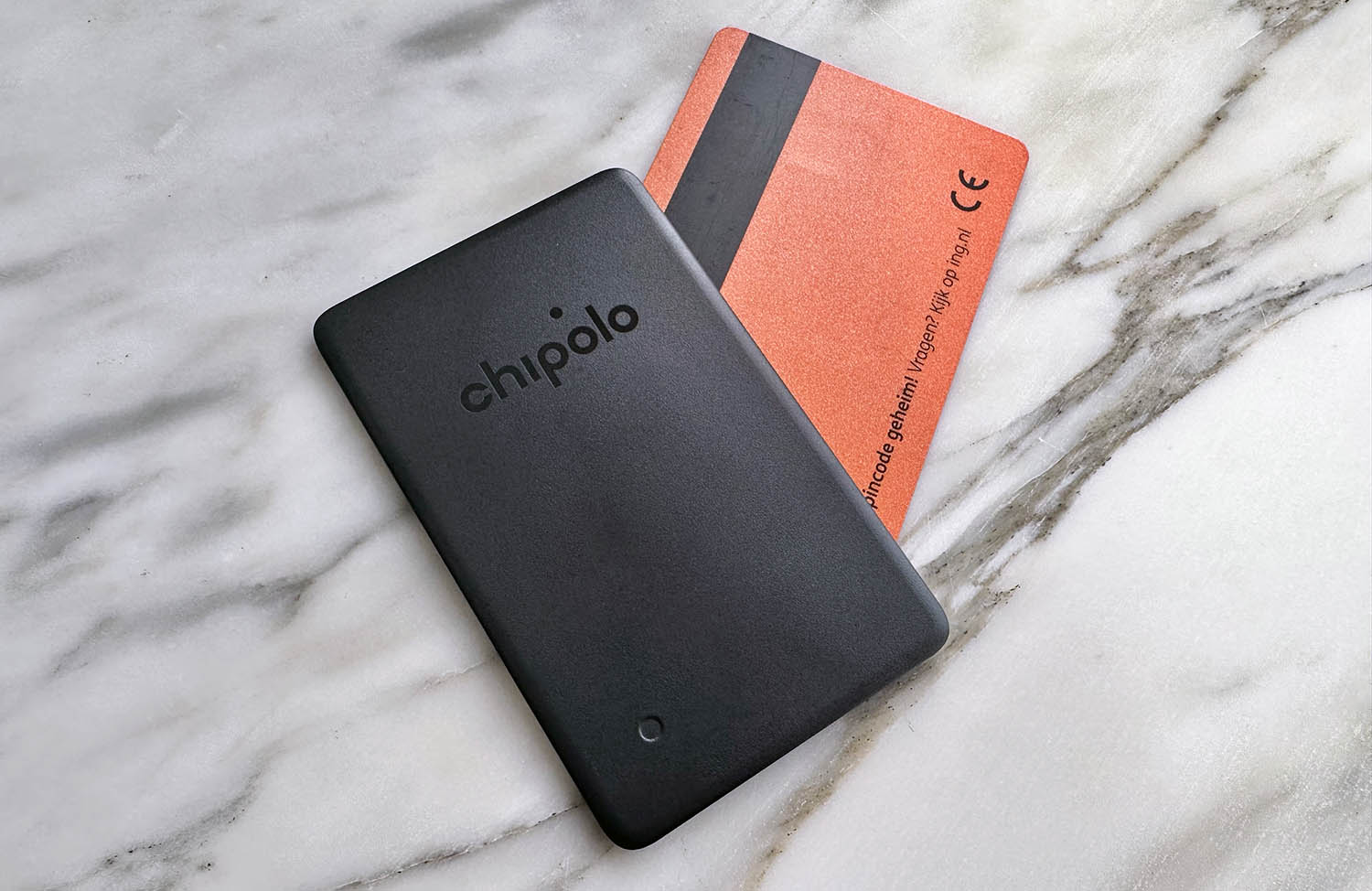 Available from Apple:
Chipolo CARD Spot, 1 piece: €39.95
Chipolo CARD Spot, 2 pieces: €64,95 ( 18.7% off)
Also available at the following stores:
View at Tink
View at Amazon
Design of the Chipolo Card Spot
The Chipolo Card Spot looks exactly like the Tile Slim, which I've been using in my wallet for some time. In both cases it is a matte black plastic card that you insert between your other cards. Only the logo is different, but the dimensions are identical. The alarm sound to find the tracker is also almost equally loud (105 and 108 decibels). You can still find the tracker if it's in a wallet under a pile of pillows on the couch. The Chipolo One Spot we reviewed earlier also had such a loud alarm, compared to the AirTag at 60 decibels.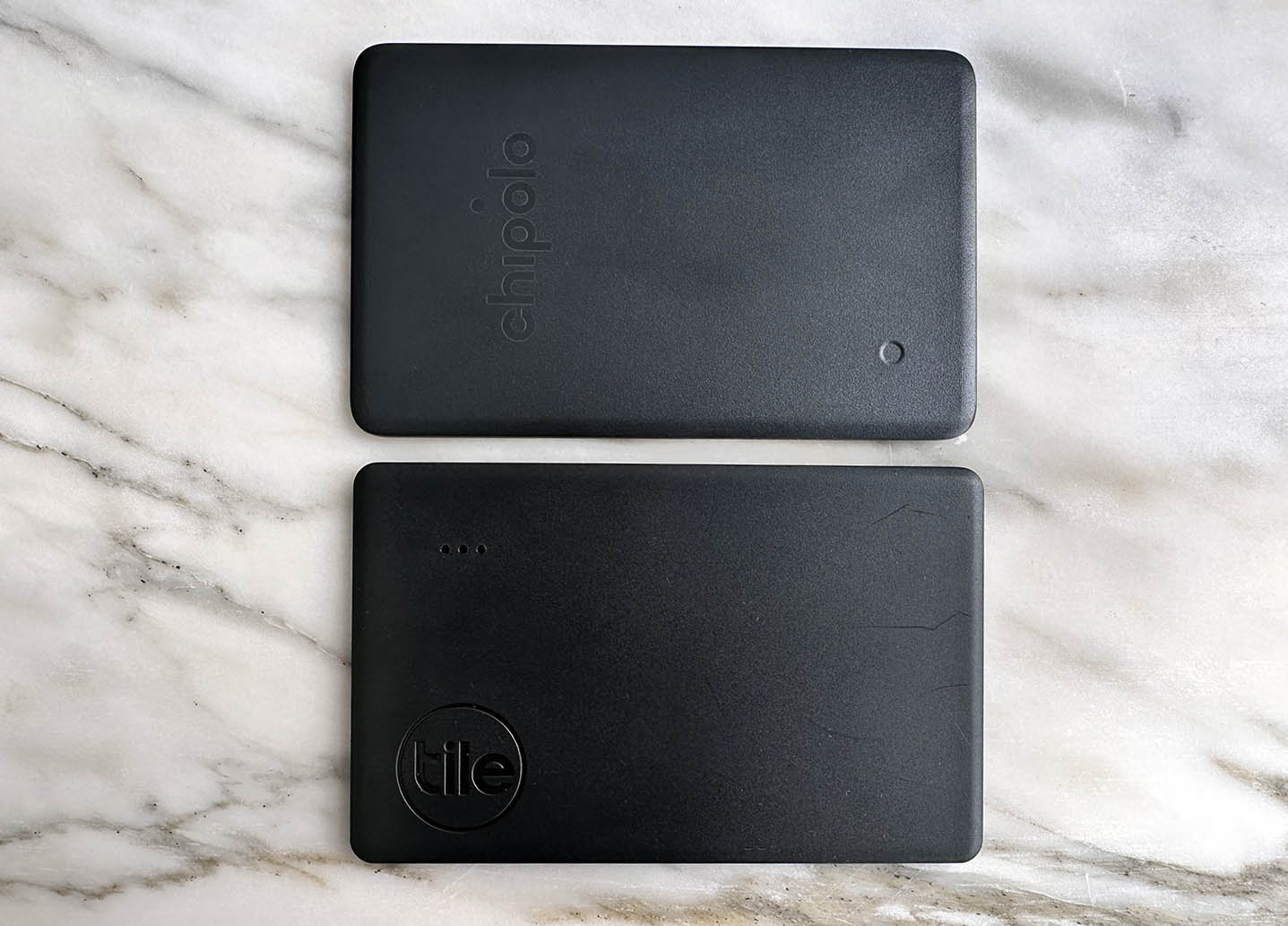 But there are also differences with the Tile Slim: the Card Spot lasts two years on a (non-removable) battery, while Tile lasts no less than three years. And with a rating of IPX5, the Chipolo is slightly less water resistant than the Tile, which promises IP67. The operation is also different: the Chipolo works with Apple's Find My network and is therefore much more likely to be found with the help of passers-by. There are simply many more iPhone users than Tile (approx. 1 billion versus approx. 35 million).
In our opinion, it is an unwise move by Tile to turn strongly against Apple even before the announcement of the AirTag and to still not use Apple's network. The question is whether Apple would have allowed them as a partner at all, but we are now so used to the AirTag and the various accessories that can be found with Find My that we won't buy a Tile any time soon. As soon as the ones without a removable battery stop working, we will rather opt for an AirTag or Chipolo. In addition, you have to pay for all kinds of features with Tile (Premium costs about €30 per year), while all features are included with Find My Accessories as standard.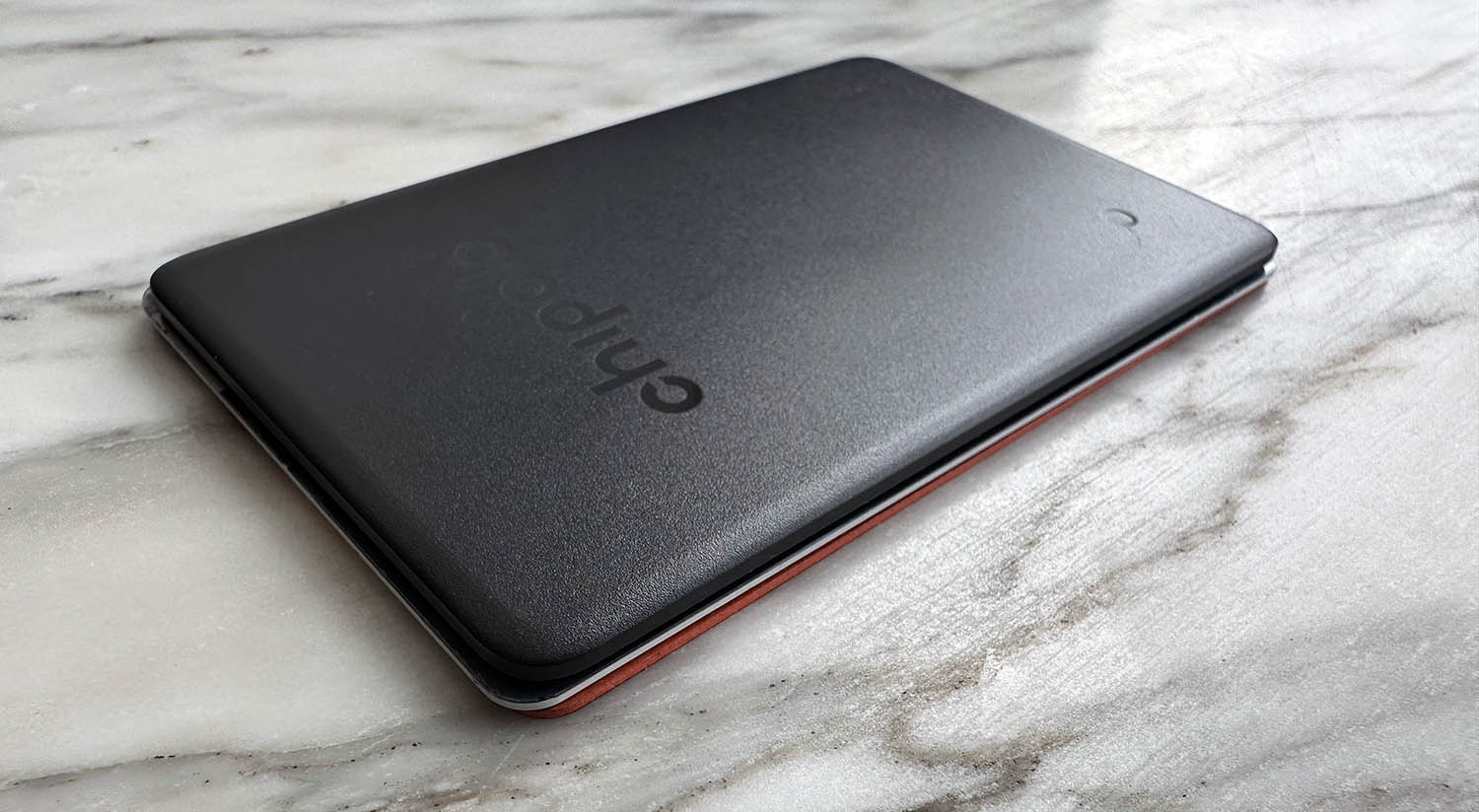 Chipolo Card Spot in use
Find My support makes it super easy to get started. You open the Find My app, say you want to link a new tracker and enter a name. Finished! If you want to use this tracker in an Apple Wallet case with MagSafe, it will quickly fill up. With some effort you might get one more pass, but that's it. Actually, this application is not very useful, since the newer Wallet cases themselves already have a simple Find My function (albeit with quite a few limitations).
Fortunately, the Chipolo fits in the back of my super thin Dun Fold card folder (see below), so that it is well stored. After all, you don't always need the card. If you have a somewhat thicker wallet, the Card Spot will fit even more easily. So the format and the alarm are fine, but an important extra that is missing is Ultra-Wideband. As a result, you cannot use precise search and you only have Bluetooth at your disposal, with a maximum range of about 50-60 meters if there are no further obstacles. Outside of this range you depend on other people.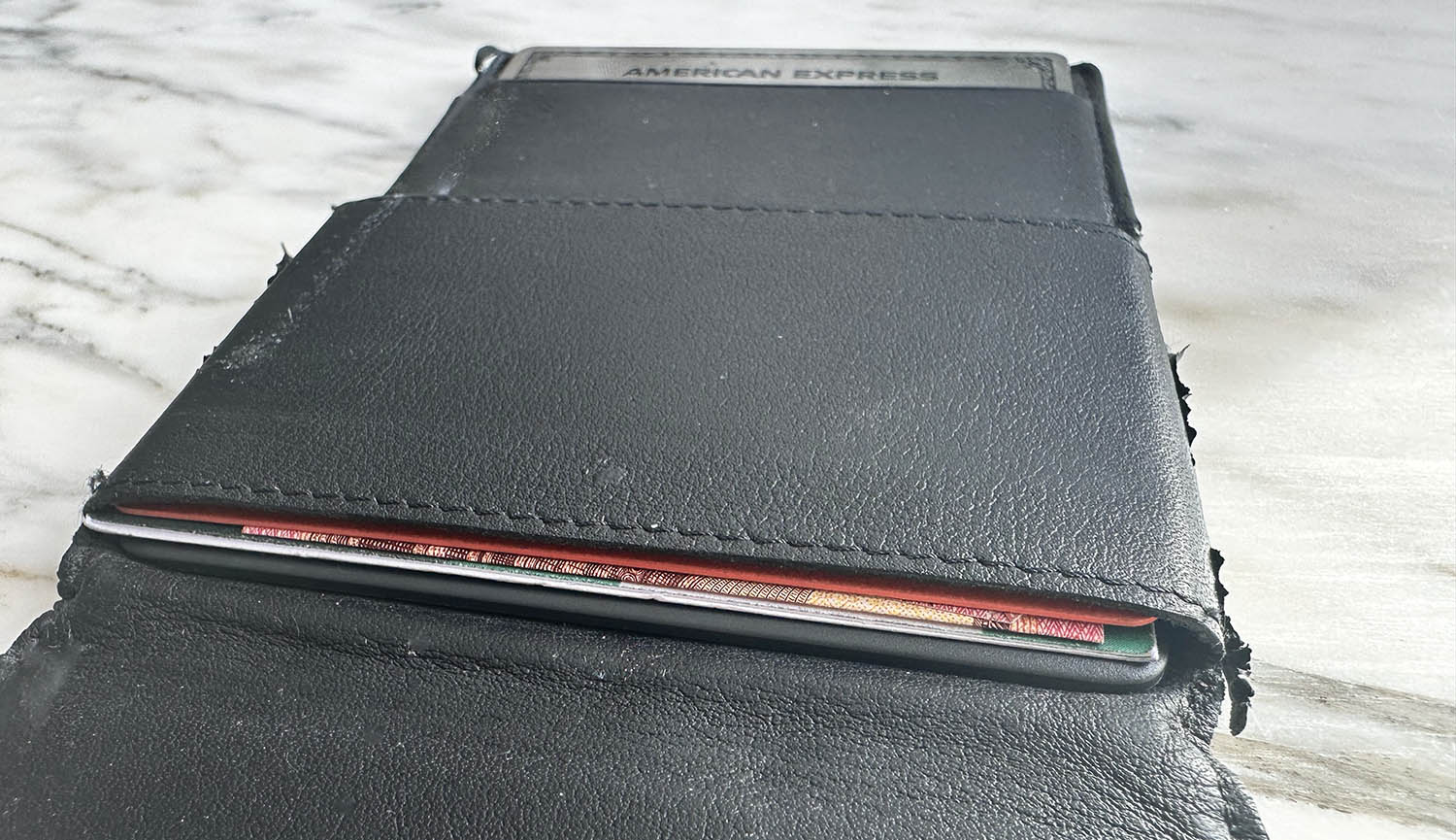 With the Chipolo Card Spot you can also receive notifications if you have left your wallet somewhere. You are already 100 to 200 meters away, so it is hoped that he is not in a taxi that has driven away in the meantime. If you have lost your wallet, it will not immediately be clear that it contains a tracker. The finder must then actively search all the squares – and it is hoped that he/she does so to find concact information and not to grab all the money quickly. If you have put the tracker in Lost Mode, you will receive a notification when it has been found.
The honest finder can scan the tracker and read the message you set. It is not possible to steal a Card Spot and start using it yourself, as it is linked to your Apple ID, just like the AirTag. It also has the same anti-stalking measures, something Apple requires for partners to get started. So you will receive a notification if an unwanted AirTag is traveling with you and you can play a (loud) sound to find it in between your things. Due to the flat design of the Card Spot, you can think of completely different places to hide this tracker, for example under a car mat. Apple's anti-stalking measures may still not be completely foolproof, but they are constantly improving and it is the best solution available today.
See also
Score
8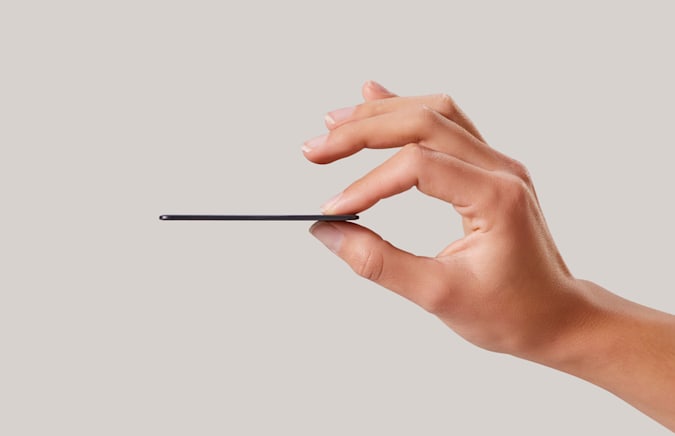 Chipolo Card Spot
€39.95
Benefits +
Flat and easy to store
Works with Apple's Find My network
Loud alarm
Can warn you if you leave stuff behind
Cons –
Shorter battery life than Tile Slim
Non-removable battery
No Ultra-wideband, which the AirTag does have (and therefore no accurate search)
View at Amazon View at Apple Store
Conclusion Chipolo Card Spot review
< p>The Chipolo Card Spot is a good alternative to the AirTag if you are looking for a flat model for your wallet. It also has many advantages over the Tile Slim, which looks exactly the same but does not come close in terms of functions. For example, all functions are free at Chipolo, you can easily find your tracker via the Find My network and you do not have to install an extra third-party app, while anti-stalking has also been thought of. It fits in most wallets and has a loud speaker that ensures that you can always find your tracker. Just like the Chipolo One Spot (with a hole!) This is a must have, especially if you are an iPhone user because the Find My network makes everything very easy.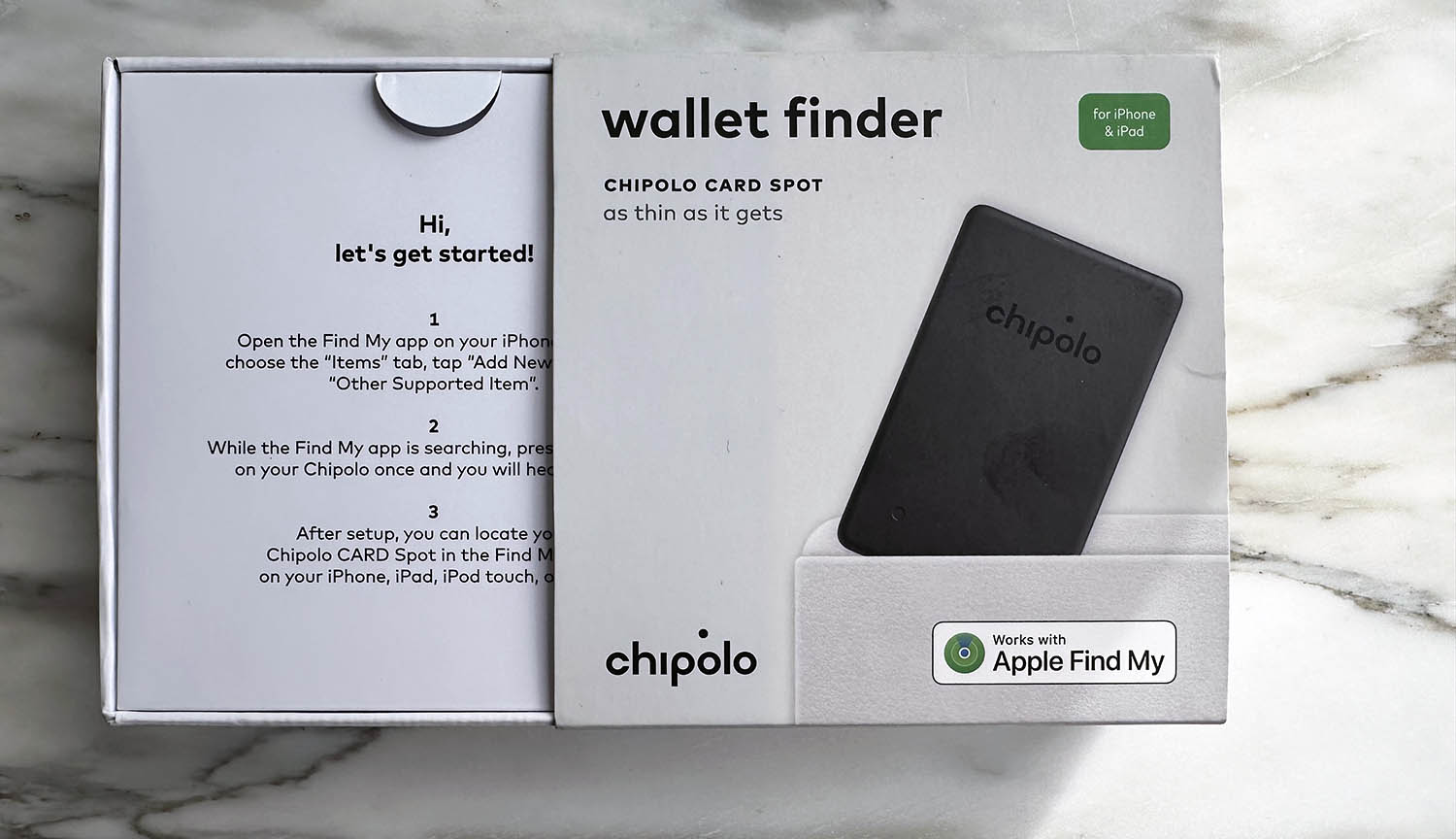 Buy Chipolo Card Spot
This product is available from Apple in a pack of 1 or 2 pieces:
Chipolo CARD Spot, 1 piece: €39.95
Chipolo CARD Spot, 2 pieces : €64.95 (18.7% discount)
Also available at the following stores:
View at Tink
View at Amazon
1 piece2 pieces